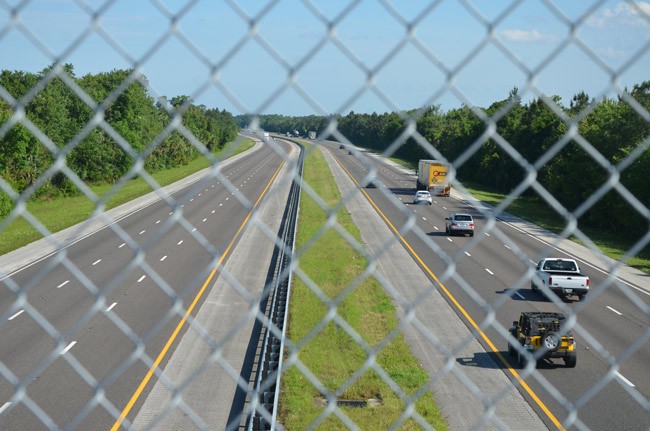 In late April a 38-year-old Palm Coast woman made up a story about being mugged by two black men outside of Walmart. She claimed they'd ripped off her backpack and threatened her when she attempted to chase one of them. None of that happened, she confessed to cops, showing them the backpack in question. She was arrested for making a false report. She'll be arraigned later this month.
Eight days later–on Saturday (May 2), Flagler 911 got a call from a man claiming he'd been shot by the side of I-95 near the Matanzas Woods Parkway overpass.
Andrew R. Paige, a 22-year-old resident of Palm Coast's F Section, claimed his car had broken down around mile marker 298, and that three black men in a white Volkswagen pulled over to help. But then one of the men told Paige to get out of the car, and one of them started firing a pistol in his direction. Paige told the dispatcher he'd been shot in the stomach and leg, and described the Volkswagen driving away, only to stop, back up, and shooting him again, that time hile he was supposedly on the line with the dispatcher.
Flagler County Sheriff's deputies and Flagler County and Palm Coast rescue vehicles scrambled to get to the scene. But it would all turn out to be a fabricated story told by a man who, in his statements to police, described himself as suffering from post-traumatic stress disorder after his military service, and that he'd been staying at the Best Western in Palm Coast after having a falling out with his grandmother in town.
He was found on I-95, but he didn't have a car. He wasn't sure how he ended up on the Interstate, he told deputies, only that he'd left the motel (not far from the Palm Coast Parkway intersection with I-95) and started walking on I-95. That intersection is about seven miles south of mile marker 298. While walking along the highway, he heard a loud noise and became scared, according to an incident report, and ran toward the woods. It was then that he apparently called 911.
After deputies made contact with him, Paige, who is white, initially said he'd asked four black men for a ride to Florida Hospital Flagler, to get some medical files, and the men agreed. He got into their Volkswagen, which he described as a Jetta or Passat with chrome rims and black tinted windows with a Florida license plate. But the vehicle started heading north instead of south on I-95, in the opposite direction from the hospital. When Paige told the driver, the car pulled over and Paige got out around mile market 290, where the alleged incident with the gun took place. Paige said, according to the report, that "he ran to the tree line and dove to ground in order to prevent getting hit by the gunshots."
Paige described each of the occupants of the Volkswagen in turn, but as he described them deputies noticed inconsistencies, including a fluctuating number of people in the car (three or four), the absence of Paige's own car, mentioned in the 911 call, and different descriptions about the gun allegedly used. When the inconsistencies were pointed out to him, Paige became angry. He eventually changed his story, saying he could not explain how he'd ended up on the highway other than he'd been walking there.
As Paige spoke of being "in a state of mental crisis" and sought help, he was committed to a psychiatric unit in Daytona Beach under the Baker Act–which enables law enforcement to involuntarily commit individuals for psychiatric evaluations of up to 72 hours–but he was also charged with filing a false police report, a first-degree misdemeanor.