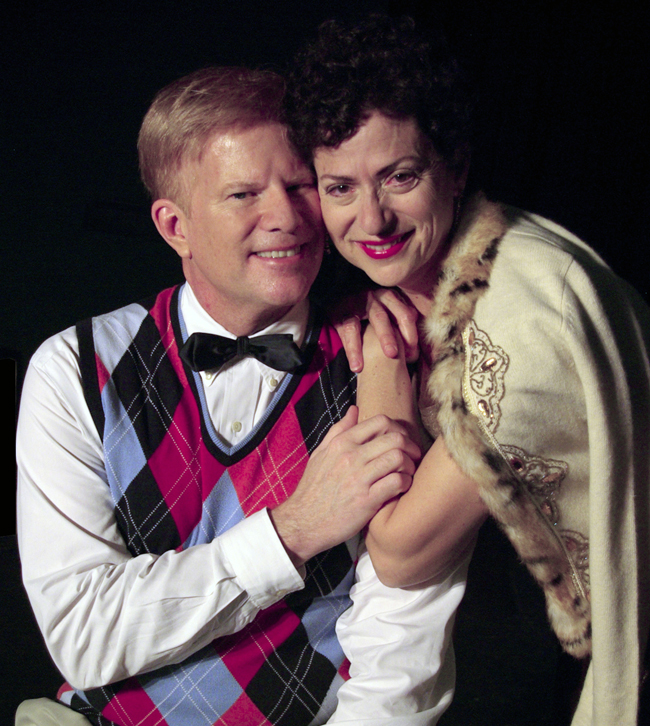 Get your "I Do! I Do!" tickets easily here, or call the box office at 386/585.9415

Contrary to a recent viral video titled "First Kiss," instant chemistry can be an illusion, especially in the early thrusts of romance when baggage is light and faults fogged under by heavy breathing. More impressive is the Odyssean haul, the "spending the rest of our lives together" bit. "I Do! I Do!," the Tom Jones and Harvey Schmidt musical that opened Friday (March 21) at Palm Coast's City Repertory Theater, is that two-character Odyssean haul, featuring actors Julia Davidson Truilo and Lloyd Bowers.
City Repertory Theatre will stage "Scapino!" at 7:30 p.m. Friday and Saturday March 17-18 and March 24-25, and at 3 p.m. Sunday March 19 and 26. Performances will be in CRT's black box theater at City Marketplace, 160 Cypress Point Parkway, Suite B207, Palm Coast. Tickets are $20 adults and $15 students, available online at crtpalmcoast.com or by calling 386-585-9415. Tickets also will be available at the venue just before curtain time.
Click On:
---
The play spans 50 years of marriage between a man called Michael and a woman called Agnes, all of it in the bedroom, beginning with the wedding night and ending with Agnes and Michael moving out of the house at their half-century mark, to be replaced by a young couple. And the circle of life continues. "Marriage is a very good thing though it's far from easy," goes one of Tom Jones's none-too-Homeric lyrics. But this isn't meant to be Homer. It's Broadway.
The set is dominated by the large four-poster bed in the middle of the stage, where it will remain the whole time. (The original play on which the 1966 musical was based was called "The Fourposter.") A pillow lies in the middle of that bed, given to the couple by Agnes's mother. It reads: "God is Love," suggestive of marriage's endless ironies. Michael's and Agnes's costumes will change more frequently than the bed spread, though surrounding props will change a bit faster to evoke the couple's stages of life, as when children's toys descend on scene.
The play doesn't exactly take place in the age of rampant divorce. The original was set between 1895 and 1945, when women were still chattel and marriage a minimum-security prison, though City Rep has made the executive decision to push the play up so that it begins in 1955, five years before the first Pill and 13 years before John Updike's subversive version of "I Do! I Do!"–the novel "Couples"–made oral sex a household prop.
The musical sings through those years of course, but in contrast with City Rep's last show, "Race," "I Do! I Do!" isn't "very edgy," says John Sbordone, City Rep's artistic director and cofounder alongside Diane Ellertsen. That's an understatement. (An Andrew Lloyd Webber musical is edgier than "I Do! I Do!," and that's saying a lot for Broadway's emperor of the conventional.)
Sbordone picked it simply because Truilo—whose voice he calls "magnificent"—had said she wanted to do it, alongside Bowers and Rusty Baker, who plays piano for the performance. When Truilo speaks, Sbordone listens. All three worked together during Sbordone's last year enactment of "Side By Side By Sondheim." Sbordone says he only does popular shows like this when he has the right talent to showcase. Plus, it doesn't hurt the box office.
"We're being a bit eclectic," he says of this show season. "And we like to make some money sometimes. That's a good thing." This type of show is much more accessible than something like "Race" or "Twilight," or City Rep's next and closing show of the third season, which is about the Holocaust.
Bowers, a civil litigation lawyer, doesn't wholeheartedly agree on the notion of edge. When you're talking about a marriage arcing across that length of time—"there's definitely edge to it," Bowers says. But he brings a unique perspective to the bed posts.
"Our practice does a lot of family law," Bowers says. "So one of the first conversations John and I had was—there's a fight at the end of the first act and I said to him, you know, we've got to be careful how we play this scene, because in the time that it's written, for today's audience, many people would probably consider it to be domestic violence, or it could be if we don't play it right. I mean, it's the experience of a marriage. No marriage is all sunshine, lollipops, and rainbows."
Rusty Baker sets the tone for all ups and downs of the partnership with his piano. While marriage is hard, acting is hard. And playing the piano for this show was no easy feat either, says Baker. "Every recording I heard was different," he says, and much of the written music didn't go with the recordings. "It wasn't scored for a single piano. The piano is just a reduction of a whole orchestra score."
Friends off-stage, Bowers, Truilo, and Baker put that friendship to work for on-stage chemistry. "So it's easy for us to play with each other and joke and be mad at each other and push each other around, because we know it's not personal," Truilo says.
Truilo was cofounder and managing director of Seaside Music Theater in Daytona and Bowers was on the board. There, they went through their share of drama, Bowers says. "My favorite line that I always said at Seaside was, 'We are a theater. There will be drama.' And there was. So we've been through a lot together." (Seaside was the creation of the News-Journal back when Truilo's father, Tippen Davidson, was a Medici to Daytona's cultural scene until a blend of mismanagement and hijackers turned the News-Journal into just another shrinking newspaper.)
Both Truilo and Bowers are also in long-term relationships. "I think we sympathize with a lot of what happens in this play," Truilo says. On the closing weekend, she will have been married 21 years, she says. Both Truilo and Bowers come from families with parents who ended up staying together for 60 years, give or take. "So we really get it."

"I Do! I Do!" runs March 21, 22, 28, 29, and April 4, 5 at 7:30 p.m. with matinees March 23, 30, and April 6 at 2p.m. At Palm Coast's City Repertory Theatre, City Market Place, at Hollingsworth Gallery. Tickets are $20 for adults and $15 for students with ID. Get your "I Do! I Do!" tickets easily here, or call the box office at 386/585.9415