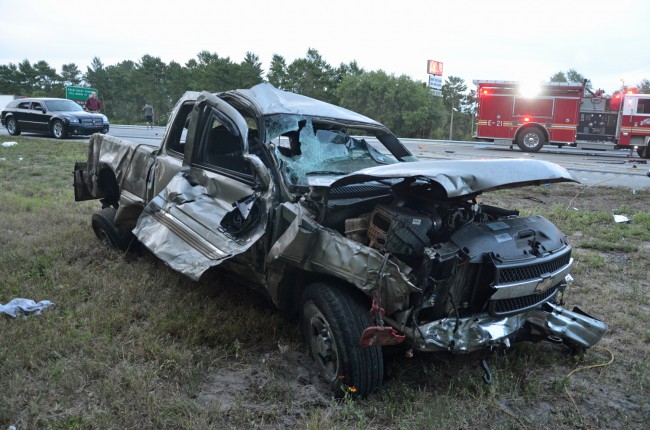 A fatal wreck involving two pick-up trucks and a car took place at mile marker 288 on I-95, about a mile south of the intersection with Palm Coast Parkway, at 5:45 Saturday afternoon.
Michael Benjamin Chance Smith, 17, of Jacksonville, and Pamela Taylor Thor, 56, of St. Augustine, were killed.
Roy R. White, 38, of Jacksonville, Michael J. Mervis, 53, of Boynton Beach and Kimberly P. Martinson, 47, of Boynton Beach, all sustained minor injuries in the Palm Coast wreck.
On Monday morning, FHP released the names of the victims of the related wreck at the county line. They were: Nilda Valentine Rivera, 41, of Palm Coast; Barbara Carol Pennington, 50, of Lakeland; Jonathan Jay Ruiz, a 1-year-old boy from Jacksonville, and Kristin J. Ruiz, 25, of Palm Coast.
The wreck shut down traffic in both directions of the interstate, and caused significant back-ups on Palm Coast Parkway, where the Palm Coast Fire Police established a series of detours, preventing traffic from entering the highway in the southbound lanes but not the northbound lanes.
The back-up in the southbound lane stretched 12 miles north, and led to another series of fatality when a commercial truck according to the Florida Highway Patrol, plowed into stopped traffic, igniting a massive fire and killing at least four people. Eight passenger vehicles and three trucks were involved in that wreck, which took place just north of the Flagler-St. Johns County Linet 7:28 p.m.
As of Sunday morning, I-95 in Palm Coast was open, but the southbound lanes of I-95 at the county line remained closed. Names of the victims have not yet been released.
The southbound lanes stayed closed until 2:30 p.m. Sunday, when all reopened.
As of 6:40 p.m. Saturday, traffic had been entirely at a standstill on all six lanes near Palm Coast Parkway, northbound and southbound, at the scene of the crash.
The wreckage at the scene in Palm Coast indicates that Roy White was driving a 2001 Chevy pick-up truck northbound, with Michael Smith as his passenger. White lost control, swerved onto the shoulder then overcorrected, violently smashing against the guard rail. White's Chevy, a beige-colored vehicle, then went airborne toward and into the southbound lanes, against hapless traffic.
The pick-up truck then struck a burgundy-colored Honda Civic heading south, driven by Pamela Thor, shearing its passenger compartment. Both vehicles ended up into the woods, on the right side of the southbound lanes, the Honda into the wood-line, the Chevy truck parallel to the woods. A third vehicle, a black 2005 Chevy Silverado driven by Michael Mervis, was also struck by the other pick-up after it struck the Honda. But Mervis and Martinson, the occupants of that pick-up truck, were at the scene and appeared to be unhurt.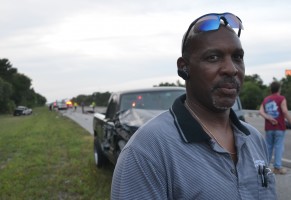 Ken Peoples, who turned 50 yesterday, was at the wheel of a loaded, 18-ton auto transport truck, driving home from Jacksonville to South Daytona, when he witnessed the scene. "I was coming down southbound, I was in the right-hand lane, and all of a sudden I see a truck come over the median, hit the guardrail and go airborne. I saw it hit a red vehicle, and after that I saw a gentleman get ejected out. In the right lane I veered away from him, and then as I was going to park on the shoulder, my truck, I saw, as I know now, a Honda going into the woods. It was just rough." He added: I would have killed the guy in the road if I hadn't maneuvered out of the way."
Further describing the scene, he said "it was like the bullet. Didn't go straight up, it went at an angle, west, and it was spinning, all of a sudden I saw it hit the red truck but I never saw it hit this pick-up truck. I saw the body come out, that's probably because I never saw the pick-up truck, and I had to veer away from him." As soon as he parked his truck, he ran to to the pick-up truck victim to see if he was OK. "He was unconscious, there was blood coming out his ears, there was blood gushing down on the road. And then all of a sudden he looked like he went into convulsions. That's when I walked away and came down to check on this other person and then I found out that person was deceased."
Peoples, who's been driving trucks for 25 years, said he has witnessed such crashes before, as those are the perils of the job. "Years ago I saw a semi truck making a U-turn and a Camaro ended up underneath, decapitated the person. I didn't actually see that happen because I saw there was a ball in the road at that time, which I thought was a ball. Later on I found out it was a person's head. I've seen a bunch of stuff."
Saturday's wreck required the response of Flagler County Fire Flight, the emergency helicopter, which landed in the southbound lanes shortly after the collision. Smith had been ejected from his pick-up truck was transported first to Florida Hospital Flagler because the 17 year old was too unstable to fly immediately to Halifax hospital in Daytona Beach. He was stabilized there then flown to Halifax, but later died. He had not been wearing a seat belt, according to the Florida Highway Patrol's investigation. White, however, was wearing one.
The wreck is every driver's nightmare, the result of an unexpected, virtually inevitable freak accident guard rails are supposed to prevent, but sometimes cannot, leaving drivers in the opposite direction helpless to react.
Motorists were asked to avoid I-95 in that area, exiting at State Road 100 if coming from the south, and at Palm Coast Parkway if coming from the north. Motorists are also asked to avoid Palm Coast Parkway.
At 7:16 p.m., all northbound lanes reopened to traffic. But southbound lanes remained closed.
The southbound lanes were strewn with debris, including a wheel, a fender, and innumerable shards, coils, and shreds of fabric.
The Palm Coast Fire Department sent two engines to the scene, Flagler County Fire Rescue sent three ambulance units and at least one engine, and both the Flagler County Sheriff's Office and the Palm Coast Fire Police were called into traffic control duty because of the vastness of the area to be controlled. Palm Coast Fire Chief Mike Beadle, along with his shift supervisor, Capt. Mark Valente, and Flagler County's shift supervisor, Capt. Richard Bennett, also responded.
Just after 7:30 p.m. Saturday, FHP personnel and other first-responders from St. Johns County responded to an equally violent wreck, this one reportedly involving a tanker truck, or a semi-truck, that caught fire in a collision just north of the St. Johns-Flagler County Line, at mile marker 302. The collision was apparently caused by the line of vehicles being stopped for the Flagler wreck. That wreck kept all southbound lanes closed until the next day. Commenters below witnessed the crash.
An FHP report on that crash noted that it was triggered by a semi truck plowing into the line of cars, for unknown reasons at this time. Two semi trucks caught fire as a result, killing one semi occupant and two in a passenger car. Another vehicle overturned after impact, causing the driver of that vehicle to die at the scene, the report states. Several other crash victims were injured and transported to Shands Hospital in Jacksonville and Flagler Hospital in St. Augustine.