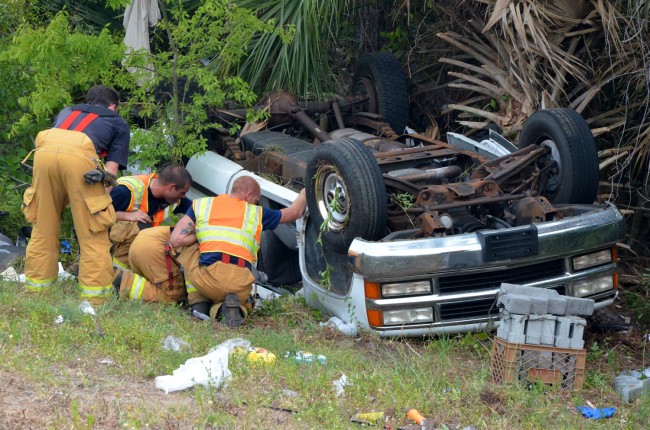 A single-vehicle rollover on I-95 northbound, just south of the Palm Coast Parkway exit, sent two people to the hospital with serious injuries Monday morning, just before 11 a.m.
The Chevy pick-up was traveling north in the center or left-most lane of the highway, between mile markers 288 and 289, just before the Palm Coast Parkway exit sign, when, for reasons that haven't yet been determined, it veered right and rolled over, coming to a rest upside down, against the wood-line.
A male passenger was ejected. The female driver was briefly trapped until extricated by fire and rescue personnel. Both were taken to local hospitals. The occupants are from Pennsylvania. The cab portion of the truck was crushed.
The right-of-way beyond the shoulder was strewn with the truck's contents, including suitcases, crates and various-sized bags.
The right lane of the interstate was blocked but traffic backed up only slightly, as it kept moving, slowly, through two lanes. John's Towing was clearing the wreck by 11:30 a.m.
Details will be added when they become available.
At 12:30 p.m., another wreck took place, involving two vehicles, at Palm Coast Parkway and U.S. 1, but with less serious injuries.