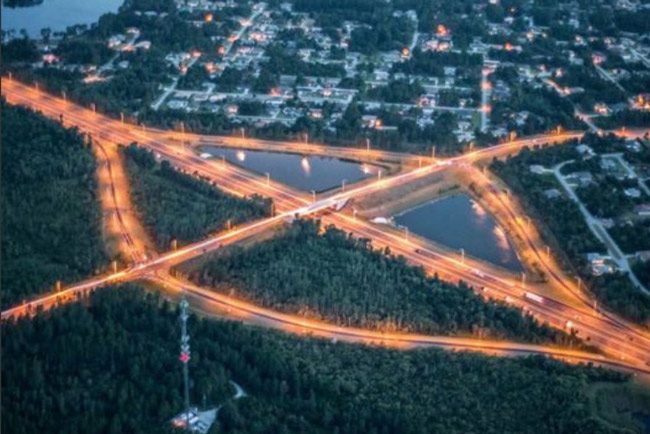 The Florida Department of Transportation has lighting and signage improvements planned for three I-95 interchanges in Flagler County.
Lighting improvements will be made over a 21-mile stretch to the interchanges at Palm Coast Parkway, State Road 100 and Old Dixie Highway, as well as to Volusia County interchanges at U.S. 1 and LPGA Boulevard. The exception is the interchange at Matanzas Woods Parkway, unnecessary since that interchange opened just last year and already has optimal lighting.
The project estimates, according to a Department of Transportation bidding solicitation, projects a need for 472 light poles of 45 feet in height each, built to sustain winds of up to 130 mph, as well as 29 additional light poles ranging in height from 45 to 60 feet, and four light poles of 100 feet in height, also able to sustain winds of up to 130 mph.
"This work will be a combination of high-mast (taller) poles and standard light poles," said FDOT Public Information Coordinator Carolyn Fitzwilliam. "It will also include underdeck lighting for some of the overpasses."
Construction on the $5.5 million project is expected to begin with LPGA Boulevard on December 12 and work its way northward. (The bidding solicitation had placed the estimated cost of the project at $7.3 million. Design was $460,000.) Though entirely publicly funded, no direct county tax dollars are involved: the state transportation department is footing the bill, likely with some federal funding.
"It should be completed in early 2020," Fitzwilliam said. "The contract is 570 days, but some of that depends on rain, weather."
The project is on today's agenda of the the Transportation Planning organization. The TPO's agenda lists it as a $5.6 million project slated to end in the fall of 2019. Winter Park-based Chinchor Electric, Inc. is the contractor, having submitted a $5.55 million bid. It was one of eight contractors bidding, with the next bid coming in at $6 million, and others ranging up to $7.6 million.
The improvements will be made to the area outside of the travel lanes, but there will likely be some nighttime lane closures that might include ramps, Fitzwilliam said. Electronic message boards will be placed in advance to alert motorists of any upcoming closures.
The transportation department first developed the project with a consultant in 2015. "It is always good news that improvements are going to be made within Flagler County," Commissioner Chair Greg Hansen said.