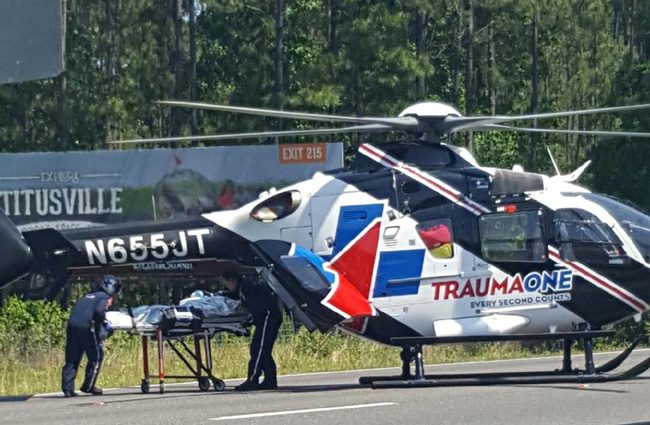 Last Updated: May 14.
The year's deadliest crash in Flagler County killed three people and injured four just after 2 p.m. in the northbound lanes of I-95, north of the newly-opened Matanzas Woods Parkways interchange. The victims are from Immokalee.
The wreck briefly shut down I-95 in both directions. I-95 northbound remained closed north of the Matanzas Woods interchange for two hours, causing traffic to back up for several miles south of the wreck. One lane reopened around 4 p.m.
The crash, involving a vehicle that rolled over into the wood-line, on the east side of the highway, drew the response of three emergency helicopters, including Flagler County Fire Flight, Volusia County's Air One, and St. Johns County's Trauma One out of St. Augustine. The helicopters landed and took off from the highway.
Officials initially reported two deaths. Later in the afternoon, a Florida Highway Patrol official in Jacksonville confirmed that a third victim had died. On May 10, FHP reported a fourth fatality.
Those who died were Roberto V. Morales, 19, Vigai Lopez Roblero, 22, Adonias Gonzalez Vasquez, 17, and Maribel Velasquez Perez, 25. Morales was not wearing a seat belt. FHP could not determine if Roblero or Vasquez were wearing a seat belt.
Mario Lopez Roblero, 25, was in critical condition. He was wearing a seat belt.
One of the victims injured is a 4-year-old child, Flagler County Fire Chief Don Petito said shortly after the crash. The age of the second victim who died has not been determined. But of the seven victims, two are young adults and five are children, Petito said.
The Florida Highway Patrol Sunday morning issued a release listing the ages of two of the victims who died as a 19-year-old man and a 22-year-old man. The third victim was not given an age. The two victims in critical conditions are a 25-year-old man and a 24-year-old woman.
The release adds some details about the origin of the crash: the Immokalee residents were riding in a 2002 Ford Explorer, heading north on I-95. Lonnie Grant, a 66-year-old resident of Varnville, S.C., was also heading north, driving a Ford F-150. The two cars attempted to merge into the highway's center lane at the same time, in the same zone, according to a witness. Grant veered back to the outside lane. The driver of the Ford Explorer veered off to the right, but overcorrected, causing the car to flip several times.
Two of the three helicopters transported one victim each, in critical condition: Fire Flight transported one victim to Halifax Hospital in Daytona Beach, Trauma One transported one victim to Shands hospital in Gainesville. "The third helicopter may have landed but did not transport," Petito said, explaining that there are times when an air transport of a patient is scrubbed because of that patient's particular condition.
Two additional victims were taken to Halifax by ground, and one victim was taken to a trauma center in St. Johns County. (An FHP official in late afternoon reported that four victims had been "life-flighted out." Conflicting reports of victims' mode of transport to hospitals are not uncommon at crash scenes with numerous injuries.)
"It's pretty horrific," Petito said.
A witness told authorities that the vehicle flipped five times before ending up on its roof.
An emergency responder described the crash as causing "multiple ejections" of individuals from their vehicles. Later, it was confirmed that two victims were ejected, one of them a 5-year-old boy, who suffered severe head trauma. The other was a juvenile.
Officials at the scene are still in the early stages of gathering information. It's not yet known whether the vehicle is from Flagler or from elsewhere.
Emergency responders from Palm Coast, Flagler County and St. Johns County are at the scene, which is just south of the Old Kings Road overpass, and well north of the Matanzas Woods interchange.
I-95's northbound lanes reopened to normal traffic at 6:45 p.m. Saturday. FHP's release on the crash is here.