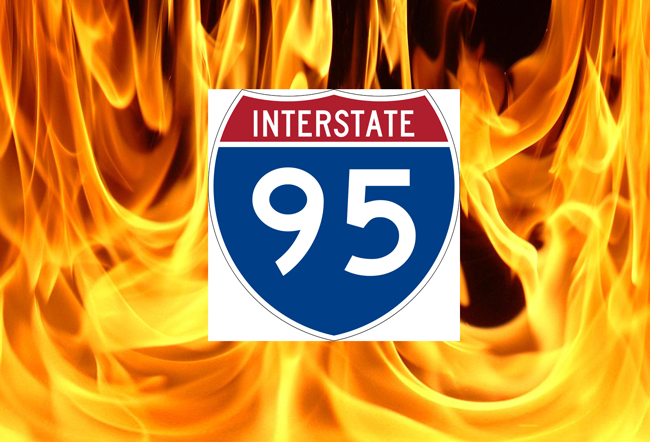 After being closed since 2 p.m., the Florida Highway Patrol reopened I-95 in both directions in St. Johns County just after 5 p.m., according to Jeremy Robshaw, St. Johns County Fire Rescue spokesman.
U.S. 1 was shut down just before 5 p.m. and reopened at 6 p.m.
The brush fire that closed the highways had grown to an estimated 1,000 acres by 6 p.m., according to Robshaw, when it was still not contained. It was heading east, in the south-central area of S. Johns County. No houses were threatened.
All northbound lanes of I-95 were closed from 2 to 5 p.m. at U.S. 1 near the Flagler-St. Johns County line because of thick plumes of smoke wafting over the highway in St. Johns, where firefighters are battling the fire. The fire started near the Interstate's mile marker 300, just north of Flagler County.
"My husband just drove through it and said it is blazing," Alicia Conway, a FlaglerLive reader, wrote at 6:30. "He just got off the Bunnell US1 exit and the fire is right near it, no more than a mile away." Melinda Morais, another reader, drove through the area soon after it re-opened. "It was scary driving through smoldering and fiery woods on either side," she wrote just after 6 p.m.
Southbound lanes were closed in the area of County Road 206 in St. Johns. At 3 p.m., smoke was thick enough to appear on weather radar. The fire was somewhat smaller compared to a 3,000-acre fire burning in Brevard County, where U.S. 1 and I-95 were also shut down.
Palm Coast Fire Department and Flagler County firefighters, including Flagler's Fire Flight helicopter, are on the scene in the St. Johns County fire, assisting with the blaze. The St. Johns County Fire Department and the Florida Division of Forestry had 28 units on the scene between them. Units from Jacksonville Fire and Rescue are also at the scene.
Palm Coast Fire Chief, just back from the scene at 4:30 p.m., described the fire as "very large. We go by acres. I couldn't begin to tell you how many acres. The problem is this wind is pushing it." The fire, he said, reached I-95, jumped the highway, and started burning toward U.S. 1. It's now between the two highways.
"There's a chance they're going to shut down U.S. 1 because there's a potential for it to jump U.S. 1," Beadle said. (Beadle was speaking at 4:30. By 5 p.m., U.S. 1 was shut down.)
Palm Coast firefighters were on structure-protection duty. Beadle described the area of the fire as sparsely inhabited, but by no means vacant. "When I left there were no injuries, knock on wood," Beadle said. "There's a bunch of house I know out in the wooded area on the west side of US 1, I'm sure they've got all those people evacuated, and when I left we hadn't lost any structures. We're up on mutual aid is why we're up there."