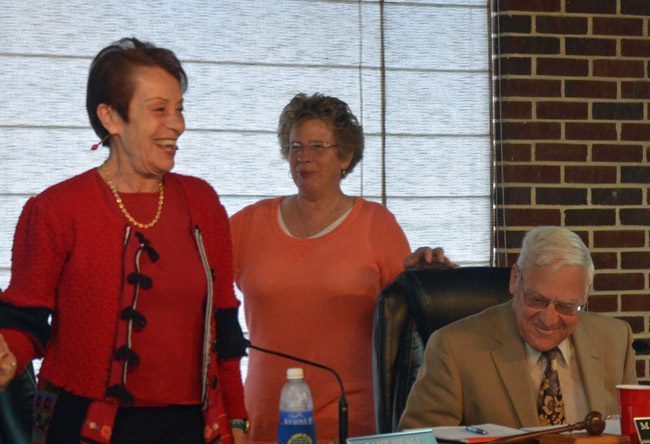 Sometimes I get the feeling that in Florida our vote has about as much value as a garbanzo bean.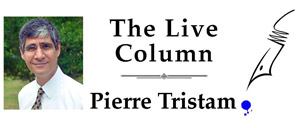 We have a legislature that thinks that when voters approve a constitutional amendment to devote millions of dollars to environmental protection, it's OK to raid that money and spend it on building sewer plants instead. We have a governor who thinks that when he doesn't agree with an elected State Attorney's decision on how to prosecute criminals, it's OK to remove that elected state attorney from a bunch of cases and assign them to someone else.
And now we have the city commission in Flagler Beach telling the 70 percent of city voters who approved the medical marijuana constitutional initiative to drop dead. Too bad they won't be able to do it with a bit of pot to ease the pain.
The city commission voted last night 3-2 to ban medical marijuana dispensaries anywhere in Flagler Beach. Jane Mealy, Joy McGrew and Marshall Shupe are the new prohibitionists. (Kim Carney and Rick Belhumeur dissented.) They voted on zero evidence and embarrassing reasoning, abetted by the legal dark matter of their attorney. Commissioners claim that if they allow dispensaries and surrounding governments don't, Flagler Beach will become a hub of dispensaries with possibly 25 of them opening up. They don't want to see that happen.
Never mind that Flagler Beach would be lucky to get a single dispensary if there were no ban. Never mind that the market would be the surest predictor of whether the county would get a dispensary at all: as with pharmacies, undertakers or grocery stores, supply and demand, not commissioners' dazed presumptions, decides how many businesses survive. Never mind that Palm Coast is already on record as wanting to ride medical pot's business opportunities, to say nothing of abiding by its humane intentions.
The new state law on medical pot gives local government two choices. Either they treat dispensaries just as they would pharmacies, which is exactly what dispensaries are. Or they ban dispensaries altogether. The ban provision is an idiotic concession to drug-war nostalgists. But it's also a relic that flies in the face of the constitutional amendment, as even actors who play lawyers on TV could tell you. It's going to be challenged in court. That's a certainty. Meanwhile, it's allowing local governments to act like nannies toward the electorate, and clueless nannies at that.
So what are these commissioners saying exactly? That dispensaries are scummier businesses? That they are to be segregated like strip joints? That they are gateways to crime? Yes, that's pretty much what they're saying, even though all of those claims are demonstrably false. Commissioners are essentially smearing the palliative validity and purpose of medical pot with baseless and discredited assumptions from Reefer Madness days.
And they are doing so with revolting hypocrisy. Every one of those commissioners claimed to be all for medical marijuana, all for relieving the pain and suffering of those who need it, all for listening to the will of the people, all just before turning around and flipping off those patients and voters. Jane Mealy, who chairs the commission, went as far as comparing pot to opioids, even though opioids killed some 65,000 people last year and marijuana in any formed killed a grand total of zero, not just last year, but in any year. So goes policymaking by ignorance. Willful ignorance, as none of these commissioners is known for stupidity.
I'm tempted to say they were smoking weed when they voted. But I don't want to insult weed. It sounded more like commissioners on crack. Lucky for them they get to vote again in two weeks before their suck-up to prohibition becomes law. Let's hope they'll have put aside the crack pipe by then and remembered that none of them was elected with nearly the kind of margin medical marijuana got. Thursday evening, they proved why.

Pierre Tristam is FlaglerLive's editor. Reach him by email here or follow him @PierreTristam. A version of this piece aired on WNZF.