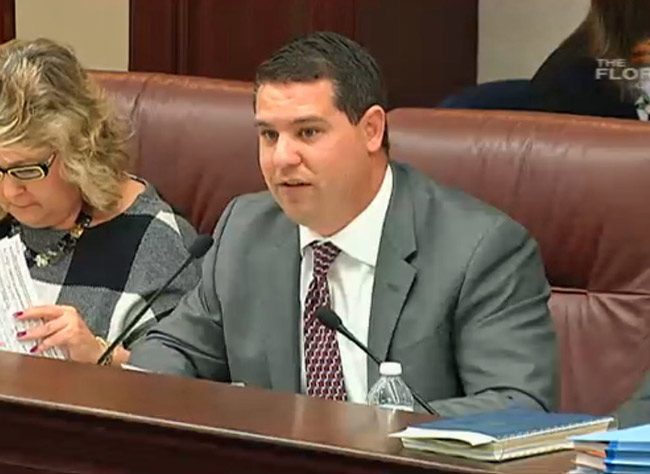 It did not go well for Flagler County government today: yet another Senate committee voted in favor of a proposed rewrite of the state's vacation-rental law. The proposal would essentially wipe out Flagler's regulations, in place for just three years after the county fought hard to win enactment of the existing law.
It especially did not go well for County Attorney Al Hadeed, who was appearing before the Senate Regulated Industries Committee to argue against the proposed rewrite. Hadeed might have expected some latitude from the committee chairman, Travis Hutson, who happens to be Flagler County's representative—and who co-authored the 2014 law Hadeed is defending, and that the re-write would, in Hadeed's words, "eviscerate."
But an already tense, hurried and transparently pro forma hearing got more tense when Hadeed got up to speak. His appearance at one point approximated a duel with Hutson, whose recurring, interruptive attempts to keep Hadeed to two minutes at one point seemed to stop the attorney cold: "You need to wrap it up," Hutson told him (Hadeed was in mid-sentence, at the 1 minute 45 mark) "so we can do everybody else."
Hadeed did a double take. "Thank you very much," he told the senator. "I will." He then resumed his train of thought. It didn't go any better when Hutson and Hadeed tangled over state regulatory involvement. Hutson claimed the state was already inspecting rentals—but not single-family, short-term rentals, Hadeed insisted.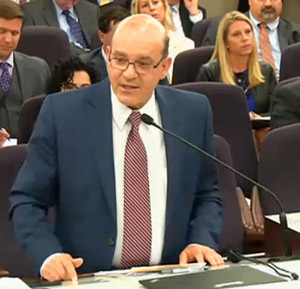 Laughter coursed through the Toni Jennings hearing room when Sen. Greg Steube, the Sarasota Republican, described the measure he's sponsoring as "this simple, non-controversial piece of legislation," because, he said, he was adding just 14 words to the law. The 14 words, however, would forbid local governments from regulating vacation rentals differently than other residential homes. That would in essence return the state to conditions that prevailed after 2011, when a state law forbade local governments from regulating vacation rentals. That turned some neighborhoods, like parts of Flagler's Hammock, into small brawl zones. Home-owners and vacation renters clashed. County government was powerless to make rules that would ensure more harmony.
Flagler County commissioners and Hadeed had for two years struggled with legislators to change the 2011 law. By 2014, they'd succeeded, with Hutson then a House member, helping (and then-Sen. John Thrasher, a powerful committee chairman, helping more). "Back then, I'd like to say, we all compromised," Hutson said, "with both sides of the issue so that local control could be obtained while still respecting private property rights." Regulations were written into a new ordinance. The Hammock and its 100 vacation rentals adapted to a three-year peace.
That peace is in jeopardy as Steube's bill and its companion in the House are advancing with little resistance, at times with Hutson's help: he introduced an amendment to the Steube bill that he described as a "compromise." It would "treat all renters the same," in Hutson's words, resulting in administrative paralysis for local government. Hutson's distinction was academic, not realistic. The Flagler County Commission strongly objected and asked him to withdraw the amendment. Today, he did.
But not really.
Steube put forth an amendment of his own–to his own bill. It was virtually a word for word replica of the Hutson amendment, only broader: "It would allow local municipalities and counties to regulate the activities of vacation rentals, but that regulation," Steube said, "applies uniformly to all residential properties without regard to whether the property is used as a vacation rental." Hutson's amendment would have limited the universal application of regulations to rental properties. Steube's amendment extended it to all properties. It offers the sheen of regulatory allowances, but those allowances would be rendered impotent since local governments would never have the resources, financial or otherwise, to police such broad regulations. It would have been more accurate to term his amendment a slight rewrite of his original bill: the resulting effect would be the same.
"It would require uniformity in the application of any regulation to all residential properties regardless of whether they're single-family homes, duplex, apartment complexes, condos, mobile homes," Hadeed said, overwhelming the current system. Under the current program, he went on ""we only have to oversee 100 short-term vacation rentals. With Mr. Steube's amendment, it would add an additional 6,200 residential properties."
The committee adopted the amendment.
Numerous speakers Hutson turnstiled before the committee echoed each other, terming the Steube proposals as turning back the clock to the deregulation of 2011 ion hock to the vacation-rental industry and at the expense of local control. Speaker after speaker spoke of local ordinances in place now that work, and that would be voided by the new proposal.
Steube had come prepared to parry with challenges, but with a red herring: he asked local government representatives objecting to his bill-including Hadeed—how many "Bert Harris lawsuits" have been filed against local communities. He was referring to a state law that protects private property rights, enabling homeowners to seek relief when they claim their rights have been violated. But to call Bert Harris actions "lawsuits" is misleading: a Bert Harris action starts as simply as filing a letter with the local government, raising the issue of violated rights. It then goes to mediation, and only rarely ends up as an actual lawsuit. There are some 30 such actions in Flagler County currently, totaling $22 million in claims, but "there is no litigation," according to Hadeed. Another local government representative told the committee that his city resolved 51 Bert Harris claims, through compromise, "and not one dime was exchanged."
Steube still focused on the claims.
One of the committee members asked that the vote be taken at a time certain, a few minutes later, further hurrying the process. Flagler County Commissioner Greg Hansen, who had traveled to Tallahassee for the hearing and might have spoken, logged his position in opposition to the measure, as did most of those who submitted speaking cards. Jim Ulsamer, a Hammock resident and opponent of the proposed change, got a few moments before the committee not long before the vote. "If you had to live next door to one of these buildings," Ulsamer said, "that every week there's a new batch of people, a dozen or 24, and you don;t have the ability to regulate this activity, you would not want to live there anymore."
It didn't help: the committee, after no debate, voted 7-3 to approve the amended bill. Hutson's was one of the three votes against, ostensibly signaling his willingness to battle the bill in weeks ahead.