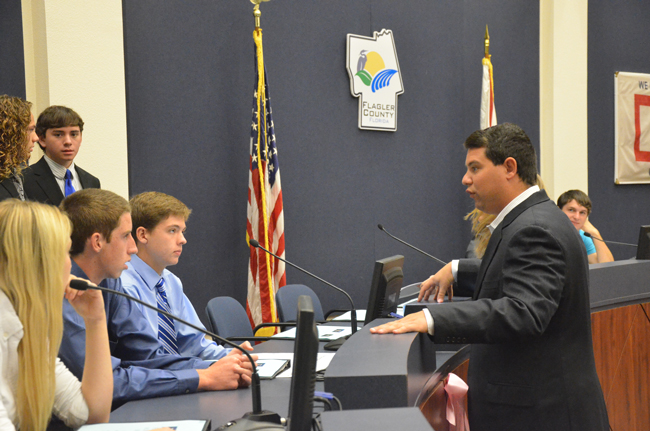 Animal abuse may cost abusers far more in penalties and punishment if a bill inspired by a Flagler Palm Coast High School student and filed by Rep. Travis Hutson last week becomes law.
For several months starting last year, Flagler County's freshman representative in the Florida House, Travis Hutson, shepherded nearly two dozen students from the county's two high schools through the process of researching and arguing for passing bills through the Florida Legislature. In October, Hutson heard those arguments from 18 students in a mock legislative session in Bunnell. By session's end, he'd seized on one proposal in particular, that of Flagler Palm Coast High School Junior Morgan Purtlebaugh, who was looking to require veterinary clinics to report animal abuse with the same rigor that social service agencies are required to report child abuse.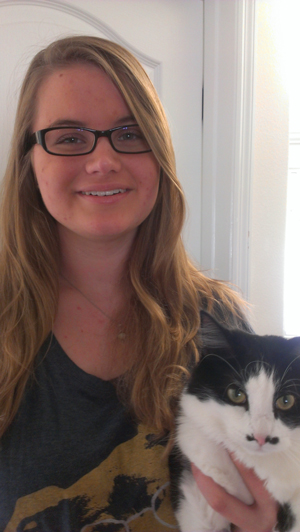 Hutson pledged to have that bill drafted and filed at this year's legislative session, which begins on March 4. On Friday, Hutson fulfilled his pledge. He filed House Bill 637. (See the full text below.) The bill will have a companion in the Senate, where Sen. Joseph Abruzzo, D-Wellington, will be filing a similar bill. That's necessary for any bill that has hopes of passage: it must pass both chambers of the Legislature.
The measure has this added benefit: with Hutson, a Republican, on the House side, and Abruzzo, a Democrat, on the Senate side, it has the benefit of bi-partisanship. But it still has a long way to go, though Hutson, in an interview Thursday, said the bill may get its first hearing soon in the House Criminal Justice Subcommittee, on which he sits. "It does help a little bit," Hutson said, as he'll be able to advocate for his own bill to clear the first of what will be a series of committee hurdles.
But the bill's substance has changed considerably from what Purtlebaugh had in mind when the idea was first crafted.
"We've morphed a little bit," Hutson said, "but because of the morphing we've got a senate sponsor, we've got a bill, we've got a package, and we're going to continue to work with Morgan and the students to make sure everybody is happy as we proceed."
For one, Purtlebaugh and Hutson, who have conferred since October, discovered that the reporting requirements Purtlebaugh was looking for are already in place, though they can be cumbersome. The bill would make some of those requirements more efficient.
For example, the State Attorney's office and a society or association for the prevention of cruelty to animals, such as the Humane Society, would be able to file a petition through county court to address an animal abuse issue, which could expedite the process–and more quickly determine whether the individual who has custody of an animal being abused will lose that custody.
The bill also increases the penalty for animal abuse (including such things as depriving an animal of proper shelter or food, killing an animal, or transports it in any cruel manner) from a first-degree misdemeanor to a third-degree felony. Punishment would also be stiffly increased: Anyone who intentionally hurts an animal to the point of causing its death or unnecessarily causes the animal pain and suffering "shall be sentenced to a mandatory minimum term of imprisonment of 30 months" and ordered to pay a fine not exceeding $10,000. Curiously, the proposal also eliminates the requirement that a person convicted of torturing an animal be required to undergo psychological counseling or anger management.
"Many of the students in our Mock Committee had interests in animal abuse laws," Hutson said. "By taking this package on, we can ensure that their ideas can be heard in Tallahassee. We will work hard to make sure our winner, Morgan Purtlebaugh, has a chance to speak on this legislation before a committee. It's the first quarter and we have a long way to go, but at least we are in the game."
The bill would likely be heard in its first committee early February.
Purtlebaugh says she intends, if possible, to appear before committees to testify. Hutson is hoping that he can arrange for a trip of Flagler County students, including Purtlebaugh, to Tallahassee to see the process in action and testify. The financing, if available, would be arranged either through Hutson's office or through the Flagler County School Board.
Purtlebaugh for her part has continued to discover "how complicated it is to actually enact a bill, how many people are involved, how many times it has to be re-written and amended."