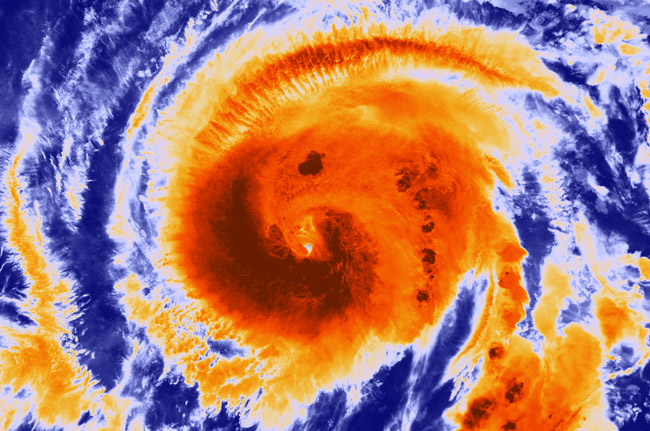 Global land-surface temperatures in April were the second-warmest on record, after April 2007, coming in at 2.5 F above the 20th century average. In the United States proper, it was the third-warmest April since records began in 1895. April was the third-warmest. Ocean temperatures came in at 0.68 F above average, the 11th warmest April on record. April 2012 was the 427th consecutive month with ocean temperatures warmer than the 20th century average. The last time the ocean temperatures were below average was September 1976.
Averaging the lot, the combined land and ocean surface temperature in April was 0.65°C (1.17°F) above the 20th century average of 13.7°C (56.7°F), marking the fifth warmest April since records began in 1880 and the 326th consecutive month with a global temperature above the 20th century average. Warmer oceans can lead to more intense storms.
On Thursday, however, the National Oceanic and Atmospheric Administration was predicting a relatively normal Atlantic storm season, which begins June 1 and lasts six months. NOAA's Climate Prediction Center says there's a 70 percent chance of nine to 15 named storms (with top winds of 39 mph or higher), of which four to eight will strengthen to a hurricane (with top winds of 74 mph or higher) and of those one to three will become major hurricanes (with top winds of 111 mph or higher, ranking Category 3, 4 or 5). Based on the period 1981-2010, an average season produces 12 named storms with six hurricanes, including three major hurricanes. NOAA does not predict the path of those storms.
"NOAA's outlook predicts a less active season compared to recent years," said NOAA Administrator Jane Lubchenco. "But regardless of the outlook, it's vital for anyone living or vacationing in hurricane-prone locations to be prepared. We have a stark reminder this year with the 20th anniversary of Hurricane Andrew." Andrew, the Category 5 hurricane that devastated South Florida on August 24, 1992, was the first storm in a late-starting season that produced only six named storms.
What would happen if Flagler County was hit by a hurricane? The question is posed at Flagleremergency,com, the one web stop for residents who need to stay informed about coming or ongoing emergencies, and what to do in case of one.
Hurricane effects in Flagler are summarized as follows: "Atlantic land falling hurricanes are the worst case scenario. With any storm approaching from the Atlantic, we may have to deal with the storm surge as well as winds and rain. We are lucky in Flagler County to have a very high dune line. However, we may still experience severe effects of a deadly storm surge. Depending on the strength of the storm, areas east of I-95 may feel some affects from a storm surge. Coastal areas and canal homes are likely to be the first impacted by the storm surge. In a stronger hurricane, the surge could reach I-95. The exact extent of a surge can not be forecast until the storm is actually threatening the area.
"Areas in west Flagler County might also see some surge flooding from the St. Johns River which feeds into Lake Disston. Flagler Beach, Palm Coast, Beverly Beach, Marineland, and even parts of St. Johns Park could be inundated by storm surge. The impact of winds would also be severe, particularly if the center makes landfall just south of Flagler County. All of Flagler County will suffer the full affect of hurricane winds and rain from an Atlantic land falling hurricane. Mobile and manufactured homes are the most vulnerable to hurricane force winds. In stronger hurricanes, every building in the county may suffer some kind of damage. Power, telephone service, utilities, and other services may be disrupted for long periods of time. Roads may also be blocked by trees and other debris."
Favoring storm development in 2012: the continuation of the overall conditions associated with the Atlantic high-activity era that began in 1995, in addition to near-average sea surface temperatures across much of the tropical Atlantic Ocean and Caribbean Sea, known as the Main Development Region. Two factors now in place that can limit storm development, if they persist, are: strong wind shear, which is hostile to hurricane formation in the Main Development Region, and cooler sea surface temperatures in the far eastern Atlantic.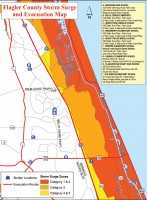 "Another potentially competing climate factor would be El Niño if it develops by late summer to early fall. In that case, conditions could be less conducive for hurricane formation and intensification during the peak months (August-October) of the season, possibly shifting the activity toward the lower end of the predicted range," said Gerry Bell, lead seasonal hurricane forecaster at NOAA's Climate Prediction Center.
The seasonal outlook does not predict how many storms will hit land. Forecasts for individual storms and their impacts are provided by NOAA's National Hurricane Center, which continuously monitors the tropics for storm development and tracking throughout the season using an array of tools including satellites, advance computer modeling, hurricane hunter aircraft, and land- and ocean-based observations sources such as radars and buoys.
Next week, May 27-June 2, is national Hurricane Preparedness Week. "Every hurricane season we ask families, communities, and businesses to ensure they are prepared and visit www.ready.gov/hurricanes," said Tim Manning, FEMA deputy administrator for protection and national preparedness. "Being prepared includes developing a family emergency plan, putting an emergency kit together or updating your existing kit, keeping important papers and valuables in a safe place, and getting involved to ensure your community is ready."
Flagler County's evacuation page is here.
Know Your Hurricane Categories:
CATEGORY 1: Winds of 74 mph to 95 mph, 4-5 feet storm surge, and minimal damage.
CATEGORY 2: Winds from 96 mph to 110 mph, 6-8 feet storm surge, and moderate damage.
CATEGORY 3: Winds from 111 mph to 130 mph, 9-12 feet storm surge, and extensive damage.
CATEGORY 4: Winds from 131 mph to 155 mph, 13-18 feet storm surge, and extreme damage.
CATEGORY 5: Winds greater than 155 mph, 18 feet or higher storm surge, and catastrophic damage.