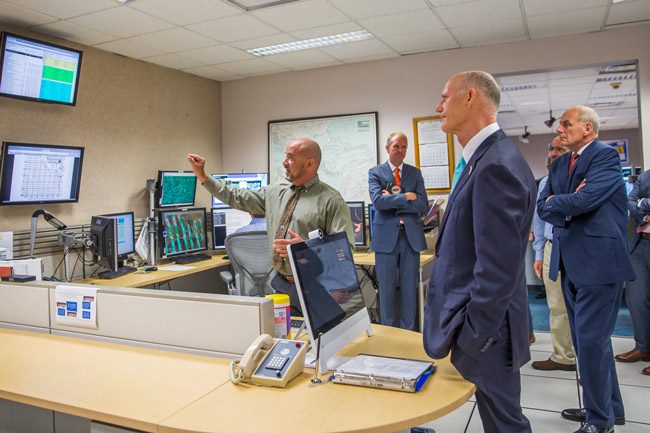 After ending an 11-year stormless streak in 2016, Florida enters its annual hurricane season today with forecasters predicting 45 percent chance of an above-normal season. For Flagler County, the season is beginning even as costly and exhausting recovery efforts from Hurricane Matthew have a long way to go.
The 2016 season was the most active since 2012, with 15 named storms in the Atlantic Ocean, including seven hurricanes and four major hurricanes. Hurricane Hermine, a Category 1 storm, struck Florida south of Tallahassee on Sept. 2, marking the first hurricane to hit the state since 2005. It did n ot impact Flagler County.
A little more than a month later, Hurricane Matthew, a more powerful storm, moved along the East Coast, and for 36 hours appeared headed for the Flagler Coast. Although it did not make landfall in Florida, it caused extensive damage, particularly in Flagler and St. Johns, with some $1.18 billion in property insurance claims, according to the state Office of Insurance Regulation.
Flagler is still recovering, with its beaches sheared of millions of cubic feet of dunes that must be replaced. County spending to recover from the storm has sverely depleted county coffers and required an increase in the tourism sales tax, from 4 to 5 percent, to help defray current and coming costs. The Legislature set aside $13.5 million for Flagler and St. Johns in recovery dollars for the year. The county literally cannot afford another severe storm striking its territory: it would most likely not have the money to recover, absent greater intervention from state and federal sources.
The National Oceanic and Atmospheric Administration, in a forecast released last week, predicted a similarly active season this year, based on warm sea-surface temperatures and a weak El Nino ocean-atmosphere pattern.
---
Watch: A Hurricane Center Briefing on the 2017 Season
NOAA forecasters predict a 70 percent likelihood of 11 to 17 named storms (winds of 39 mph or higher), of which five to to nine could become hurricanes (winds of 74 mph or higher), including two to four major hurricanes (Category 3, 4 or 5; winds of 111 mph or higher). An average season produces 12 named storms of which six become hurricanes, including three major hurricanes. These numbers include Tropical Storm Arlene, a rare pre-season storm that formed over the eastern Atlantic in April.
"The outlook reflects our expectation of a weak or non-existent El Nino, near- or above-average sea-surface temperatures across the tropical Atlantic Ocean and Caribbean Sea, and average or weaker-than-average vertical wind shear in that same region," said Gerry Bell, lead seasonal hurricane forecaster with NOAA's Climate Prediction Center.
Strong El Ninos and wind shear typically suppress development of Atlantic hurricanes, so the prediction for weak conditions points to more hurricane activity this year. Also, warmer sea surface temperatures tend to fuel hurricanes as they move across the ocean. However, the climate models are showing considerable uncertainty, which is reflected in the comparable probabilities for an above-normal and near-normal season.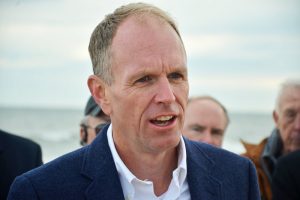 The forecast will be updated in early August, right before the peak of the hurricane season, which runs until Nov. 30.
"Regardless of how many storms develop this year, it only takes one to disrupt our lives," said Robert Fenton, acting administrator of the Federal Emergency Management Agency.
Bryan Koon, director of the Florida Division of Emergency Management, said Floridians' experience with Matthew and Hermine last year may heighten their awareness of the new hurricane season.
"Those folks will have that memory fresh in their minds," Koon said. "Matthew was such a big storm that it threatened much of the state at some point during its existence. I think people will recognize June 1 maybe a little bit more than they have in the past few years."
Koon and other state officials stressed the need for Floridians to prepare for the possibility of a major hurricane, which would bring high winds, flooding and power outages. During Hurricane Matthew, some 1.2 million customers of Florida Power and Light, the state's largest electric utility, lost power at some point.
Flagler County officials, including Emergency Management's Steve Garten, have been touring government and civic group meetings to make hurricane-preparedness presentations, including one this morning at the Hilton Garden Inn in Palm Coast, where preparedness bags were handed out.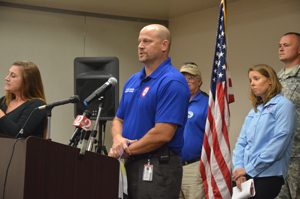 "We ask residents to have a number of emergency supplies ready, and this is the perfect time to take a look at what you have and replenish or replace these items," Garten said. "Remember to test things like flashlights and replace outdated batteries."
"Another thing we would to ask residents is to take a moment to do is to find out now, and write down their evacuation zones," Garten said. "We have a link and instructions on our website and it will only take a minute to do."
For the link to evacuation zones, go to www.flaglercounty.org/evac_zones. For additional information about the Disaster Preparedness Sales Tax Holiday, go to http://www.floridarevenue.com/DisasterPrep/.
Local efforts have echoed similar appearances statewide, including Gov. Rick Scott's today in Miami, where he joined Secretary of Homeland Security John Kelly and other officials at the National Hurricane Center to mark the beginning of the season (a governor's press release stated he was there to "kick off" the season.) Scott also highlighted Florida's disaster preparedness sales tax holiday, which runs Friday through Sunday (June 2-4).
"It only takes one hurricane to change your life," Homeland Security Secretary John Kelly said. "If you – or a close family member – live in an area prone to hurricanes or inland flooding, now is the time to prepare. Know your risk and get prepared by downloading the FEMA App, making sure your flood insurance policy is up to date, and checking out ready.gov for tips on what to do before, during, or after a storm." (OSee below for a list of supplies eligible for the tax holiday, preparedness tips and the hurricane preparedness kit.)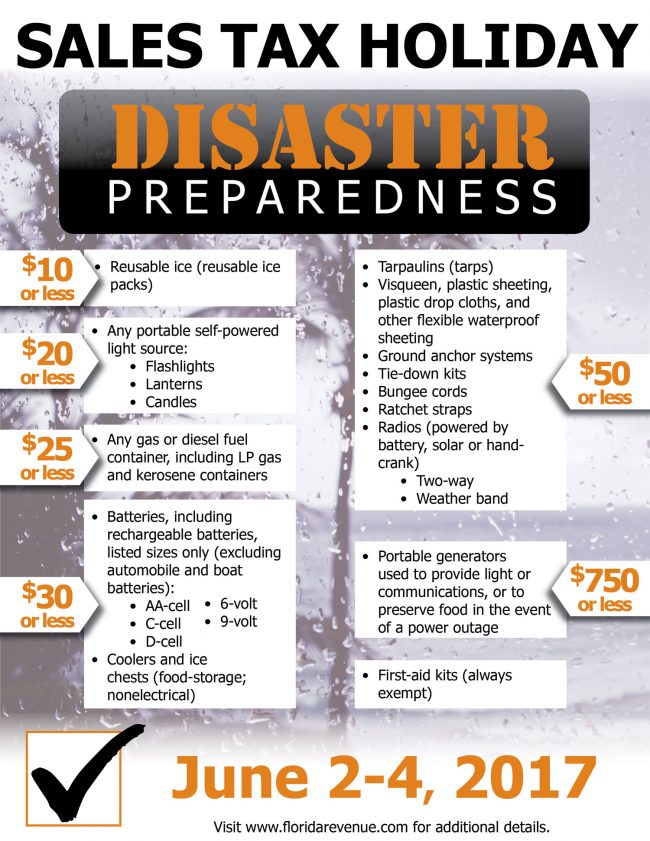 "Hurricanes are always going to be an inconvenience for us, but the more you plan ahead right now, the better chance you'll have to get back on your feet and get back to normalcy more quickly," Koon said. Koon also said residents need to consider evacuation plans, which do not necessarily mean moving to public storm shelters. "We want them to plan ahead," Koon said. "They are going to be much more comfortable staying with somebody they know, or in a hotel, than they would in a shelter. Right now is a great time to start thinking about what you would do in that situation."
Florida Insurance Commissioner David Altmaier said property insurance coverage should be part of residents' disaster plans.
"The time to evaluate your insurance coverage, fortify your home and prepare for how to protect yourself and your family is now," he said.
One tip from Altmaier's office is that residents can review the "declaration page" of their property insurance policies, which summarizes the coverage.
In last year's season, more than 119,000 Floridians made property-insurance claims after Hurricane Matthew, with more than 101,000 residential claims.
Hurricane Hermine resulted in nearly 20,000 claims, including 14,000 residential claims, representing $139 million in total losses.
–FlaglerLive and the News Service of Florida

What You May Buy Without a Sales Tax This Weekend:
Batteries (AA-cell, C-cell, D-cell, 6-volt, or 9-volt batteries) for $30 or less.
Nonelectric coolers for $30 or less for $20 or less.
Reusable ice $10 or less.
Portable self-powered radio, two-way radio, or weather band radio for $50 or less.
Tarpaulin or flexible waterproof sheeting for $50 or less.
First-aid kits (always exempt).
Ground anchor systems or tie-down kits for $50 or less.
Gas or diesel fuel tanks for $25 or less.
Portable generators for $750 or less.
See this fuller list from the Department of Revenue for more details.
Florida residents and visitors should develop a plan centered on self-sufficiency for the first 72 hours following a disaster so emergency responders can focus on restoring essential services and helping vulnerable populations. Families, businesses and individuals with special needs can design a personalized emergency plan at FLGetAPlan.com to prepare for or other disasters. The Florida Division of Emergency's Management's website, www.FloridaDisaster.org, also provides critical tips for disaster preparedness, such as local evacuation zones and basic information to ensure you are fully prepared for the 2017 hurricane season.

Flagler County Hurricane Preparedness Kit