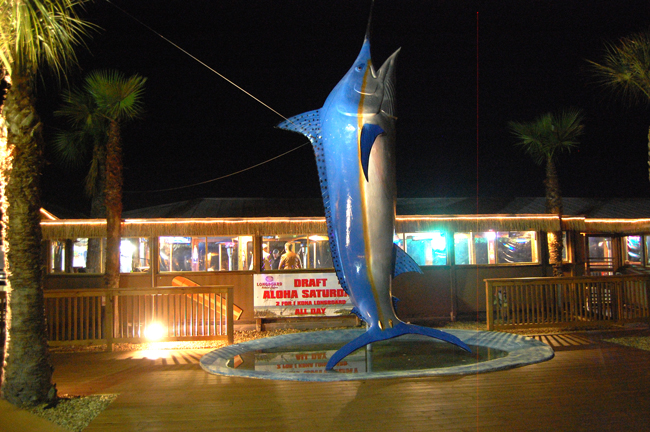 Hurricane Patty's opened as a bar and restaurant at the foot of the Flagler Beach bridge on the east side of the Intracoastal in mid-December. The place had been empty for about four years following the closure of Mad Dog's. It's been busy since. Some 80 people have been employed in one capacity or another ion that period, according to co-owner Chuck Stanford. The business employs about 45 to 50 part-time or full-time jobs, not including the work it provides bands nightly. In one month alone, Hurricane Patty's paid out $45,000 to employees.
Though it's been catering to thousands of patrons, the restaurant now finds itself embroiled in a conflict with the city over noise complaints. Six noise complaints, to be precise, from four households on either Lehigh or Lambert Avenues. Police log reviews showed that the Flagler Beach Police received two noise-complaint calls the night of Jan. 14. Both times an officer responded to the restaurant, he reported either that he could not hear anything or that the music had stopped. No decibel readings were taken either time (the officer, in any case, had forgotten how to use the meter since his original training, according to a memo by Acting City Manager Bruce Campbell to commissioners).
Stanford, who owns Hurricane Patty's with his wife Darcy—as they do another Hurricane Patty's in St. Augustine—says there's never been a single documented case of music noise levels exceeding the city's regulations. Decibel levels in commercial and tourist areas may not exceed 70 from 7 a.m. to 10 p.m., and 65 after 10 p.m. (residential area's limits are 55 and 60). "We've stayed within the rules. Still, people complain," Stanford said Thursday evening. "There were complaints before we even opened, based on previous restaurants."
Stanford was standing outside the city commission chambers, where commissioners had just spent more than two hours discussing their noise ordinance, mostly concerning Hurricane Patty's, and listening to a stream of people speak mostly  in favor of the restaurant and against new strictures proposed by Commissioner Ron Vath, including lowering the decibel limit by five units. The proposal drew the largest crowd at a commission meeting in months: the meeting room itself was at capacity, and two to three dozen more people gathered outside city hall's entrance to hear the proceedings on a loudspeaker.
The city commission was uncertain how to proceed. With Vath's exception, none of the commissioners was familiar with decibel measures. None, including Vath, could—or had the means, at the meeting—to tell the difference between a decibel level of, say, 65 as opposed to 70. And there was no documented evidence of the problem other than neighbors' complaints. "I'm very hesitant to change the decibel thing now," Commission Chairman John Feind said.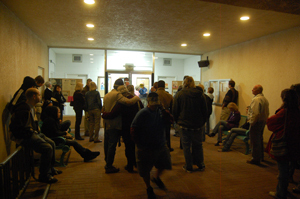 The commission is also facing an undercurrent of criticism for seeming "anti-business," if not particularly anti restaurant business: commissioners have been haggling for a year over the future of the Pier Restaurant, whose current owner wants to be rid of the place. The city has been entertaining a proposal from Raymond Barshay, the Ormond Beach restaurateur, but those negotiations have been slow and painful for both sides. (The city owns the pier and leases the restaurant.)  On the other hand, as Commissioner Joy McGrew noted, businesses have rights and expectations, but so do residents, who the commission also must represent. And she made a point that may well require a wording change in the ordinance, which distinguishes between amplified and non-amplified music.
"So it's not saying you can't have amplified music after 10," McGrew said. "To me, bottom line is, if you don't exceed 65 decibel level, then I don't care how you play your music.  I don't care how many speakers you have plugged in. As long as you keep it to 65 and it's not become a nuisance to the neighborhood. And even though there's been a tremendous amount of people here representing the residents, and it doesn't matter if we get one complaint, or 50 complaints. We still have to take into consideration that we are looking at the whole picture."
So rather than decide to rewrite the city's noise ordinance outright, the city commission delegated Commissioner Steve Settle to mediate a public town hall meeting (at the commission chambers) between restaurant owners and residents in order to explore the issue and possibly find a new middle ground.
Hurricane Patty's owners had implored commissioners to let common sense and everyday compromise have a chance: we want to do the right thing, however they're not giving us a chance to find out what the community wants." Darcy Stanford said. "In my opinion nothing should be changed right now because it's too soon." Stanford conceded that in St. Augustine, the decibel level limit is lower, by five units, than it is in Flagler Beach.
Rob Plimpton, one of the speakers, described meeting Stanford while she was using a decibel meter outside the restaurant and being "very diligent" about keeping within the limits. "It's a nice place, it seems like they're trying to do a good job, keeping by the laws of Flagler Beach. I have a lot of friends that are musicians, they play there. I've never noticed loud music that was over loud." Victor Rugg, a resident of Lambert Avenue who said his family has been coming to Flagler Beach since 1957, said the restaurant had promised not to have amplified music when it originally applied for its permit, though it does have amplified music now. "We want them to stay, I don't want them to go, but I want this issue to be finally put to bed. If we have to lower the decibels, let's lower the decibels." He conceded, however, that it's happened only twice—the loud noise. "Most of the time they're quiet. Great. Why can't they be quiet all of the time?"
It's not just Hurricane Patty's: David Hogan told the commission that since he moved to a place near the Beachhouse Beanery, he's been kept up by the noise at Finn's, but he's never complained. "I just don't see where it does any good to cry to people," he said.
Hurricane Patty's itself was relatively quiet Thursday evening, with many of its patrons at the commission meeting. Steve Dobson, a home inspector from Palm Coast, was there, as he is on occasion because of the place's unique amenities: "This is the only place in Flagler County on the Intracoastal that has public access," Dobson said, "and that's what draws my wife and I here. We're water people. We're boat people. That's another thing: This is one of the only places you can boat up to."