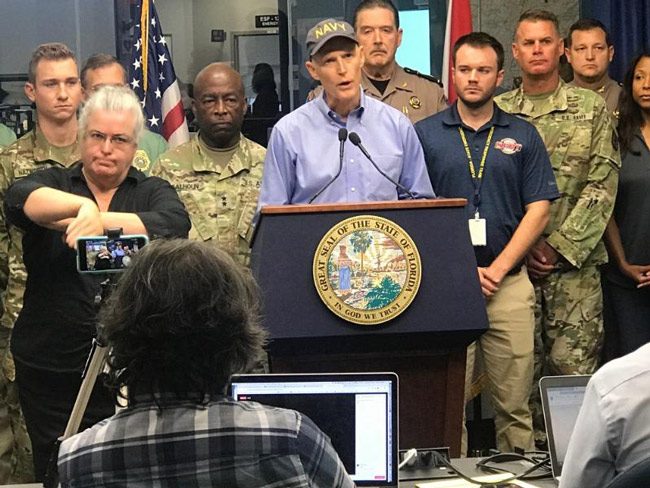 Hurricane Michael, swiftly moving north through the Gulf of Mexico, is growing more dangerous as it is set to bring "devastation" Wednesday to parts of the Florida Panhandle and Big Bend region, Gov. Rick Scott said Tuesday morning.
Scott, after getting a briefing at 8 a.m. at the State Emergency Operations Center, urged people who plan to evacuate to do so Tuesday morning, as he continued to expand the activation of the Florida National Guard in advance of Michael's landfall.
Tolls have been lifted in Northwest Florida to ease evacuation, and Scott said fuel distribution is being watched, though there haven't been "widespread fuel shortages or outages." Motorists were lined up before 7 a.m. Tuesday at gas stations across Tallahassee.
Scott said his main concern from the rapidly developing hurricane is storm surge, which the National Weather Service estimates could reach eight to 12 feet between Indian Pass in Gulf County and Cedar Key in Levy County and top six feet from Crystal River in Citrus County to the Okaloosa-Walton County Line.
"Hurricane Michael is a massive storm that could bring total devastation to parts of our state, especially in the Panhandle," Scott said. "Think about destruction we've seen before with storms like Hurricane Irma. Hurricane Michael poses a deadly threat."
As of 8 a.m., Michael was located about 395 miles south of Panama City, moving north-northwest at 12 mph with maximum sustained winds of 100 mph, a Category 2 hurricane.
In Flagler County, officials were downplaying the impact: "While Hurricane Michael is expected to hit the Gulf Coast and the Panhandle with a fury, impacts to Flagler County will likely be minimal – windy, rainy weather for the next couple of days," the county said in a release issued in mid-afternoon. "Residents are asked to be alert for old social media posts from two years ago when Flagler County was dealing with the after effects Hurricane Matthew.
"We've been made aware that there are some old posts and tweets being re-circulated from Hurricane Matthew in 2016," said Emergency Management Chief Jonathan Lord. "Please make sure the news you are following is current and from a trusted source like the National Hurricane Center, the National Weather Service, and Flagler County Emergency Services."
Current bulletins from the National Weather Service for Flagler County include a high risk for rip currents, a high surf advisory, and a coastal flood advisory. The risk of tropical storm force winds has decreased to 20 percent.
A hurricane warning is in effect from the Alabama-Florida state line east to the Suwannee River.
Scott, who on Monday ordered the closure of state offices in 35 counties, has activated 2,000 members of the Florida National Guard.
The Florida Fish and Wildlife Conservation Commission has 120 wildlife officers ready for search-and-rescue operations. The Florida Highway Patrol has 350 troopers working 12-hour shifts.
A major concern also is restoring electricity after what is expected to be widespread power outages. Duke Energy has 5,000 workers ready to deploy, and Gulf Power has 3,000 personnel on standby.
Unlike with the powerful and deadly Hurricane Irma last year that ran up the state, Scott has left evacuation orders to county officials.
"I've been talking to mayors, to county commissioners, I think people are taking this serious," Scott said. "This thing came up fast and it wasn't like Irma where we had quite a bit of time to prepare."
State Emergency Management Director Wes Maul, in talking to his staff a few minutes after Scott's news conference, expressed concern that county shelters have had to quickly set up because Michael formed in a short period of time over the weekend.
Scott said the state is working with the American Red Cross and National Guard to assist counties with shelter needs.
Floridians in counties where election offices closed Tuesday for Hurricane Michael will be able to register to vote the day those offices reopen.
Secretary of State Ken Detzner announced an extension Tuesday morning that will allow county supervisors to accept paper voter-registration applications when they reopen from the storm. Tuesday is the deadline to register to vote, and that deadline continues to apply to people who register online.
Florida Democratic Party Chairwoman Terrie Rizzo sent a letter to Gov. Scott late Monday asking for the extension, noting 35 counties are in a state of emergency.
"While 11 counties have already issued evacuation orders, it is expected that even more local governments in the area of the emergency declaration will consider closing offices and issuing evacuation orders on Tuesday in anticipation of the hurricane's landfall, also affecting the ability of these individuals to register," Rizzo said in a statement.
–Jim Turner, News Service of Florida