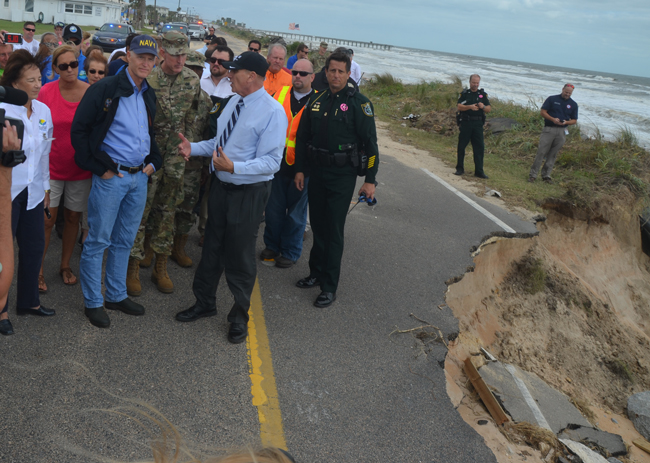 Last Updated: Monday, 7:02 p.m.
Quick links to latest updates:
The latest: The Governor's visit and repair costs
Is the Barrier Island open? Yes and No
When is electric power returning?
Crime during the emergency
Countywide update
The situation in Flagler County schools
Flagler County's West Side
Palm Coast pollution-lift station issues
Previous storm days' reporting
Gov. Rick Scott walked a small segment of State Road A1A Monday morning, the third day he's been touring areas damaged by Hurricane Matthew, and spoke with local, state and federal officials assessing the repair bills ahead, much of which officials hope will be underwritten by the federal government.
Two congressmen also toured the area: U.S. Rep. Ron DeSantis, who represents Flagler and parts of St. Johns and Volusia counties–essentially, some of the areas hardest hit in Florida–and who spent a large portion of Sunday getting a sense of the extent of the damage with Flagler County Fire Chief Don Petito; and U.S. Rep. John Mica, who used to represent Flagler until redistricting pushed his district further west. But Mica has always had affinities for Flagler's transportation needs, and as the powerful chairman of the House Transportation Committee, he is ideally situated to channel federal funds to the region.
"I don't think you're going to get a lot of choices," Mica told county and Flagler Beach officials as he stood next to what has turned into a chasm between what's left of A1A and the ocean. "The renourishment is going to be the Corps of Engineers, that's going to be their decision working with you," he said, referring to the corps' plan to artificially build dunes to stave off erosion, a plan Congress just funded before the storm. "But to get this highway back up you're going to have to have something to support it. That's basically the support you're looking at."
The priority is not renourishment, but road-rebuilding. That'll be the task of the Florida Department of Transportation, likely with a combination of state and federal dollars. That price tag is sobering: "They're saying $30, $35 million," Mica said.
State Road A1A is closed South 8th and South 22nd Streets, and on the north end between North 19th and North 23rd Street. Another segment is closed to through traffic immediately north of Beverly Beach.
The Flagler Beach City Commission was to have a special meeting in the next few days to discuss options, Commissioner Kim Carney said.
Describing the damage as "unbelievable" after surveying it from the air in previous days, further north, Scott spoke about Florida escaping the brunt of the storm and Flagler Beach in particular being spared what could have been a devastating impact. He toured much of the area with Flagler County Sheriff Jim Manfre.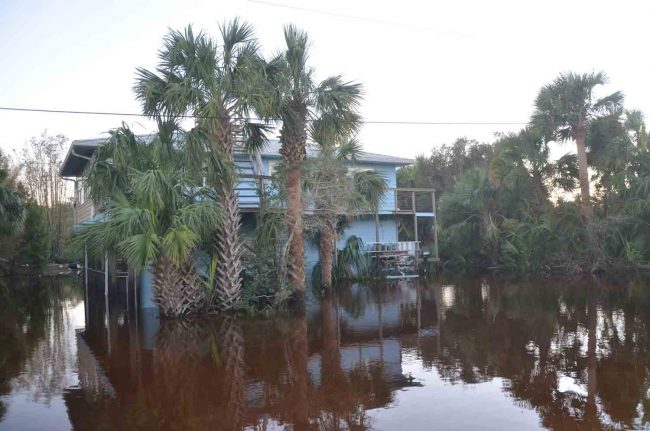 Though disaster-like conditions persist in several areas of the county, especially at its north end and with lasting power failures affecting upwards of 14,000 customers–the west side is still dark and having clean-water issues, and the county's own Emergency Operations Center is still without power other than through its own generators–the governor's visit marks a demarcation point between the disaster itself and the recovery phase. (That figure changed by 6 p.m., falling below 9,000, and going down rapidly.) That phase is expected to be long and expensive, though local officials are furiously at work to meet deadlines so that much of the expense of the last several days and days ahead will be covered by Federal Emergency Management Administration reimbursements.
Faith al-Khatib, the county engineer, spoke at length with Mica about what to expect in coming days and months. The Florida Department of Transportation has three options, she said. "They will share that information with us on Thursday, then we have to look at all these alternatives and decide." One of those options may be additional retaining walls: the one segment of retaining wall that was built about 10 years ago, at South 13th Street, held, while the sections of road at either end of the wall caved in. But Flagler Beach officials despise retaining walls.
"FDOT they'll be paying for the retaining walls, but are they going to pay for restoring the dunes?" Al-Khatib asked rhetorically. "The road is their priority," she said. "They can't leave the road this way. It's going to be an emergency project."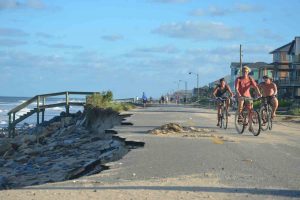 Officials will not say on the record–it would be impolitic–but they don't deny that the storm has in essence accelerated what the county was looking to do all along, and potentially shifted some of the financial responsibility from local coffers to state and federal coffers. Potentially only, however. In fact, when the county commission was last discussing the renourishment initiative in April, one of the issues was for the county to do nothing and wait for a storm. As we reported then, based on the county administrator's assessment, The County could also choose to do nothing. If a storm then demolished parts of the road, the state transportation department would be forced to repair the road, attaining the goal of the renourishment by way of a disaster.
That has now happened.
"We had a briefing with Congressman Mica and it looks like we'll call a special meeting sometime before Thursday to get a preliminary project under way," Carney said. "So they're doing the best they can. This is appropriations money. The city can't save it. The county surely can't save us. The federal government–it'll be appropriations."
Airtime before the television cameras aside, there's a certain value in having state and federal officials visit at times like this. "Having them here to see it firsthand on the ground is going to help assist us with the paperwork, getting it through FEMA and getting the funds to be able to bring the county back to normalcy," Flagler Fire Chief Don Petito said. But he said the estimate of local damages may not be ready for two more days.

Is the Flagler Beach Bridge Open?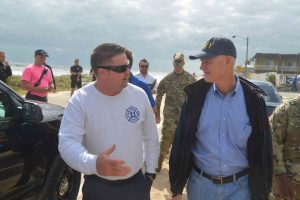 Despite a continuing stream of conflicting information from Flagler Beach's mayor (who says "We are not opening the bridges for now") and a re-confirmation from the county that the bridges are indeed open, the simple answer is: yes, the bridges are open, but officially, for essential services, contractors, repair trucks and residents only. In fact, while there remains a Florida Highway Patrol and Flagler Beach police presence at the foot of the bridge on the mainland, few drivers were being stopped going into Flagler Beach: cops were merely eyeballing drivers to quickly determine if anyone could or should be turned away. The curfew will go in effect in Flagler Beach this evening at 7 p.m.
"Please let us secure our city before you come back," Flagler Beach Mayor Linda Provencher said on her Facebook page. "We are trying to get traffic patterns in place,and our residents and businesses are still without power! The beach is closed since many of our walkovers were washed out. "
But a county spokesperson re-confirmed in an email: "The bridges are open to all ESPECIALLY licensed contractors, insurance adjusters, business owners and employees. There was a slight delay, but the bridges are open."
[At 7 p.m., the county issued yet another clarifications, saying tonight's curfew would be limited only to Flagler Beach, and only to that portion of Flagler Beach east of the Intracoastal–that is, on the island. For the rest of the Barrier Island–the Hammock, Beverly Beach, Marineland, unincorporated areas–the curfew has been entirely lifted. That means you can go to bars and drink to your heart's content, assuming you have the good sense to let someone sober drive you home.]
Many Flagler Beach businesses have been alerting customers through social media postings that they are indeed open, or opening. The beaches in all of Flagler, however, remain closed because of debris, loose nails, planks and other issues.
The city had one of its wells fail at its water plant but that was restored. The city has also had some brush fires, Fire Chief Bobby Pace said. "Several of them yesterday as the lines were coming back on," he said. But "a few days after this thing, I'm feeling pretty good about how everything is going. We're going to keep working at it."
Restoring Power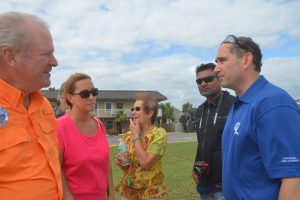 Florida Power and Light's credibility flickered a bit in the aftermath of the storm as the company pledged to restore electricity by Sunday to almost all 59,000 Flagler County customers who'd lost power. That did not happen. Almost a third of the county, including its most essential emergency infrastructure–the county's Emergency Operations Center–were still dark Sunday and into Monday. It became clear on Sunday that FPL, in an attempt to be both transparent and hopeful, had oversold its promise, as its enormous staging operation at the Flagler County Airport indicated: it was building an air-conditioned mess and rest hall for up to 1,200 workers there as late as Sunday afternoon.
But by late Monday afternoon, the number of customers without power had fallen below 9,000 as re-connections had picked up speed through much of the day.
"This is natural to any restoration effort. You can only go on what you visually see and what your system is telling you," said Robert Gould, FPL's vice president and chief communications officer, who had traveled to Flagler this morning to be in Flagler Beach during the governor's visit. "When you get eyes on it and you get into certain areas, there are pockets that are going to be far worse, and its less of a restoration than a rebuild. When you get to that rebuild, that's what extends the outages to more than just a restoration."
"And obviously for any of your citizens and our customers that are still out of service, the fact that we restored 1 million customers in just a couple of days, that's not solace, and we're absolutely laser-like and collapsed into this area and a couple of areas south to make sure w knock this thing apart."
Throughout the post-emergency of the last three days, numerous residents reported either not seeing electric repair crews in their neighborhoods or seeing trucks idling, further chafing frustrations. Safety issues controlled much of the contractors' approach, though the county administrator on Sunday suggested that there may have been coordination issues because of the enormous army of contractors, many of them not FPL employees, brought under the company's umbrella to accelerate repairs.
Gould was asked directly if the company had been too optimistic with customers when it pledged to all but complete the job by Sunday. "What customers want, is they want to have some sort of knowledge, be as transparent as you can be because it's helping them plan their lives," Gould said. "We tried to be transparent based on the modeling and based on what we had put eyes on. That was the best estimate we could make."
"We thought we were being aggressive," Gould acknowledged, "but we tried to give the customers as much as we can. At the end of the day it was still a Category 4 storm that was churning along here." He said the crews were still going to be attacking the issues hard, and restoring power to most by tonight, "but there will be some who will go into tomorrow. But it's something we take very seriously. That's why we're out here in force."
Meanwhile, the Flagler County Sheriff's Office is warning residents that scammers are preying on the desperation of those who have been out of service for days by threatening them and impersonating FPL.
"Scammers are calling and claiming to be FPL," the sheriff's Office's Jim Troiano said in a release issued late this afternoon. "They are threatening to disconnect service, if a payment is not made within 30 minutes. The calls have been reported as coming from 1-800-427-2750, but there may other numbers as well. This is not the way FPL operates. Also, do not return calls to that number."
To report a scam to FPL, call 1-800-226-3545, or the Flagler County Sheriff's Office at 386-313-4911. The regular FPL service number is 1-800-468-8243.
Crime During the Emergency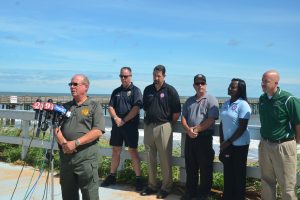 Burglaries were reported on Sunday at a home on Blakefield Drive, which had been evacuated, with televisions, X-Box games and an X-Box stolen, at Cricket Wireless, the store on Palm Coast Parkway, where the door was forced open and two bags of cash stolen, and at Robert Weidig Gunsmith, where some 30 guns were stolen.
On Sunday, a generator was stolen from a house on Clubhouse Drive in Palm Coast. A 2016 Chevrolet Silverado was stolen from a house on Sederholm Path, as the car was left running while the car owner went into his house. But the car owner had left his cell phone in the car, enabling authorities to locate the vehicle at Florida Hospital Flagler, where they arrested two men, Freddie Mitchell and Keyon Bennette.
On Saturday, eight house burglaries were reported–on Blakeport Lane, Blakefield Drive, at two houses on Radcliffe Drive (where at one house a 2011 Toyota Camry was also stolen, along with jewelry and electronics), and on Eastgate Lane, and on Bud Hollow Drive, all in Palm Coast, and in Bunnell, on Grove Street (a television and a gun were stolen) and Papaya Street (where a gun cabinet was shattered and all guns within stolen, along with a whiskey jug containing about $400 in quarters). A trailer was stolen from Pine Tree Drive on Saturday.
And on Friday, the day of the storm, at least three burglaries were reported–on Radcliffe Drive, Eastgate Lane and Prattwood Drive, all in Palm Coast. A generator was stolen from the Prattwood property even as the tenant was sitting in his living room, when the power went out. On Eastgate Lane, the resident was asleep, heard the back sliding glass pane shatter and heard someone in the house. It then took 30 minutes to vacate the house and call 911 from a neighbor's house, and while a K-9 unit responded, due to bad weather no track could be found, according to a sheriff's report.
Remarkably, crime, including looting, was nevertheless kept to a minimum through the emergency: there's been almost no other instances of looting despite the long power cut.
"I know the county had some car breaks and burglaries," Flagler Beach Police Chief Matt Doughney said this morning. "We to my knowledge as of today have not had any in Flagler Beach. We have not had a burglary. No looting, anything that was closed, even the 7-Eleven, you know, the generator came on, when the lights came on, we actually posted an officer there the other night, because the business was closed, we didn't want anyone breaking the window."
Some people were caught out after curfew, were simply asked to return home and complied.
"The one big thing, they need to stay out of this road," Doughney said of the sections of A1A that have been closed to traffic, and that make even walking there precarious, as there are no barriers between the shattered parts of the road and the chasms below.
"This road is so unstable, yet people have got their kid sitting on the edge, and the erosion is up underneath the road," Doughney said. "When that collapses what happens to your child?"
Doughney has 20 Florida Highway Patrol troopers in the city, some of them from as far off as Tampa, and he brought in 14 deputies from Martin County to help the city patrol that zone of closed streets. The troopers are staying through Saturday. Martin County's deputies will stay through Thursday. Of course, it'll take months to fix the road.
Overall, however, "people seem to be cooperating," Commissioner Kim Carney said. "The number one call I'm getting right now is when is my electricity coming on. "I know that Matt's got a handle on the closure situation."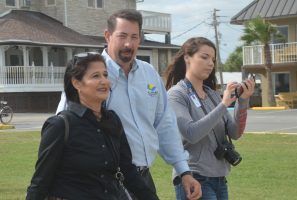 As far as the county is concerned, this is still an ongoing emergency: the Emergency Operations Center is still fully operational, albeit on generator power, as FPL has yet to restore power there.
Health-wise, emergency personnel have had various health-related issues to address, such as diabetics who needed emergency ice to keep their insulin cool. They've had an issue at a nursing home where "there was a meal situation and care and lack of staffing," County Administrator Craig Coffey said. "We've addressed that last night. We're finding utilities situations where the water plant hasn't been operating for three days," such as at Bulow Plantation, "so we called emergency generators in last night. Our utility guys are taking over some private utilities."
Generators are having trouble keeping up with lift stations. "We're going to start having some failures there even on the public side," Coffey said.
"The disaster is not over," he stressed. "We're trying to get a FEMA disaster center up. That's priority number one. Beverly Beach is in desperate need. Our north area and Daytona North will be the next areas soon. We'll definitely get a federal declaration. We're just trying [to get] a disaster center. It's not scheduled [until] Wednesday through Friday, we're telling them we need it now. We're talking about setting it up at the Palm Coast library. We told Mica, we're going to tell the governor again."
The storm did in fact cut a new inlet in the Matanzas area, and had "cut-throughs" near Bing's Landing and Varn Park. The new inlet was closed through a "temporary patch," Coffey said. "You can see a giant washout next to the road that probably looks like a giant ditch." County crews worked 24 hours to fix the issue with DOT.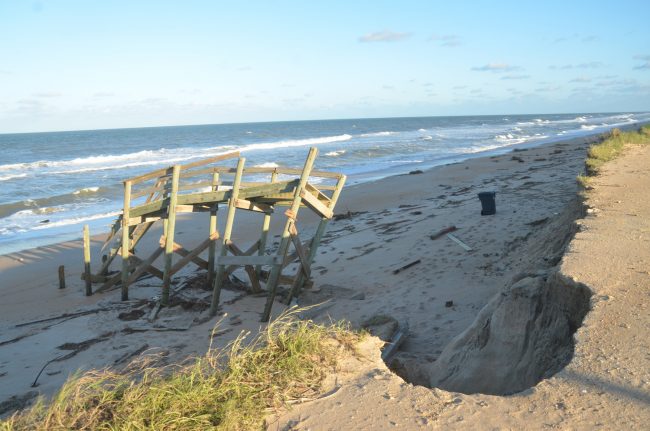 County crews have been pumping out water non-stop in subdivisions at the north end of the county, Marineland Acres and Sea Colony.
"We've had general services there, public works, and I'll just say–cities, county, it's just been tremendous, everybody coming together," Coffey said, " can't say enough for the folks that work for Flagler County and the cities, even all the non-profits. We've had volunteers cooking food non-stop for three days, slipping it into the EOC with no power. We've had employees with destroyed homes, here, day in and day out, working for the community. Water four feet up or higher, their home is a loss," in Sea Colony, in the north end of A1A. The county has been also working on finding ways to help those families, possibly through GuFund Me accounts or other means, while fellow-employees have been helping each other's families.
For all the damage across the county, one fact remains remarkable, especially in contrast with the rest of Florida, let alone the Caribbean, where deaths and injuries have been significant: not a single death or injury attributed to Hurricane Matthew, to civilians or responders, has been reported in all of Flagler. That continued today.
Flagler County Fire Chief Don Petito said rescue-wise, "it's been pretty quiet. A lot of fire alarms. That's about it."
Since Friday, when the storm peaked, he said there's been "nothing of serious matter other than patients who are running out of medications and are in need of ice for the medication, or running out of oxygen. We're helping them out with that. There's nothing major where we're seeing fatal or serious" issues. "I was quite surprised and pleased at the same time," Petito said, of the absence of injuries or deaths locally.
Commissioner Charlie Ericksen said the Point of Distribution station at the Flagler County Airport, where the National Guard was distributing Meals Ready to Eat (MREs) and water, was continuing to dispense both today.
To report emergency issues, call the Emergency Operations Center at 386-586-5111.
The Situation in Flagler County Schools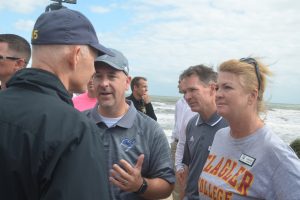 Flagler County School Board Chairman Colleen Conklin–who spent the duration of the emergency on the Barrier Island, helping and catering to elderly residents who'd stayed behind–said Gov. Scott (who was only a few steps away, speaking to a mass of media) had through his office applied "tremendous pressure" to get the schools to open on Tuesday. "The decision was made to keep with the original decision to keep schools closed. We're not ready–best interest of parents, staff, children, everyone," Conklin said.
"We'll be ready Wednesday," Superintendent Jacob Oliva said.
"We are going through them right now, getting them cleaned up, a lot of debris, some water intrusion" in probably all schools, Oliva said. "Nothing significant." Power is getting restored, crews are getting into the schools to dry them out.
"We had some roof damage at Matanzas" High School, Oliva continued, "Rymfire, the old county office building, a couple of other places, but we've already had the contractors out there, they're taking care of that. We lost some pieces of awnings, like in front of bus loops, so our maintenance folks are tightening that up. But we're going to make sure our campuses are safe for students. That is our number one priority before we bring them back."
Cost-wise, repairs should not result in additional bills for the district. "My understanding is everything is FEMA-reimbursed," Oliva said. "Right now we're documenting everything. When we get back to full capacity we'll figure out what that is."
The school district provided three shelters during the emergency–Rymfire, Bunnell Elementary and Buddy Taylor Middle School. But it did a lot more: its fuel trucks became roving fuel suppliers for several local agencies, including fire houses and government generators around the county.
"We've been housing the National Guard at FPC," Oliva said. "We have the Red Cross up at the A1A center. So our buildings have been used."
It's also time for the district to make up the days lost: five days in all, including one day from Hurricane Hermine. That's a full week, essentially wiping out one of the two weeks the district added at the front end of the calendar this year to ensure that students could prepare better for their end-of-course exams in December.
The first of these "hurricane make up days" will be this Friday, October 14th, the district announced today. This was originally scheduled to be a Teacher Work Day. Additional make up days will be announced at a later date.
And as an added hurricane-recovery bonus, the United States Marine Band, "The President's Own," performs a free concert at 7:30 tonight at Flagler Auditorium. Ticket holders must be in their seats by 7 p.m. Space permitting, any remaining seats will be opened up at 7:15 p.m. The auditorium has been inspected following Hurricane Matthew and has been deemed safe for use. "We are glad we can help support this community event," Oliva said. "It's the first large step in the recovery effort within our schools. We have many more in the coming days."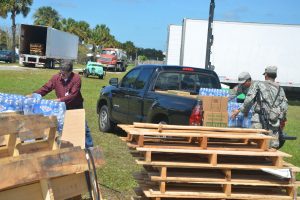 Flagler County's west side is without power even though it was not struck by as much wind or water damage as were the east and north sides of the county. That has required a stepped up emergency response from county officials to ensure that residents have food and water: clean water is in short supply there.
"We've got a POD out there giving out water as we speak," said County Commissioner Nate McLaughlin, who represents the west side. He was referring to a Point of Distribution. "Food and water. Now, as far as the septics, they're all dependent on electric. So as soon as we can get them power–hopefully by the end of day today, no later than tomorrow."
"We've got so many priorities that are critical, utilities are going out to the west side, we talked to them," said County Administrator Craig Coffey. "Anybody that doesn't have power tonight, we're trying to refocus the charitable feeding areas to those areas so we can help them more and more, because it's getting past Day 3. It starts getting more dire and dire. Please keep calling the [Emergency Operations Center] if you have an issue, that's been helping us. We're trying to address your needs. Patience has been great. Folks are tough out there."

Palm Coast Lift Station and Sewer Overflow Issues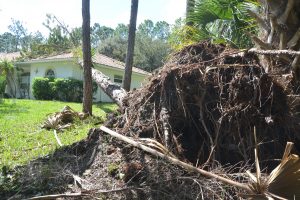 Palm Coast issued the following notices Monday. (Note: in contrast with the reporting above, the items below are taken directly from Palm Coast's releases and, for lack of time and resources, have not been independently reported or edited.)
Pursuant to the State of Florida's new Emergency Rule related to Public Notice of Pollution, the City of Palm Coast is providing public notice of a sanitary sewer overflow at a pump station and leakage at several manhole covers due to loss of power during Hurricane Matthew.
When power was lost, the pump station was not able to pump the wastewater to the wastewater treatment plant, resulting in an overflow that was confined to the installation site. When City crews discovered the overflows, they were immediately cleaned up using a vacuum tanker truck. The City disinfected and placed signage at the areas as needed once the spills were remedied.
Overflows of sanitary sewer can pose hazards similar to backups from facilities in public restrooms or your own home, so please make sure that you, your family, and your pets avoid contact with the overflow. If you, your family or pets come in contact with a wastewater overflow, please wash your hands or affected areas thoroughly with soap and water.
The overflows to the ground occurred throughout the day on Saturday, Oct. 8, 2016. They were cleaned up upon discovery, the affected lift station and manholes are located at:
Pump station 23-1 at 91 Whippoorwill Drive – less than 200 gallons contained inside the facility property.
Manhole at the intersection of Patchogue and Patrick-less than 100 gallons
Manhole in front of 11 Patrick Place – less than 100 gallons
Manhole at the intersection of Parkview Drive and Patrick Place– less than 100 gallons
Manhole at the intersection of Parkview Drive and Palmwood Drive– less than 100 gallons
Manholes located on Universal Trail surcharged due to prolonged power outage – less than 100 gallons
Manholes located on Fanwood Dr. surcharged due to prolonged power outage – less than 100 gallons
The Emergency Rule for Public Notice of Pollution was enacted by the Florida Department of Environmental Protection on Sept. 26. The Emergency Rule imposes new requirements for providing public notice of pollution in certain circumstances. Previously, such notifications went only to State officials unless they posed an ongoing or significant pollution problem for the public. The new rule adds a public notification requirement.
The City has notified the Local Newspaper and Broadcast Television for Public Notification, the Florida Department of Environmental Protection, the City Manager, Mayor and City Council of Palm Coast.
The City of Palm Coast's Wastewater facility permit number is FL0116009, and the City contact for this report is Palm Coast Customer Service at 386-986-2360 or Brian Matthews at [email protected]
The City of Palm Coast's critical priority for storm recovery today is to manage the wastewater system to respond to and prevent sewage overflows in residences with PEP tanks (Pretreatment Effluent Pumping System).
Many homes in the L, Z, E, LL, B, W, R, P and S sections of Palm Coast have PEP tanks. If you are unsure if you have a PEP tank, look for a 24-inch concrete or plastic disk in your yard and an electrical box on the side of your house closest to the disk.
If you have a PEP tank and don't have power, and begin to experience sewage not going down from your toilets or sink or showing up in your shower or tub, immediately stop all use of water. Call Palm Coast Customer Service at 386-986-2360 or at the EOC Call In Center at 386-586-5111 to report that you have a sewer backup. You will be the City's highest priority for a City crew to respond to empty your PEP tank.
If you are on a PEP System and don't have power OR if you are on the gravity sewer system and don't have power, please limit your use of water. Do not do laundry. Flush as infrequently as possible. Put as little water down your sinks and showers as possible. Wash up with your hose in the yard, if possible.
If you have a PEP tank and have no power, your PEP System isn't working because the pump requires power. If your tank fills, your wastewater will not go down and you will begin to experience backups. For the gravity sewer system, some lift stations in Palm Coast are still without power and are at risk of causing backups if the system becomes overloaded.
If you have a PEP tank, when your power comes back on, the pep tank alarm may go off. To silence the ring, there's a re-set button on the side panel located on the side of your house. Then report to Customer Service at 386-986-2360 for required maintenance. The pep system information guide is online at:  http://docs.palmcoastgov.com/departments/utility/Pep%20Booklet.pdf.
The City of Palm Coast is working around the clock on these wastewater issues, and have brought in additional tanker trucks and generators to assist in pumping down PEP tanks and lift stations where power service has not yet been restored. These problems will be fully resolved once power is fully restored.
Other Palm Coast updates from Monday:
 City of Palm Coast telephones – City of Palm Coast telephones are down due to a carrier issue. Customer Service representatives are based at the Flagler EOC, and the City's Customer Service number has been forwarded there. The public can reach Customer Service through the regular number of 386-986-2360 or by calling the EOC Call In Center at 386-586-5111 or by emailing: [email protected].
Debris removal ongoing – To expedite debris removal from residences, the City asks residents to help by separating everything at the curb into the following categories:
Vegetative Debris – leaves, logs, plants, tree branches, etc.
Construction & Demolition Debris – building materials, asphalt shingles, drywall, lumber, metal, plastics, etc.
Normal Household Trash – Normal household trash and bagged debris of any kind will not be picked up with debris as part of this program. You should continue to follow your normal garbage and yard trash schedule for normal garbage and bagged storm debris.
Because of the volume, Waste Pro will not be able to pick up all bagged debris on Wednesday. Simply leave the bags at curbside, and they will be picked up in the next cycle.
Likewise, the contractor picking up loose debris will have to make several passes through Palm Coast to pick up all debris.
Park, trail information – Frieda Zamba Swimming Pool will be closed Tuesday. Indian Trails Sports Complex and Ralph Carter Park will open on a limited basis for team practices only beginning Wednesday. Youth programs at the Palm Coast Community Center will resume Wednesday. Palm Harbor Golf Club, the Palm Coast Tennis Center and all other City of Palm Coast parks and trails will be closed until cleanup can be completed. Cleanup is under way by Public Works crews.
If you have property damage, hire a licensed contractor – All contractors other than for debris removal and landscaping/tree removal are required to have a license. Ask to see the license. Call the Palm Coast Building Division at 386-986-3780 to make sure they have the right license. Also, get a written contract before the work starts.
Carbon monoxide poisoning – Do not use a generator indoors, and be sure your generator outdoors is not positioned near a window or door. Other safety tips are available at www.palmcoastgov.com and www.flagleremergency.com.
Tree removal from roads continues – Florida Power & Light crews are continuing to remove trees from public roads, especially in the W Section. There are several residential roads that are impassable due to downed trees that have powerlines tangled in them. Please avoid those areas; any downed powerlines should be considered "hot." If you have any fallen trees from the public right-of-way that have damaged private property, contact Customer Service at 386-986-2360 to report it.
Questions? If you have any questions related to the hurricane recovery, Palm Coast Customer Service would be happy to assist you. Customer Service is 386-986-2360, and can also be reached at the EOC Call In Center at 386-586-5111.
For more information, contact Jason Giraulo, Digital Communications Coordinator, at 386-986-2484 and [email protected] or Cindi Lane, Communications and Marketing Manager, at 386-986-3708 and [email protected].