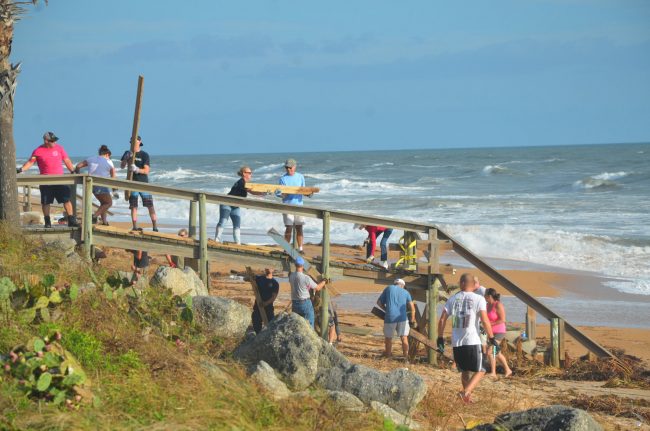 For some 150 volunteers Sunday morning, including Flagler Beach and Palm Coast firefighters, city and county commissioners, residents and non-residents, church was the more than one-mile stretch of beach they all counter-attacked like a tsunami in reverse: what Hurricane Matthew had shredded and marred they methodically cleaned up, picked up and stacked up, plank by plank, block by block, starting in the area of the boardwalk by the pier and moving north faster than Mayor Linda Provencher had imagined possible.
"I never dreamed that this much stuff would be off the beach" that quickly, Provencher said, the bulk of the job having been accomplished in an hour.
Beach worshippers had been unleashed, moving mountains of debris. Not one hour into the clean-up, which had started at 7:45 this morning, the east side of Ocean Shore Boulevard from the area of the pier north to around 10th Street was lined with mound after mound of planks, debris, garbage, limbs of pier and the undefinable mangle of storm trash Hurricane Matthew had left on the beaches, after mowing down dunes, walkways and parts of the road and reshaping the contours of the shore from smooth inclines to jagged cliffs and cuts.
The beaches have been closed since the hurricane passed through, because they've been made unsafe by the debris–broken glass, nails sticking out of planks, rusty metal bits, and so on–and the absence of beach access, now that so many walkovers have been destroyed. The plan is to have at least the beach in the area of the boardwalk opened up soon, with as quick a repair to as many walk-overs as possible in the near future to progressively reopen further portions. It's essential for the city's economy and its sense of normalcy, even though big portions of A1A, which collapsed, will remain closed, forcing businesses along that stretch at the south end of town to try to survive by attracting customers through Central Avenue.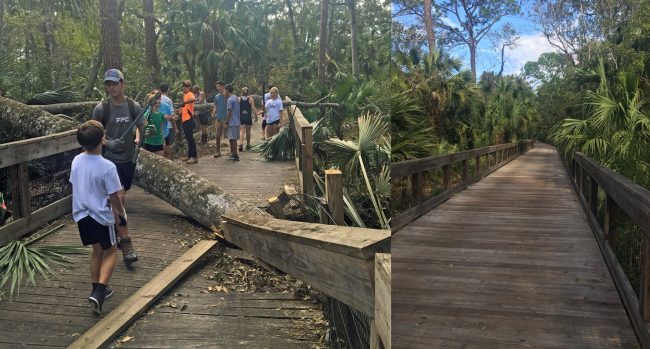 "There's a few that are just missing a few steps. Once we can get those secure, then at least people will be able to get on to the beach," Provencher said. The water-quality test came back fine on Saturday. "So maybe by mid-week we can get part of the beach opened anyway."
"Only a few walkovers need repairs along that stretch and should be repaired rather quickly," Rick Belhumeur, a Flagler Beach city commissioner, said.
The Flagler Beach clean-up was one of two Sunday morning, the second taking place almost simultaneously along the paths of Graham Swamp in Palm Coast, between Colbert Lane and Old Kings Road, David Halliday, the always-imaginative coach of Flagler Palm Coast High School's track and field team, and a sucker for good causes, put out a call among his students and others to come out and clear the paths of the jumble. It's among the paths the students run in practice. They were joined by Palm Coast Mayor-Elect Milissa Holland and Assistant Coach Alex Giorgianni, turning parts of the trail from jungle to pathways again.
"We run here all the time so we just thought it'd be a good thing to come over here and help clean-up," Micah Slicer, an FPC senior, said moments before joining the effort. He was with freshman Joey Orndorff. "It's pretty messed up back there."
"I totally should have brought a machete," said Aquila Gonzalez, speaking words you don't too often hear a 10th grader say.
"I have watched this community come together in times of crisis for years. This day, seeing all of these students out here, working so hard, will be a day I never forget," Holland said. "We are Flaglerstrong!"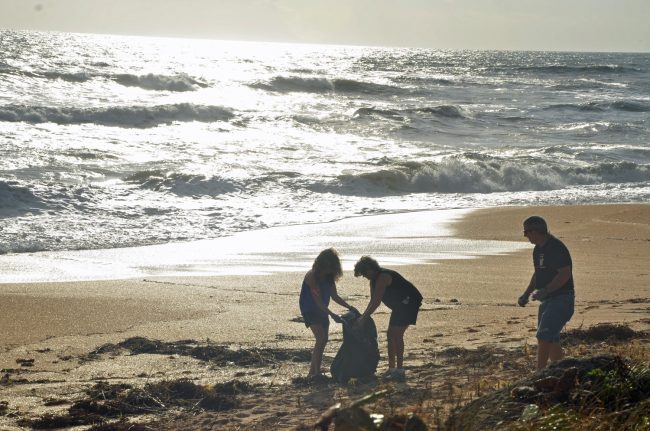 In Flagler Beach City Manager Larry Newsom called Mayor Provencher at 7:30 Saturday morning and suggested putting together a volunteer effort to clean-up the beaches. She immediately put out the call, teaming up with Mary Louks, president of a residents' association in town. Once a month, the Flagler All-Stars, run by Provencher, conducts a clean-up along the beach anyway. "Usually we just have a handful, we could have 6 or we could have 20, but this is a special deal," Sheryl Hall, who lives just off the beach with her husband Jeff, said, a big black half-filled bag of trash in her hand as Jeff filled it. "Because this is basically the county beach."
"It is unbelievable, look at this," Flagler Beach City Commissioner Joy McGrew, herself in the thick of clean-up duty a few steps down the road, said, pointing to workers on the beach and on surviving walkovers. "This is a true community pulling together to take care of itself with the help of all its residents and visitors. It's a beautiful thing."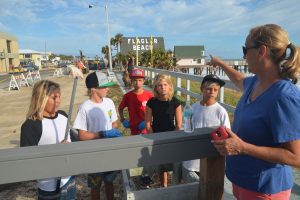 Nearer the pier, all in work mode, Provencher had happened by Marshall Shupe, the city commissioner, Barbara Revels, who chairs the county commission, and Sharon Atack, the former county judge, along with Pauline and Thom Gray. By then they'd completed the majority of the work.
"We'll be doing several beach clean-ups picking up the cigarette butt and the bottles and all that, this was just picking up the heavy debris. But the most amazing thing is now we have people picking up the litter because we got so much done so quickly," Provencher said. She estimated the number of volunteers, who were being signed up, at upwards of 150, with more signing up even late into the morning.
And why was Revels there? "Because my mayor called me," she said. "I would have been very upset if I hadn't known about it, since I don't do social media, like I should."
A wealthy resident at noon treated all volunteers to lunches at the Golden Lion and Tortugas restaurants.