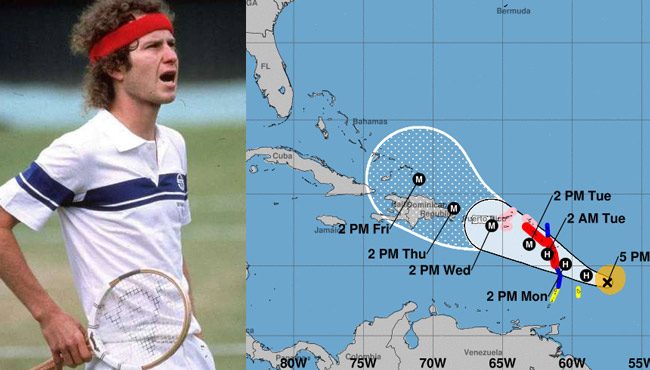 Seriously?
It's now Hurricane Maria. It's moving slowly toward the Caribbean, following roughly the same path that Hurricane Irma did just two weeks ago, if a little further to the north. It is expected to become a major, Category 3 hurricane as it moves further northwest. But for now, rare is the forecast that sees it even skirting the Florida Peninsula.
The hurricane is currently moving at 15 ,mph in a wes-northwest direction, heading toward a direct hit on the heart of Puerto Rico, then skirting the east end of the Dominican Republic. Puerto Rico largely escaped damage from Irma. It does not appear to be as fortunate with Maria, which may even slow as it crosses over the eastern Caribbean.
"Maria has strengthened to a hurricane and could be near major hurricane intensity when it affects portions of the Leeward Islands over the next few days, bringing dangerous wind, storm surge and rainfall hazards," the National Hurricane Center said at 5 p.m. "Maria is likely to affect the British and U.S. Virgin Islands and Puerto Rico by mid week as a dangerous major hurricane. Hurricane watches have been issued for the U.S. and British Virgin Islands and could be extended to Puerto Rico tonight or early Monday."
And Florida? Again, it's a tale of two models. The Global Forecast System model largely followed by the National Hurricane Center has the storm staying well to the east, and shifting north after grazing the Dominican Republican: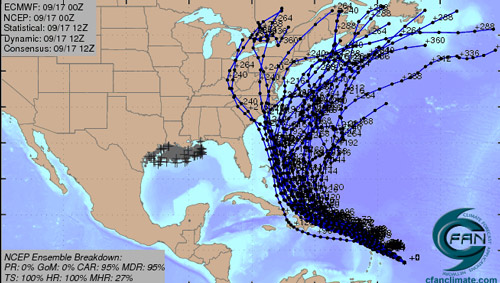 The European model–from the European Center for Medium-Range Weather Forecasts, or ECMRWF, has the storm tracking further west, which would not be good news for Florida: the European model has consistently been more accurate than the GFS models. The European model still largely has Maria staying offshore, but not by much, recreating yet again a potential Hurricane Matthew scenario: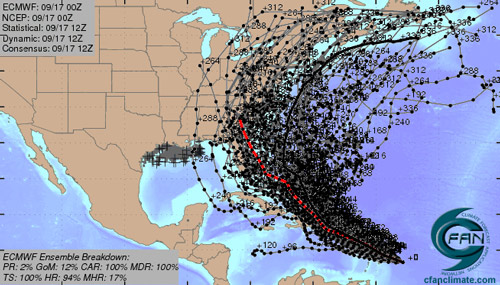 The other worry for Flagler, even absent landfall, is storm surge and erosion against a significantly weakened shore, and areas vulnerable to coastal flooding. So even as the county is only now nearing its final power re-connections after a difficult week and working toward opening a Federal Emergency Management Administration (FEMA) location at the county library to address flooding and wind damages sustained by residents, officials will again be having to monitor what could, at any wobble, throw the state and the region into crisis mode again.
The chance of that is remote. But it is far from insignificant. Maria, like Irma and Harvey before it, is a dead-serious storm.