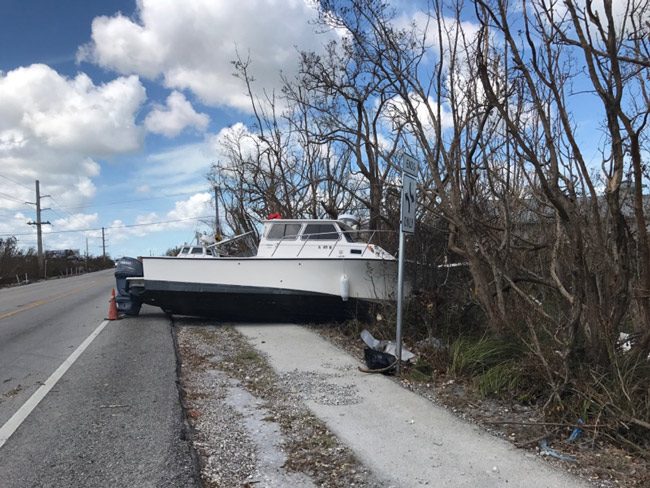 As the state House plows through a long and potentially expensive menu of options to recover from Hurricane Irma and brace for Florida's next hurricane, Senate President Joe Negron is confident the storm that walloped the state in September won't blow a hole in the upcoming budget.
But potential public and private costs from Irma are staggering:
— Agriculture officials have estimated Irma caused a $2.5 billion hit on crops and facilities.
— The insurance industry is facing $6.55 billion in property damage claims.
— Utility customers could be asked to pay more than $1 billion to cover the costs of getting power restored.
— The Florida Division of Emergency Management said that as of Dec. 14, federal agencies had provided more than $2.49 billion to help cover Irma-related losses.
State officials have yet to put an overall price tag on Florida's costs from Irma, which left destruction from the Keys to Jacksonville. Added to that are potential costs from Hurricane Maria, which is impacting Florida as evacuees from Puerto Rico and the U.S. Virgin Islands have moved to the state.
Negron said during an interview this month that as lawmakers await a February update on tax revenues, the short-term effect of Irma on the state has been "modestly negative."
While Irma cut revenue in September, Negron said forecasters anticipate an uptick in post-storm revenue to offset the losses.
He retained optimism about drawing up a 2018-2019 budget, which economists had expected to be tight even before Irma hit.
"I don't think that it dramatically alters how we build our budget," Negron said. "I still think there will be room for environmental priorities, educational priorities, and so I don't think the hurricane spending will necessarily mean that there are other things that simply can't be done. They're not going to displace priorities that the House and Senate have. We're going to have to address it, but we'll still be able to do other things as well."
But as the annual 60-day legislative session prepares to start Jan. 9, ideas for addressing hurricane issues — some of them potentially expensive — have continued to emerge.
Members of the House Select Committee on Hurricane Response and Preparedness have continued to revise and offer recommendations that they will discuss Jan. 8 on the eve of the session. Any recommendations would need approval from the full House and Senate, but the ideas touch a wide range of issues.
For example, some lawmakers are looking for ways to speed evacuations when big storms threaten the state. Among proposals tossed out are using passenger trains, using a cruise ship to get people out of the Lower Keys or extending the Suncoast Parkway toll road north of the Tampa Bay area.
Other potentially high-profile recommendations include such things as strategically locating petroleum distribution centers and requiring utility lines to be placed underground.
Rep. Dane Eagle, a Cape Coral Republican who offered the proposal to use passenger trains to get people out of evacuation zones, also suggested the state look into the Florida Department of Transportation purchasing emergency generators for vital highway-railroad crossings.
"It is in the public interest to ensure that railroads in Strategic Intermodal System corridors are able to quickly resume operations following a hurricane event in order to deliver critical fuel supplies, bulk liquids such as chlorine for water treatment plants, building materials and other relief supplies to affected areas of the state," Eagle's recommendation said.
Rep. Elizabeth Porter, R-Lake City, earlier suggested the state consider using rail transport before, during and after hurricanes to speed fuel to impacted areas.
Irma, which made landfall Sept. 10 in Monroe and Collier counties and barreled up the state, was Florida's first major hurricane since the devastating 2004 and 2005 seasons. Along with evacuation issues, Irma also caused widespread damage in the agriculture industry, left millions of Floridians temporarily without electricity and led to problems in cleaning up debris.
Lawmakers are discussing a variety of those types of issues as they prepare for the session.
For instance, Rep. Ben Albritton, a Wauchula Republican who is a citrus grower, outlined several proposed tax exemptions for the citrus industry. That included exemptions for material used to repair or replace damaged fences and structures and for fuel used to transport crops during an emergency.
Meanwhile, deaths at a Broward County nursing home that lost its air-conditioning system after Irma have resulted in a number of proposals, including Gov. Rick Scott's administration pushing forward with requirements for nursing homes and assisted- living facilities to add generators that can keep buildings cool.
Rep. Robert Asencio, D-Miami, suggested an "at risk registry" to identify vulnerable people at care facilities, as well as creation of an industry panel to review and approve emergency plans for nursing homes and other facilities.
House Select Committee Chairwoman Jeanette Nunez, R-Miami, suggested the state explore onsite options to maintain care for dialysis patients in nursing homes during disasters.
Nunez also has offered one of the few proposals that came with a price tag already attached, $1.46 million to serve as a match for federal funds to install generators at Florida's 42 shelters for victims of domestic violence.
Meanwhile, Rep. Bob Rommel, R-Naples, would like the state to require each county to determine how much fuel it needs to operate generators for critical infrastructure and first responders during the first 72 hours following a storm. The proposal also would let counties build or maintain fuel depots or create agreements with current fuel depots.
Some of the proposals deal with the difficulties of cleaning up communities and rebuilding after major storms.
Rep. Holly Raschein, R-Key Largo, suggested a pilot housing program that would use $2.85 million from the state as a match for federal Community Development Block Grant money that could be used to build temporary and permanent affordable housing in storm-battered Monroe County.
Trying to help post-storm cleanup efforts, Rep. Michael Grant, R-Port Charlotte, has recommended prohibiting tree trimming and discontinuing non-containerized yard waste collection services 72 hours before hurricanes. He also suggested traditional garbage collection be suspended 48 hours prior to storms.
"Time is needed in order to get our employees off the street, so they can prepare for the storm and make sure materials in trucks have time to dispose of items and landfills have time to process," the recommendation from Grant said.
–Jim Turner, News Service of Florida