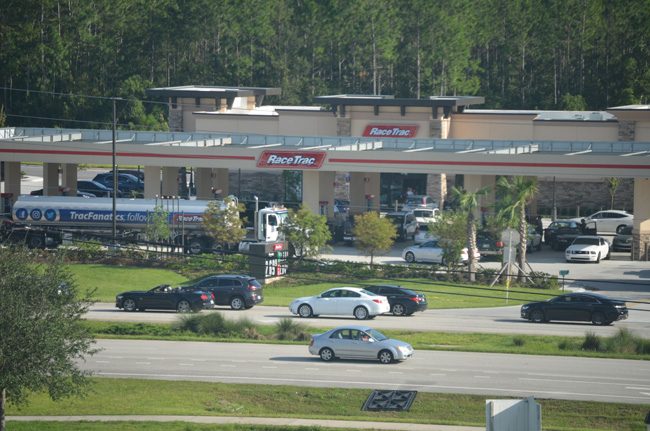 Last Updated: Tuesday, Sept. 12, 8:12 p.m.
The following is a running list of closures, cancellations, postponements, re-openings and related announcements in Palm Coast and across Flagler County.
So far, the following businesses have opened as of Tuesday, Sept. 12:
Race Trac gas station on State Road 10, near I-95
Publix, 800 Belle Terre Parkway
Publix, 4950 Belle Terre Parkway
Winn Dixie, 1260 Palm Coast Parkway
Winn Dixie, Flagler Plaza
Walmart, 174 Cypress Point Parkway
Racetrac, State Road 100, NO GAS
Dunkin Donuts, State Road 100
Dennys
Bob Evans
CVS, Palm Coast Parkway
McDonalds, Palm Coast Parkway
McDonalds, Belle Terre Parkway
Focaccia, 85 Cypress Point Parkway
Gospel Gardens, taking names for yard work, 386-586-6947
A1A Burrito Works, Palm Coast Parkway
Tractor Supply Company
ABC Liquor, Palm Coast Parkway
Schools: Flagler County schools will remain closed through Wednesday, Sept. 13, and anticipate opening Thursday, Sept. 14. That also means there's no Flagler School Orchestra classes/rehearsals at Indian Trails Middle School Wednesday afternoon. That doesn't mean you should not practice at home.
Daytona State College is closed through Wednesday, Sept. 13, with all classes – including online – and activities cancelled. Daytona State College will announce Wednesday morning at approximately 11 a.m. if part or all of the college will reopen on Thursday.
Flagler College officials have decided to postpone the start of classes until Monday, Sept. 18, at normally scheduled times, as the campus continues to cleanup from Hurricane Irma. Residence halls are expected to be ready for student arrivals on Saturday, Sept. 16.
Flagler County government offices are closed Tuesday and Wednesday, but constitutional officers such as the the property appraiser and the tax collector, at the Government Services Building, are closed Tuesday but opening Wednesday, Sept. 13. Flagler County Growth Management Department (building permits) will also be open Wednesday. All government offices reopen Thursday.
Palm Coast City Hall and Palm Coast Utility Office will reopen Wednesday morning, Sept. 13, at 8 a.m., and a special Palm Coast City Council meeting has been called for 9 a.m. Friday, Sept. 15, to discuss Hurricane Irma recovery and other business items. City Hall is located at 160 Lake Ave. Palm Coast Utility is located at 2 Utility Drive. Palm Coast Customer Service will continue to be open Tuesday evening for any issues related to City services, including water and sewer, streets and drainage. The number is 386-986-2360.
Also in Palm Coast: Parks & Recreation facility openings – Frieda Zamba Swimming Pool will reopen Wednesday, Sept. 13. The hours are 2-7:30 p.m. Monday through Friday.
The Palm Coast Tennis Center will reopen Wednesday, Sept. 13, but will close early (at 4 p.m.) Regular hours will resume Thursday. Only court play will be held Wednesday and Thursday. Clinics will resume Friday.
Palm Harbor Golf Club's driving range and chipping and putting practice greens will reopen Friday, Sept. 15. The golf course is still closed for cleanup.
The playgrounds are open at Holland Park, Linear Park and Belle Terre Park. All parks are open, but not all amenities are available depending on park cleanup. The trails are still being cleaned up.
Flagler Beach government offices are closed Tuesday, Sept. 12, and until further notice. The regular commission meeting scheduled for Thursday, September 14, 2017 has been canceled.
Bunnell government offices are closed Tuesday, Sept. 12, and until further notice.
Courts: Courthouses in the 7th Judicial Circuit will remain closed Wednesday, Sept. 13, 2017, by order of Chief Judge Raul A. Zambrano. The original closure due to Hurricane Irma included Sept. 8 to 12 but the closure is being extended. Most court operations will remain suspended, but first appearances will resume Wednesday at 8:30 a.m. in all four counties. The 7th Circuit includes Flagler, Putnam, St. Johns and Volusia counties. This order affects the Kim C. Hammond Justice Center in Bunnell, the Putnam County Courthouse in Palatka, the Richard O. Watson Judicial Center in St. Augustine, the Volusia County Courthouse in DeLand, the S. James Foxman Justice Center in Daytona Beach and the two Volusia County Courthouse Annexes in Daytona Beach and New Smyrna Beach.
The Florida Department of Health-Flagler remains closed Tuesdsay and Wednesday, reopening on Thursday, Sept. 14.
Florida Hospital Flagler is open for patients with emergencies.
Florida Hospital Flagler classroom activities by outside groups: All extra groups using classrooms have been cancelled from Thursday through next Wednesday, Sept. 13, due to Hurricane preparations at the hospital, according to FHF's Deborah Duvall.
Stetson University: we have not received notice of when the university is reopening.
The St. Johns River Water Management District will reopen its offices for business on Wednesday. District headquarters in Palatka and service centers in Jacksonville, Maitland and Palm Bay will open at 8 a.m. to serve the public. Staff will be available to answer questions, issue emergency waivers to assist with recovery efforts from Hurricane Irma, and work with permit holders to get businesses and residents up and running. In addition to their normal regulatory responsibilities, district staff will be participating in damage assessment teams as requested by local government partners.
Previously:
Flagler Playhouse's ribbon cutting ceremony to celebrate the opening of the new wing (scheduled for Friday morning) was postponed until further notice, but the theater is proud to announce that regularly scheduled performances of Evita this coming weekend, Sept. 15, 16 and 17, will go ahead. Hurricane Irma caused the loss of valuable rehearsal time, and equally valuable technical preparation time over this past weekend, but everyone involved is working very hard to make up the lost time. If you have tickets for Friday Sept 15, Saturday Sept 16, Sunday Sept 17, or tickets for Thursday's By Invitation Only Preview, we look forward to seeing you as scheduled.
Flagler Branch of AAUW (American Association of University Women): The September 9 meeting at Pine Lakes Golf Club has been cancelled.
FlaglerLive's Daily Briefing is suspended for the duration of the storm and days immediately following it.