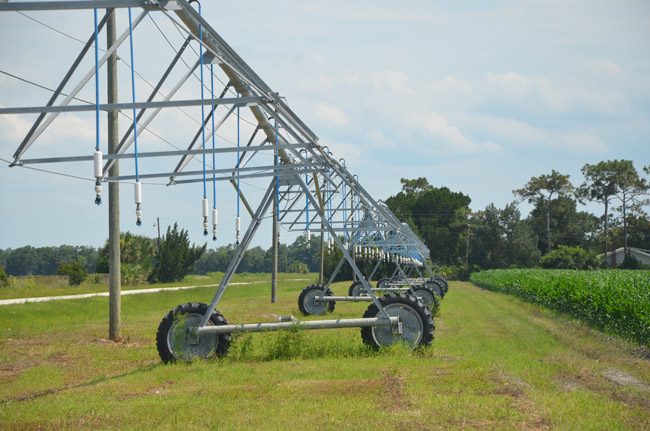 Hurricane Irma caused more than $2.5 billion in damage to Florida's agriculture industry, with citrus growers and nurseries suffering big losses, according to a preliminary report released Wednesday by the state Department of Agriculture and Consumer Services.
Citrus growers, already struggling because of citrus greening disease, felt the biggest impact, with losses to crops and trees approaching $761 million, followed by the nursery industry at almost $624 million.
"Florida agriculture took it on the chin as Hurricane Irma pummeled the state," said Agriculture Commissioner Adam Putnam, who called the $2.5 billion figure "only an initial assessment."
"We're likely to see even greater economic losses as we account for loss of future production and the cost to rebuild infrastructure," Putnam added.
A department report said estimates have not been made on infrastructure losses sustained by some growers and on damage to such things as internal farm roads, dikes, water-control structures and retention areas. The report is based on satellite imagery, statistics, and early surveys of the industry.
The state Senate Agriculture Committee is scheduled to discuss the impact of Irma on the agriculture industry during a meeting Oct. 12, just before the release of the first U.S. Department of Agriculture forecast for the citrus growing season.
Shortly after the storm, citrus growers were reporting losses from 40 percent in Central Florida to 100 percent in Southwest Florida. Irma hit the Florida Keys on Sept. 10 and then made a second landfall in Southwest Florida.
The newly released report, compiled by Department of Agriculture and Consumer Services Chief Economist Sergio Alvarez, estimates 421,176 acres of citrus were affected in Collier, Hendry, Lee, Brevard, Glades, Charlotte, St. Lucie, Highlands, Indian River, Okeechobee, DeSoto, Hardee, Osceola, Polk and Martin counties.
The nursery industry estimated that 46,204 acres of greenhouse, nursery, and floriculture production was affected.
Growers also project that labor in preparing nurseries for the arrival of Irma, as well as cleaning up debris after the storm passed, led to $42.5 million in costs, Alvarez wrote.
The cattle industry damage assessment is at $237.5 million, while the dairy industry is estimated to have $11.8 million in losses.
Ranchers estimated 100 animals died in the storm, according to Alvarez. Also, the storm could result in 7 percent of cows not breeding this year. Also, stress will cause an estimated 187,000 calves awaiting shipment to out-of-state feedlots to each lose about 50 pounds, a projected cost of $75 per calf.
The sugar industry appears to have $383 million in damage, with an estimated 534,324 acres affected.
The report noted higher harvesting costs are expected as much of the crop was lodged into the ground by the storm. Also, growers are worried about the ability to locate and use sugarcane for seed to plant the next crop.
"This issue may result in reduced acres planted for the first harvest in the 2018-2019 season," Alvarez wrote.
Vegetable and fruit growers — excluding citrus — face $180 million in damage, with an estimated 163,679 acres impacted by the storm.
"Fortunately, the planting season for most of these crops was just getting started, and most crop losses will happen due to shortened production season, market distortions, and reduced yields resulting from higher pest pressure due to dilution of pesticides," Alvarez wrote.
Alvarez noted that some blueberry growers said Irma's winds ripped entire blueberry bushes from the ground, with one grower reporting that 125 acres of blueberry bushes were completely ripped from their beds.
"Land preparation and planting costs for an acre of blueberries in Florida is around $16,568 per acre, as reported in blueberry crop budgets," Alvarez wrote. "An estimated 500 acres statewide have suffered the same fate, bringing the cost of replanting berry bushes to $8,284,000."
–Jim Turner, News Service of Florida