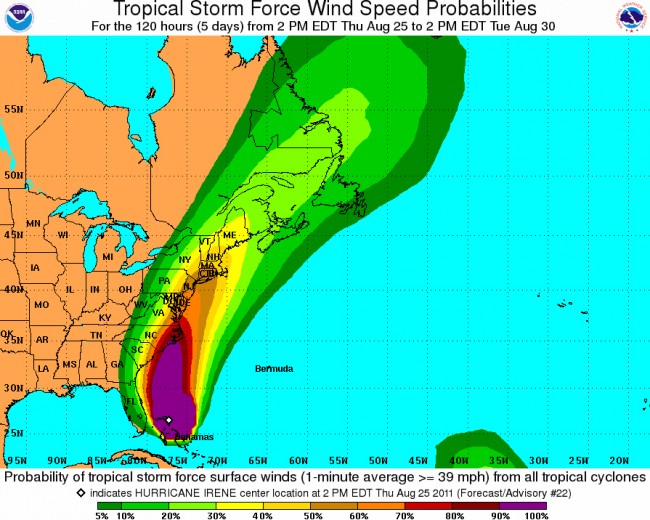 Last Updated: Aug. 25, 6:19 p.m.
Aug. 25 update: Even as Hurricane Irene continues to slip east and out of direct danger for Florida, the National Weather Service has issued a tropical storm warning for Flagler Beach down to the Volusia-Brevard county line. Seas will build to 20 to 25 feet offshore and 12 to 18 feet nearer shore. Tropical-storm gusts are expected during the night as Irene travels north, and a large, battering surf will hit the beaches overnight.
As of 5 p.m. today, Irene was about 575 miles south of Cape Hatteras in North Carolina, with wins of 115 miles per hour, moving north-northwest at 14 miles per hour.

Previous reports
Aug. 24 update: Hurricane Irene is no longer a threat to Florida. The state is entirely out of the hurricane's probability cone even as Irene continues to strengthen over the Bahamas. This morning it had winds of 115 miles per hour, making it a Category 3 hurricane.
Irene was 55 miles southeast of Acklins Island in the Bahamas, heading west northwest at 9 miles per hour–a slow-moving hulk picking up steam as it swirls.
In Flagler County, the school district cancelled after-school activities on Friday, but school itself will go on as usual. The National Weather Service has changed its forecast for Friday. Heavy rains are no longer expected. Forecasters expect showers and somewhat windy conditions on Thursday (with winds of up to 20 miles per hour) and stronger winds of up to 30 miles per hour Friday.
Hurricane Irene looks like a descendant of Hurricane Gloria in 1985. Gloria, a Category 4 hurricane, made landfall at three points in the United States–North Carolina's Outer Banks, Long Island and Connecticut. Irene is heading for Long Island and New England by Monday, according to current projections, though chances are very high that the projected path will change significantly: it's just as possible that Irene's compulsive slouch east will continue, pushing it out to the Atlantic throughout its voyage north and making it, in the end, a non-issue for the continent.
Meanwhile, a new tropical storm appears to be shaping up off the western coast of Africa and heading this way, though it's way too soon to predict which path it will take. (See the map below.)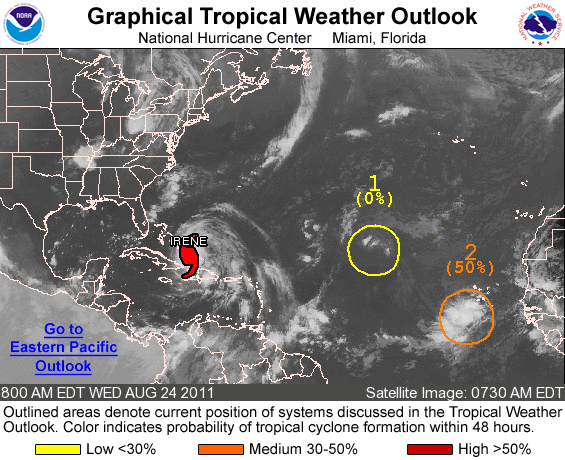 Aug. 23–Hurricane Irene's path appears to be veering further east, into the Atlantic, which is good news for Florida and Flagler, but bad news for coastal North Carolina, where it is expected to make landfall as a major hurricane during the night of Saturday into Sunday.
Tuesday morning, the storm had passed just north of the Dominican Republic but was shearing across the Bahamas islands with sustained winds of 100 miles per hour, and moving north northwest at 10 miles per hour. Irene was a Category 2 hurricane this morning. It's expected to strengthen to a Category 3 hurricane by Thursday, with winds between 111 and 130 miles per hour. It may grow into a Category 4 hurricane by Friday (131 to 155 miles per hour winds), the day when it'll be nearest to Flagler County.
Here's the latest map on Irene's wind-speed probabilities, showing that the probability of hurricane-force winds hitting Flagler's shores is about 5 percent. But this is no time for a Bahamas vacation. Click on the map for larger view: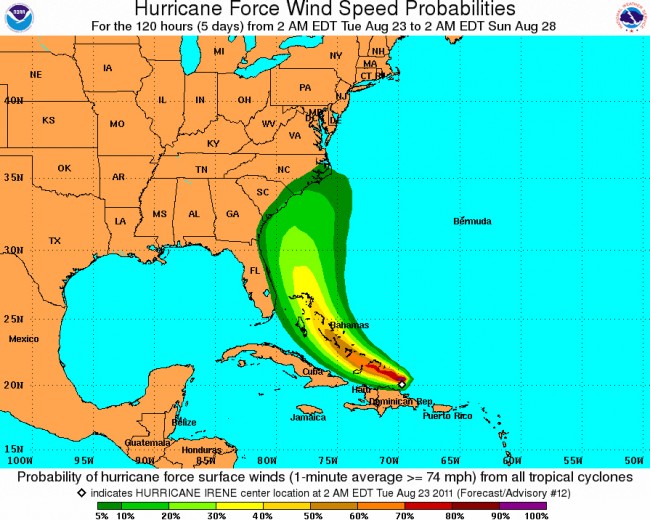 Aug. 22–Hurricane Irene is strengthening more than originally expected and heading for Florida. The National Hurricane Center is predicting that by Thursday morning, it'll be a major=-category hurricane with winds of up to 115 miles per hour. Current predictions have the eye of the storm skirting up the Florida coast over the weekend. It would be level with Flagler County on Saturday around noon.
The path of the storm can change at any moment. Predictions are notoriously inaccurate the further out they're made. The National Hurricane Center's "probability cone" (see the map above has the storm traveling anywhere into Florida or going well to the east of the state as it moves decidedly north. The cone is about 250 miles wide. In other words, the center of the storm could travel anywhere within that distance.
Residents are advised to closely monitor the path of the storm, which is updated twice every 24-hour period at the National Hurricane Center, at 11 a.m. and 11 p.m.
At the moment, various computer models have the storm further east of Florida, and heading for landfall in South Carolina. The National Weather Service is predicting heavy rains for Flagler County, and winds of up to 36 miles per hour, on Friday.
Irene on Monday was heading for the northern coast of the Dominican Republic, with winds of 80 miles per hour and higher gusts, making it, at the moment, a Category One hurricane. The storm was expected to pass just north of Hispanola today and reach the southeastern Bahamas Islands late Tuesday.
For updates on the storm: See the National Hurricane Center, from where all news agencies and the National Weather Center get their information. The Miami Herald is also providing excellent regional coverage.
Late Monday afternoon, Flagler County sent out the following release:
Although it is not certain that Hurricane Irene will arrive in Flagler County later this week, preparations are underway at the Flagler County Emergency Operations Center and the storm is being closely watched.
"We are monitoring the storm twenty four seven," Flagler County Emergency Management Chief Troy Harper said. "The forecast track continues push eastward and if that trend continues for next the few days our potential impact locally should be reduced." EOC officials have met with city officials and county departments to plan for the storm, should a response become necessary.
Harper advises residents to check their personal storm plan and list of supplies to make sure they are ready just in case. "Everyone in the state should have a personal plan in the event of a hurricane and have a supply of food and water to last them several days," Harper said. "It is still too early to accurately predict if we will be affected by Irene, but the key is to be prepared," Harper said.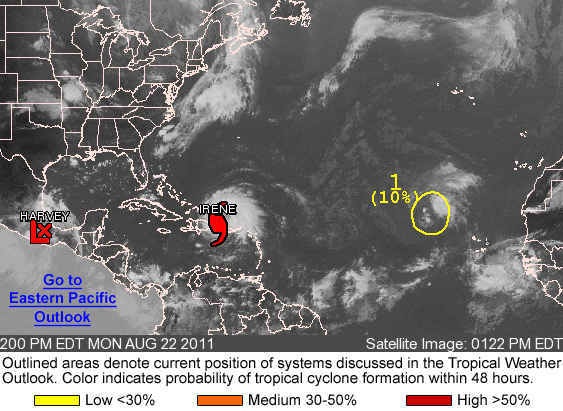 Irene on Wednesday morning:
Irene on Tuesday morning: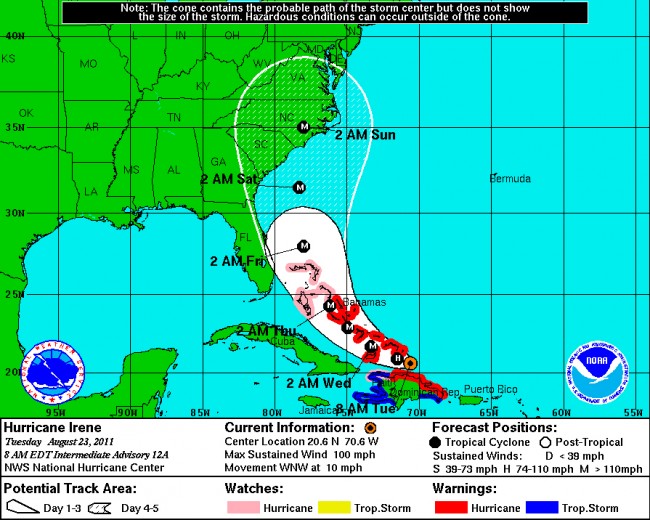 Irene on Monday morning: