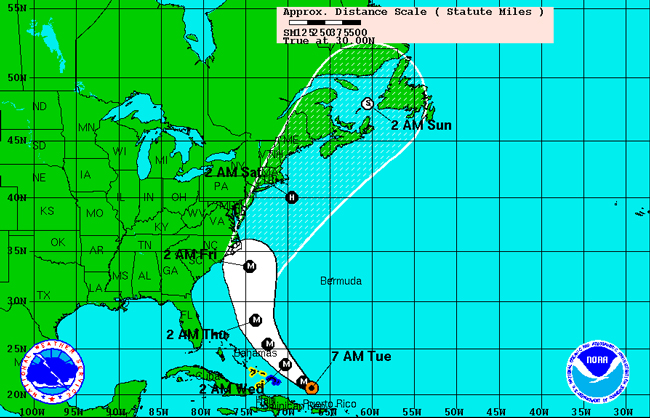 Hurricane Earl is dangerous. It was upgraded to Category 4 Monday, with sustained winds of 135 mph (215 km/h) and higher gusts. This morning at 9 it was moving west-northwest away from Puerto Rico and the Virgin Islands at 13 mph, toward the U.S. mainland, but not anywhere near Florida. If current trends hold–always a qualified if with hurricanes–the storm should stay 350 to 400 miles off the coast of Florida, according to Bob Pickering, a Flagler County emergency management technician.
In Flagler County, there'll be swells Thursday and Friday, possibly up to 10 feet. There'll likely be rip currents. (You can keep track of rip currents here.) Winds will pick up to 15 to 25 mph, possibly with gusts of 35 mph around the beaches, but there should be little to no rain, and nothing damaging to worry about, Pickering said, "providing everything stays according to forecast, providing that Earl is well behaved, and that's the most important thing: things can always change, but as things stand right now, we're not in too bad a shape."
North Carolina's Outer Banks aren't in as good a shape, with Hurricane Earl and Hurricane Fiona, following closely behind, on a path to hit the North Carolina shore. "It's not out of the realm of possibility that Earl could pass between Wilmington and Ocracoke," Mark Sudduth, editor of HurricaneTrack.com, tells the North Carolina-based Wilmington Star News.
You can stay current with Earl's whereabouts and Flagler's latest advisories through the county's emergency operations website, through the National Hurricane Center and through HurricaneTrack.com.
Keep in mind: Your Flagler County hurricane preparedness kit.