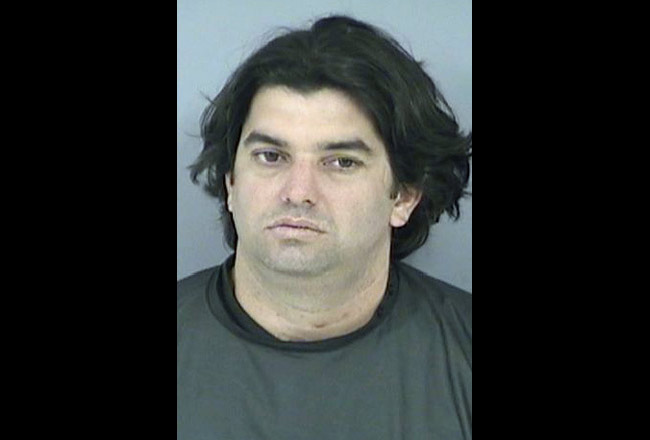 When a Flagler County Sheriff deputy arrived at the Palm Coast house at 40 Laramie Drive, his dispatcher told him the suspect–David Romero–was in the rear lanai, holding a 2-year-old boy in his arms and banging on the glass sliding door. The boy was Romero's son. Romero was "heavily intoxicated," according to the deputy's report, and looking for his wife, Yeney Castaneda.
She had fled the house in fear, going to a friend's house. Romero had become verbally abusive and aggressive toward her, according to the report.
When the deputy made contact with Romero, 35, he was holding the boy in a headlock and standing in the doorway of the lanai, next to the swimming pool. He'd threatened to throw the boy into the swimming pool if his wife didn't come out of the house, according to the report.
The deputy relates: "I immediately started giving David Romero verbal commands to put the child down and get on the ground. He refused and took a more aggressive stance and held the child even tighhter. I continued with verbal commands to put the child down and surrender, but David Romero again refused and turned to run back into the lanai area."
As Romero turned to run, "he made a motion with the child as if to actually throw him into the swimming pool. The motion was made in a swinging type manner," the deputy reports.
He was grabbed by the back of the shirt and forced to the ground as another deputy took the child to safety. The child was not injured.
The child's mother, Yeney Castaneda, told deputies that she and her husband, Romero, had been arguing earlier in the morning.
Romero was charged with felony child abuse, resisting arrest without violence and disorderly intoxication. While bond was set at $1,000 for the two lesser charges, he was held without bond on the abuse charge.
Note: the police report states that the incident took place at 40 La Mancha Drive. The sheriff's office's news release places the incident at Laramie Drive. Laramie and La Mancha parallel each other in the Matanzas Woods section of Palm Coast.