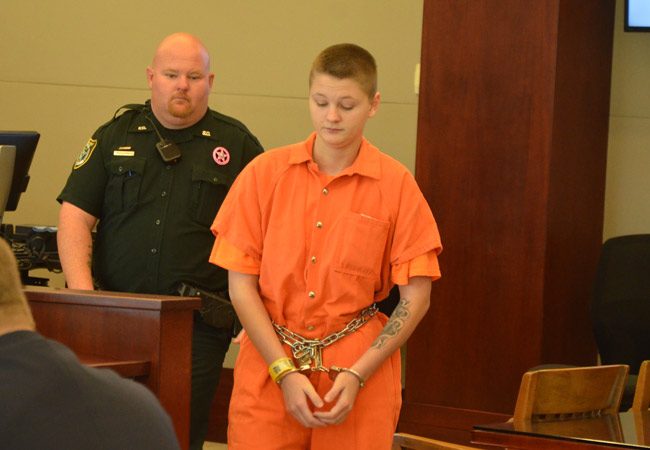 In an unusual rebuff both to prosecution and defense attorneys, Circuit Judge Dennis Craig this morning rejected a plea agreement with a 20-year-old woman accused of molesting a teen girl, saying a probation-only sentence would be too lenient. He ordered the attorneys to return in late November with an agreement that provides for at least "some prison" time.
The case involves Maria Rose Howell, 20, of 9 Biddle Place in Palm Coast. She was arrested in June 2016 after she took a 14-year-old Flagler County girl she had met two days before on a social media site to Epic Theater in Town Center, then to Port St. Lucie. Parents of the 14-year-old had reported her missing to police. Howell, according to her arrest report, admitted to kissing and fondling the girl, while the girl told authorities that she had also been digitally penetrated several times in the two days she was with Howell, in Palm Coast and in Port St. Lucie.
When she was arrested at the end of September 2016, Howell was charged with lewd and lascivious battery, a second-degree felony, and contributing to the delinquency of a minor. A lewd and lascivious battery charge was dropped.
Between the time of the alleged sexual offenses and her arrest, she was arrested on a separate set of charges, including battery on a law enforcement officer and disorderly intoxication. That took place in Flagler Beach toward the end of August 2016, when she was also found with a juvenile who had been reported missing. In that case, Flagler Beach police officers were only telling her that she should not drive home, because she was intoxicated. When she insisted, she was removed from her car and taken to a police car, kicking an officer along the way.
She pleaded guilty to the offense in a pre-trial intervention deal where the charges would be dropped as long as she completed the diversion program. She did not, instead violating the terms of the deal by not completing substance abuse evaluation requirements or reporting to mandated appointments. That meant she was booked back into jail (at the end of June) and the offenses to which she pleaded guilty would again be on the table. Instead of being dropped, she would have to be sentenced for them, along with a felony count of violating the pre-trial intervention program.
That was to take place today.
William Bookhammer, Howell's attorney, told Craig that the proposed plea deal would bring down the molestation and delinquency charges to two counts of felony child abuse, thus avoiding a sexual-offender designation, but also reducing the maximum offense from a second-degree felony to a third-degree felony. Rose would not serve prison time but would be sentenced to 10 years' probation, with early termination of probation possible after seven and a half years. She would also be sentenced on the battery-on-a-law-enforcement conviction, but would serve five years' probation concurrently with the other sentence.
Rose stood next to Bookhammer as he offered the proposal to the judge. Her victim was in the courtroom, with a victim's advocate and a parent, sitting on one side of the courtroom. A relation or friend of Rose's sat on the other side.
Even as he Bookhammer spoke, Craig looked skeptical. He then asked what prison time Howell would have to serve, going by the prosecution's scoresheet, which calculates prison time according to specific criteria. Going by the child abuse charges, she would have to serve 22 months, as opposed to 36 months, or three years, on the lewd and lascivious charge. But the deal was calling for none of that.
"I can tell you initially I'm really not inclined to go along with it but I don't know if the state wants to be heard," Craig said.
"Obviously I feel it's an appropriate plea," Assistant State Attorney Joe LeDonne said, suggesting to the judge that he could hear from the victim.
The judge was curious about the reasons for the deal. LeDonne said it eliminated the need for the victim to testify.
"So I guess it's not based on the value of your evidence," Craig said. "It's not like your case is falling apart, that's why you offered probation."
"Correct," LeDonne said.
"Without a prison sentence, I'm not inclined to take it," the judge said.
Bookhammer was surprised. The victim and the parent she was with began to cry quietly. Bookhammer asked the judge if he wanted to review the terms of the plea deal and all its conditions. The judge said no, he had just heard them.
"It doesn't have to be a long prison sentence but we have to have the right consequences to the right allegation, OK?" Craig told both attorneys, telling them to come back to him with a different deal. "I don't want to just put her out on probation."
Howell was shaken, but did not break down as she exchanged glances with the man who'd come to see her at the hearing, as she was being led out in her shackles. "Never be defined by your past," she had posted at the top of her Facebook page a year ago, shortly after bonding out on the molestation charge. "It was just a lesson, not a life sentence."
The two attorneys were ordered back in the courtroom for a sentencing, with prison time, on Nov. 28 at 9 a.m.