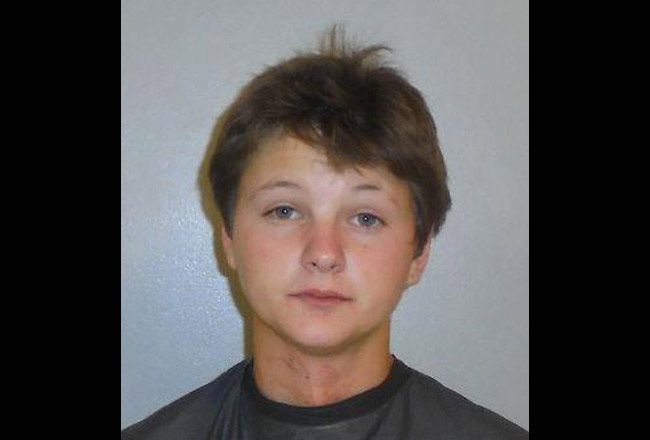 Maria Rose Howell, a 19-year-old resident of Biddle Place in Palm Coast who'd attended Matanzas High School, was booked at the Flagler County jail over the weekend on charges of molesting a 14-year-old girl she'd taken to Epic Theater for a date.
It is the third but most serious incident in just over a year involving Howell and runaway girls.
Fourteen months ago, Howell was arrested on a misdemeanor charge of contributing to the delinquency of a minor. A 15-year-old girl had gone missing for two days. Her father had searched for her until learning from his missing daughter's friend that she had been picked up in a purple car matching that of Howell. The father had had previous incidents with Howell, according to Howell's arrest report at the time.
Howell told a deputy that she thought the girl had been in contact with her father the entire time they were together. Three months later the charge was dropped.
Last August, Howell was again arrested, this time on a felony battery of a cop and disorderly intoxication in Flagler Beach. Again, the incident, according to her arrest report, involved a missing teen girl who'd been with Howell. Cops had been dispatched to the scene on South Oceanshore Boulevard, near the Funky Pelican, where they noticed that the girl Howell was with may have been reported as missing, while cops deemed Howell herself too intoxicated to drive.
She "began yelling and screaming that she needed to leave and was not walking or getting a cab," her arrest report stated, and got into her car anyway. Cops ordered her out of the car, and a struggle ensued as she was escorted to a patrol car, when she allegedly kicked one of the Flagler Beach police officers.
In November, she agreed to a pre-trial intervention contract, which allows a person facing criminal charges to defer prosecution for two years, during which the person must meet good-behavior conditions such as working full time, being a full-time student, submitting to periodic, probation-like inquiries from the court, and so on.
Howell, who'd attended Matanzas High School, was required to complete an anger management course, complete 50 hours of community service, abstain from illegal drugs, alcohol and bars and abide by a 10 p.m. to 6 a.m. curfew. If she was to fulfill the conditions, she could end her pre-trial diversion program after a year, and the charges would be dropped.
That agreement would have likely been voided by the new charges, but it appeared to have been violated within a month of Howell signing the agreement for a different reason: she had not completed her substance abuse evaluation by Dec. 2, she failed to report to her pre-trial intervention officer on Dec. 6, and she did not comply with her curfew. That was before the court were to take into account any of the issues that led to her latest arrest.
Even as Howell and the court were going through the process of the pre-trial intervention, another, far more serious case was forming against Howell because of an incident last June.
William Bookhammer, Howell's attorney, told Craig that the proposed plea deal would bring down the The Flagler County Sheriff's Office was investigating the case of a missing 14-year-old girl. The girl's parents had given her permission to go to Epic Theaters to see "The Conjuring 2" at a 9:30 p.m. showing the night before, on June 10, 2016. The girl told her mother that the show was sold-out and that she'd remain at the theater to see the next showing, but she never came home, and that was her last contact with her mother, according to a sheriff's report on the incident.
Her parents tried to get in contact with her several times before calling police. Soon after the sheriff's office entered the girl's name in two databases (the Florida Crime Information Center and its national equivalent) Port St. Lucie police contacted the Flagler Sheriff's Office and said it had recovered the girl there.
The girl was with Howell.
Howell told St. Lucie police, according to her arrest report, that she had "met the victim on a social media site two days prior and they went to the Epic theater for their first date." Howell, the report goes on, allegedly fondled and digitally penetrated the girl over the two days they were together. The alleged victim, during an interview with the Child Protection Team, said the molestation took place in Palm Coast and in Port St. Lucie.
Circuit Judge Matthew Foxman signed a warrant for Howell's arrest on Dec. 30. Just before 7 a.m. Saturday, a deputy went to Howell's house on Biddle Place and arrested her. Lewd and lascivious battery by an adult on a child between 12 and 16 is a second-degree felony. She remains at the county jail on $26,000 bond.