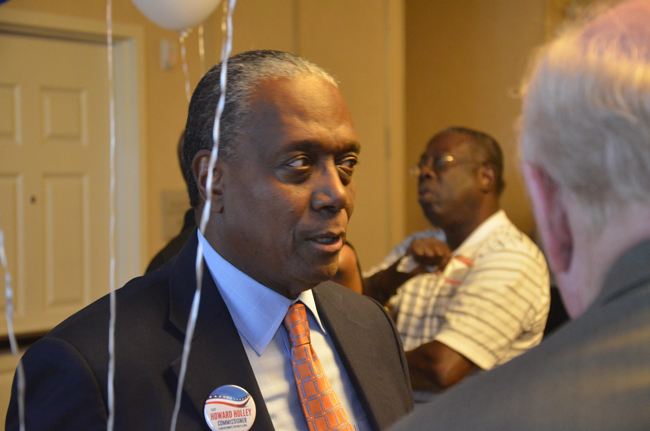 A political candidate's campaign kick-off is rarely newsworthy. Howard Holley's on Monday evening was: It's the first time in the era of hyper-partisanship that a local candidate managed to have diehard Republicans, diehard Democrats, tea party regulars, chamber of commerce fixtures and even a platoon of teens all under the same roof, hollering "United for Howard" and believing he can win a Flagler County Commission seat in November.
If he does, he'll be making history in several regards, because he already has two strikes against him.
Holley is black. No black individual has ever won a county commission seat in Flagler. It's been eight years since a black candidate managed to win a countywide race at all–Jim Guines for school board in 2006, when he polled nearly 70 percent. (Guines, still kicking from his wheelchair, made one of his rarest of public appearances Monday in support of Holley, telling him he'll go out of his way to support him "even if I have to get out there with a tin cup.")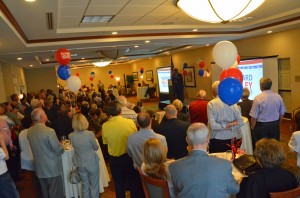 Holley is a Republican choosing to run as an Independent. No independent has ever won a county commission seat in Flagler. The last to try, Abby Romaine—like Holley, a Hammock resident—lost to Frank Meeker in 2012, though Romaine, a newcomer, polled a respectable 45 percent despite Meeker outspending her three-to-one.
Holley is running against Meeker, a vulnerable candidate with a shaky Republican base, assuming Meeker makes it through the Aug. 26 Republican primary. So far Meeker has no opponent. Dennis McDonald, the perennial government critic and member of the hard-right Ronald Reagan Republican Assemblies, announced a few weeks ago that he would run against Meeker again, as he did in 2012, a race McDonald lost by six points. Given Flagler's purplish electorate, which favors centrism over extremism in general elections, Holley may have an easier time beating McDonald than Meeker, though he would have almost certainly lost a primary against either. (Meeker did not respond to emailed questions and a phone call Tuesday.)
Two strikes may not be that much to overcome for Holley. At 66, he has the commanding presence of a natural leader with a baritone voice to boot. It serves him on his weekly radio show on WNZF, "Against All Odds," where he interviews individuals who've overcome significant odds to be successful. (Holley pays close to $200 to buy the time on the air, with advertisers also sponsoring the show. It's not yet clear, however, whether the arrangement is in line with campaign finance rules. WNZF's David Ayres, the station's general manager, told Holley it was. Holley said he'd seek an opinion from the state elections office. Romaine had a current affairs radio show before she started her campaign two years ago, and had to give it up.)
Holley is also likely the most accomplished executive to run for a commission seat. He spent 33 years rising through the ranks at Xerox Corp., at one point taking over Xerox Business Services' China operation and quadrupling its staff there (while leading the division in India, Russia and South Africa). One of his "Teens For Holley" Monday was in charge of steering guests toward two long tables covered with Holley's business and civic awards and commendations over the years (San Diego once proclaimed a "Howard Holley Day"). He now heads two companies—The Holley Group, a marketing firm, and TouchPoint Alliance, a non-profit member organization that maximizes businesses' potential by leveraging and combining their capabilities.
The production value behind Holley's $1,200 kick-off at the Hilton Garden Inn was slick and efficient, with many of the more than 120 people who turned up lining the walls of the hotel's conference rom in a standing-rom-only bit of theater that featured emcee Frank DeAngelo, a lifelong Republican, embracing Ralph Lightfoot, the campaign treasurer and lifelong Democrat, before former county commissioner and tea party member Jim O'Connell and Holley's wife, Barbara, a former school principal, built up to Holley's introduction. In the crowd, the likes of such prominent Democrats as Art Dycke rubbed shoulders with GoToby's Toby Tobin (Republican), the Palm Coast Business Assistance Center's Joe Roy, Daytona State College's Kent Ryan, and the Flagler Chamber of Commerce's Donald O'Brien, among others (Holley has close ties to the chamber). The crowd was a 50-50 mix of black and white, the chatter resolutely non-partisan, as it limited itself to Holley's back-story and his almost exclusively (if perhaps too-narrowly, for a countywide race) economy-minded platform.
"What I really wanted to do was come to the table with this issue of economic growth, and to really try to get everybody to participate in the dialogue," whatever people's party affiliation, Holley said in an interview Tuesday, all the while conceding that he's been a lifelong Republican. "We just get pigeonholed into this rather than focusing on our local issues."
He listed four objectives: jobs, diversifying the tax base, education and workforce development, and quality of life.
In other words, nothing every candidate for county commission and every local municipality hasn't listed before, in whole or in part, going back to the dawn of modern Flagler County elections. Nothing, for that matter, that almost every candidate who spoke in a combined kick-off at the Ronald Reagan Assemblies in mid-February hadn't said, with one difference: while ideological opposition and disaffected criticism against established politicians is a staple of Ronald Reagan candidates' approach, there was little such criticism from Holley or his supporters Monday. The tone was prodigiously upbeat, the generalities free of much negative commentary, the look resolutely poised on what can be improved, rather than overturned. Holley wants to burnish the establishment, not topple it.
Holley had little good to say about the county's continuing high unemployment of course, but rather than blame existing governments, he asked: "Has anybody told us where we want to get to?" And: "Toward what? Toward what are we trying to go? What's our goal?"
The questions may have sounded fresh to some in the audience, particularly because of the assertive, compelling way Holley was posing them, though sitting commissioners (and municipal leaders) could easily say that their strategic plans answer those questions, whether through the county's and Palm Coast's renewed focus on economic development in the last two years (through Flagler Economic Development Director Helga van Eckert and Palm Coast's Joe Roy, both of whom Holley complimented) or through the county's focus on tourism, which has shown promise, at least by way of rising bed tax revenue.
"I'm running for county commission to ignite the changes we need," Holley said, clearly pleased with the turnout and what he would later call the "energy" in the room, which included his mother, a daughter who'd flown in from Atlanta, and two grandchildren. "There seems to be a lot of responsiveness to this candidacy, and many of the people had never met me," he said.
Romaine, the candidate who tried winning the commission seat as an independent—and who's had conversations with Holley, but wasn't at his kick-off—was guarded about his approach.
"Independent must really mean something to you. It can't be a monicker in exchange for those other two parties because you think it's politically expedient," Romaine said Tuesday. She described running as an independent because aside from reflecting her political sensibilities, it freed her from having to speak to constituents through an ideological prism—and equally freed constituents to speak to her without feeling closed off by one side or another. "I didn't run as an independent because I thought that would help me, in fact it hurt me at the end of the day."