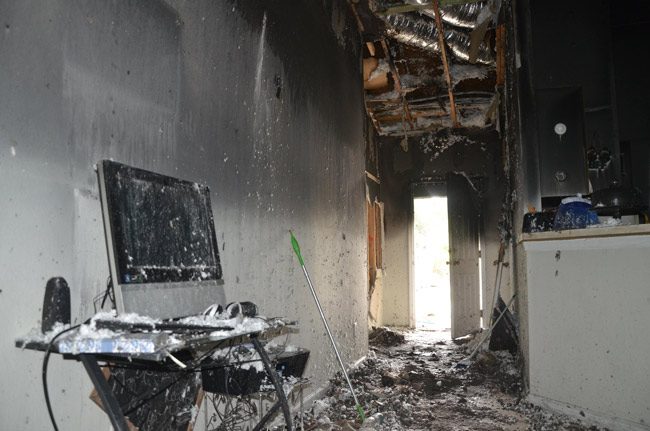 Melissa Bodiford's 11-year-old son had been playing with his Hoverboard outside Thursday evening. It was a Christmas gift from his grandmother. Bodiford then called him in, along with his 6-year-old sister, so they could all watch "Bird Box," the post-apocalyptic monster movie on Netflix.
The hoverboard was left at the entrance.
They weren't watching 10 minutes when the apocalypse hit home: three explosions in quick succession, then a fire quickly starting to consume the B side of the duplex at 18 Buttonbush Lane in Palm Coast.
"It exploded like a grenade, boom boom boom, three times," Bodiford said. "I thought it was something my son was doing because he's always doing stuff, but he was sitting right there."
The explosions shook the house at 6 p.m. The Palm Coast Fire Department, one of whose stations is nearby, was quickly at the scene, as was Flagler County Fire Rescue, pouring water on the fire and seemingly putting it out within a matter of 15 to 20 minutes. (The Palm Coast Fire Police was also deployed.) But even as fans were placed at main doors to start airing and drying the structure, firefighters detected heat within the walls: the fire had penetrated deeper. They went to work tearing out walls and ceilings and pouring more water.
From outside, you could drive by the duplex and not see much damage but for the yellow police tape on one side and the dash of blackened paint by the front door. But Bodiford's friend and neighbor Jessica Johnson compared the hoverboard's explosive damage to a bomb. You could see why, looking at what was left of the house's interiors: the foyer was blackened, one door was blown off its hinges, what had once been white walls were unrecognizable, at least where they were left in place, swaths of ceiling had been ripped out to get to all sources of fire, the furniture, picture frames, televisions, beds, kitchenware were all blackened or soaked, the floors were mud and foam several inches thick.
"So thank God for "Bird Box," Bodiford said, imagining what her son was spared by not being on the hoverboard when it exploded.
Online, Johnson found a Hoverboard similar to the one Bodiford's son had been gifted: Hover-1 All Star. It's not clear whether the hoverboard was charging at the time of the incident. Describing the incident today, Bodiford said it was not, though the Flagler County Sheriff's incident report states, based on Bodiford's account, that "one of her children's hover board toys was charging in a bedroom and caught fire."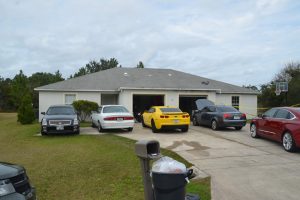 Bodiford had evacuated everyone by the time the fire department arrived. "They tried, they came here fast, they were helpful, everybody was helpful, the community's been helpful with me. It was just the hoverboard. The hoverboard blew up the house, and that's just that." Bodiford was sitting outside this afternoon with her neighbor and others, describing how for much of the day there'd been a stream of well-wishing visitors bringing help and support, including members of the faculty at Belle Terre Elementary School, where both her children attend. Counselors brought cars "filled with stuff," she said.
The A side was not damaged but is not immediately habitable because of electric issues. For Bodiford and her family, the B side is a loss, rendering them homeless but for a friend who manages the Fairfield Inn at 400 Old Kings Road: "We're going to be staying there," she said, for a couple of weeks, until they can move into a new place.
Hoverboards exploding or suddenly combusting is not a new problem: it's common enough that it's generated new reports and its share of video accounts and video suggestions on "How to buy a hoverboard that won't catch fire." The videos show some hoverboards rattling off explosions just as Bodiford described it, and belching flames that would be difficult to contain indoors. In 2016, more than half a million hoverboards were recalled because of the risk of explosion or fire.
The Consumer Product Safety Commission lists 10 models that have seen recalls, and the number of units recalled for each. "The lithium-ion battery packs in the self-balancing scooters/hoverboards can overheat, posing a risk of the products smoking, catching fire and/or exploding," the commission states. "There have been at least 99 incident reports of the battery packs in self-balancing scooters/hoverboards overheating, sparking, smoking, catching fire and/or exploding, including reports of burn injuries and property damage."
Bodiford said she went to Walmart and saw the same model that demolished her house still on sale there. But for all that, she said she was thankful no one was hurt, and that what was lost is replaceable.

Donations to the Bodiford family are being accepted at the Fairfield Inn, 400 Old Kings Road.