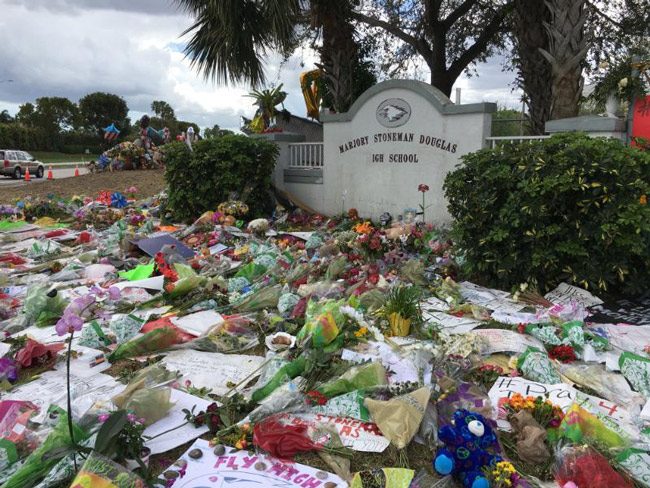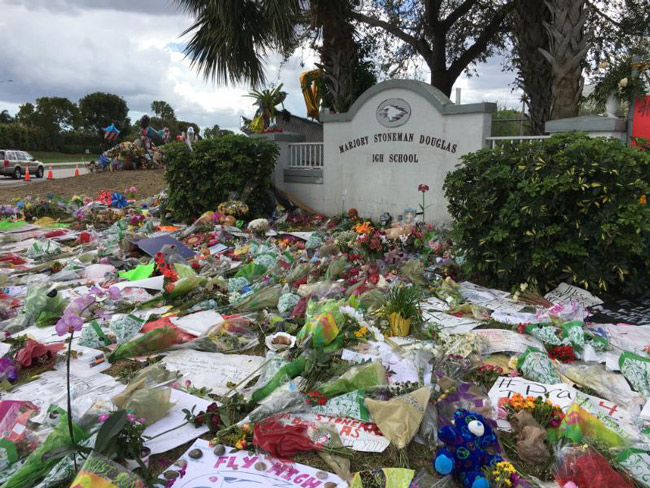 Florida lawmakers spent another divisive day arguing about a wide-ranging proposal sparked by last month's shooting spree at Marjory Douglas Stoneman High School that left 14 students and three faculty members dead, with nearly all of Tuesday's heated debate focused on guns.
The House held a marathon floor session on the bill, a day after the measure was narrowly approved by the Senate. The House could vote as early as Wednesday and put the sweeping plan in Gov. Rick Scott's hands just before the legislative session is scheduled to end Friday.
House Democrats spent Tuesday repeatedly trying — and failing — to amend the quickly crafted plan, which has created bipartisan angst for lawmakers following the Feb. 14 massacre in Parkland.
Parents, students and teachers from the Broward County high school, and their allies, have spent the weeks after the nation's second-worst school shooting making direct appeals to the Republican-controlled Legislature, Scott and others. They have beseeched the state leaders to make schools safer, with many calling for a ban on assault-style weapons.
The Legislature's $400 million plan steers money to mental health screening and services and school hardening and includes funds to raze and rebuild the freshman building where 19-year-old Nikolas Cruz is charged with killing 17 people.
Cruz, who had a lengthy history of mental health problems and formerly attended the school, last year legally purchased the assault-style weapon — with no waiting period — used in the mass shooting.
Much of the bill is aimed at issues surrounding the Valentine's Day disaster, including raising the age from 18 to 21 and imposing a three-day waiting period for the purchase of rifles. The powerful National Rifle Association has opposed those elements in a state that has historically been viewed as one of the gun-friendliest in the nation.
Flooded by calls, emails and social media on the issue, and hearing the first-hand accounts of the horrific event at the school, has left legislators — already weary during the final days of the legislative session — on edge, as evidenced by Tuesday's charged debate.
A controversial part of the bill that would allow specially trained teachers and staff members to take guns to schools — an issue that has eclipsed nearly all of the other elements in the proposal (SB 7026) — sparked fiery rhetoric from both sides of the aisle during a debate that lasted more than eight hours.
Rep. Kionne McGhee, D-Miami, asked whether the proposal would allow teachers to bring AR-15s, like the assault weapon used by Cruz, to classrooms.
Apparently growing weary of questions about the bill early in the day, House Rules & Policy Chairman Jose Oliva, the bill sponsor, dismissed the question.
"I imagine it makes for great political theater, but the idea of having the last line of defense should probably rise above political theater, but I suppose that it won't," Oliva, R-Miami Lakes, said.
The Senate rebranded the controversial "school marshal" program Monday by naming it after a Douglas High assistant football coach, who died after using his body to shield students from a hail of bullets. The program would allow specially trained school personnel, including teachers, deputized by county sheriffs to bring guns to schools. School boards and sheriffs would both need to agree to implement the program for it to go into effect.
The Senate on Monday also modified the "Coach Aaron Feis Guardian Program" to exclude "individuals who exclusively perform classroom duties as classroom teachers," but would allow those teachers with other duties — such as coaching drama or football — to participate.
Black lawmakers have taken umbrage at the program, also opposed by the PTA, the main state teachers' union and others. The critics fear, in part, that minority children, who are already more likely to be punished in schools, could be inequitably targeted in an emergency.
The bill could have "unintended consequences that are deadly and dangerous," argued Rep. Cynthia Stafford, D-Miami, during an hour-long debate Tuesday on an amendment that sought to strip the program out of the bill.
"I'm afraid that in an emergency situation, a black or brown boy, who may be running down the hall like everyone else, who reaches for his cell phone to call his parents, may be seen by the guardian, not as a student, but as a shooter," Stafford said. "This is a dangerous bill for people of color, particularly, I believe, young black and brown boys, young black and brown girls, black and brown teachers, males and females."
But that drew a rebuke from Rep. Elizabeth Porter, a Lake City Republican.
"What bill are we talking about here?" Porter said, complaining about talk regarding the 2016 mass shooting at the Pulse nightclub that left 49 people dead and discussion of "gun bans."
"All of a sudden, the folks that have been proponents of teachers all these years are now saying that teachers are incompetent to have a concealed weapon permit, they're racist, they're bigoted, they're going to target black boys and brown boys. I don't think that of our teachers at all. I don't believe that of them," an irate Porter said, adding that "99 percent of the calls from her district were in favor" of the proposal.
"So when you make these sweeping generalizations, saying that the students and the teachers and the citizens of the state of Florida don't want this, speak for your district, because you are not speaking for mine," she said.
Rep. Jared Moskowitz, a Coral Springs Democrat who attended the Parkland school and who offered the amendment, said he understood the controversial program, backed by the NRA, was tucked into the bill "because, without it, we can't pass the rest of it." Any changes to the measure would require that the proposal to be "bounced" back to the Senate, he pointed out.
"So what? We've bounced less meaningful pieces of legislation before. Bounce the bill. Take it out," Moskowitz said.
Moskowitz said he spoke with GOP House leaders, urging them to strip the armed-educator program, to no avail.
"I have begged. I have pleaded. I have clawed. I have sold s— that I never thought I would agree to before to get this provision out of this bill. Apologize for the word. But this is not where I thought we would be. It is not where I thought I would be," he said.
In a final emotional entreaty on the amendment, Moskowitz noted that he graduated with Feis, who also attended Douglas High.
"He used his body to protect those students. It didn't dawn on me when I went to the school and saw where he had dragged himself out of the building and died in front of the door, it never dawned on me, well, what if he had a gun. Never once," he said. "What dawned on me was that he was dead."
The amendment failed in a 71-42 vote, with two House Republicans — Shawn Harrison of Tampa and Rene Plasencia of Orlando — joining Democrats in favor of the proposal.
More than three dozen of the Democrats' other amendments also failed, almost exclusively along party lines.
Rep. Carlos Guillermo Smith, an Orlando Democrat who is gay, repeatedly tried to add gun restrictions to the proposal and finally offered an amendment that would steer money to create a memorial for the victims of the shooting at Pulse, a gay nightclub in Orlando.
"Why now?" a choked-up Smith asked earlier in the day, wondering why lawmakers failed to act after the Pulse shooting.
Oliva, the bill's sponsor, said the reason was partly due to "timing," because the Legislature was in session when the school shooting occurred.
"But I don't want people to go away thinking there's a greater value placed on certain lives than there are on others," Oliva, who will take over as House speaker after the November elections, said. "Is it possible this was the last straw? Yes, but it wasn't the only straw."
–Dara Kam, News Service of Florida