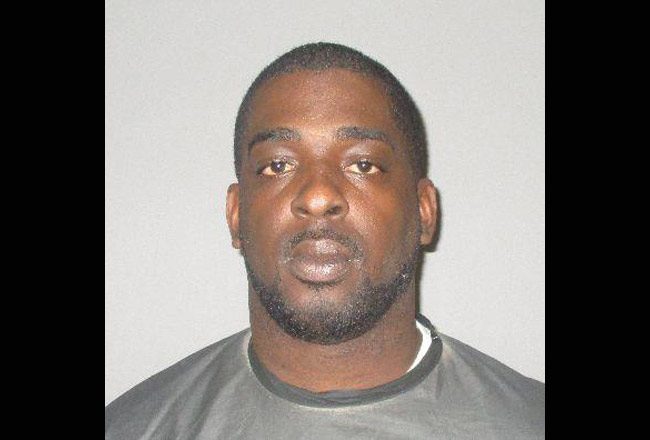 The charges themselves are minor so far: possession of less than 20 grams of pot, and possession of drug paraphernalia. But the Flagler County Sheriff's Office is connecting the Wednesday evening arrest of Wilbert Hough Jr. to the shooting on Plainview Drive in Palm Coast the day before, suggesting it was gang or turf-related.
Hough's arrest report lists his address as 160 Plainview Drtive, Unit A. That was one of the two houses targeted in Tuesday's early-morning shooting, when several cars parked outside the house were shot up, and one bullet ended up lodged in a wall, a few inches above the bed of a woman in the house next door.
Hough, 32, was arrested at a different address: 31 Bird of Paradise Drive. A detective secured his arrest warrant from Circuit Judge Dennis Craig on Wednesday, and a SWAT team backed up the detective in serving the warrant around 8 p.m. Wednesday.
Some 10.4 grams of pot was found in the garage, "under a money transfer receipt with Hough's name and telephone number on it," according to his arrest report. "Hough's car keys were also located on top of the baggy containing the cannabis." Drug "paraphernalia" was found in the garage, including a digital scale and a metal grinder. The search also turned up $1,120 in currency.
The search also turned up 43 live rounds of .380 ammunition in a red metal toolbox "found right outside the garage, hidden under some shrubbery," the report states. There were also 28.2 grams of "a white rock-like substance (suspected MDMA)" in the box. The weight includes the packaging. MDMA is more commonly known as ecstasy. Hough may face additional charges of possession for that drug and the ammunition.
Hough, the arrest report notes, was the sole occupant of the residence at the time of his arrest. The 1,500-square foot house is not homesteaded and is owned by a woman in Ormond Beach, suggesting that it is a rental.
Sheriff Rick Staly, who was at the scene of Wednesday's arrest, connected Hough's arrest to the shooting incident in an interview this morning. "He was the target of the shooting, and usually in these kinds of cases there's usually drug or gang involvement," the sheriff said. "I suspected and our team suspected it was drug and gang related."
He added: "Through some very good police work we were able to obtain a search warrant on the victim's, if you will, stash house, where he was dealing drugs, and we were able to serve the search warrant. We were able to apprehend him at his stash house. These incidents where you have houses shot up and cars shot up, they're not random acts of violence. They're usually connected to drugs or territorial battles with gang members."
Staly said he wasn't surprised by the presence of ammunition, but said Hough "didn't shoot his own house up." As for the actual shooter, "We're following every lead that we can."
Hough was booked at the Flagler County jail on no bond because he was already out on bond on a January 24 arrest on four drug charges, two of them felonies (possession of meth with intent to distribute, and possession of more than 20 grams of pot). Based on his arrest report at the time, he was under a detective's surveillance when he was seen driving on North State Street in Bunnell and pulled over by a Bunnell police officer for a traffic issue (his driver's license had been suspended two weeks earlier).
"I'm not going to lie to you sir," Hough told the cop when asked if there was anything in the vehicle he should know about. The cop had also allegedly smelled a strong odor of pot in the car. "I'm not trying to waste anyone's time. There's something in the glove box."
Small bags of pot and a red rock-like substance were found, later determined to be .70 grams of meth. The pot amounted to just under 24 grams. He was booked at the time on $19,000 bond. He posted bail. That bond was revoked this morning after his first appearance before a judge on Wednesday's charges. Bond was also revoked on a 2016 arrest for unlawful possession of a controlled substance (a third-degree felony) and pot possession of less than 20 grams.
Hough's felony arraignment on the previous charge was scheduled for April 11.