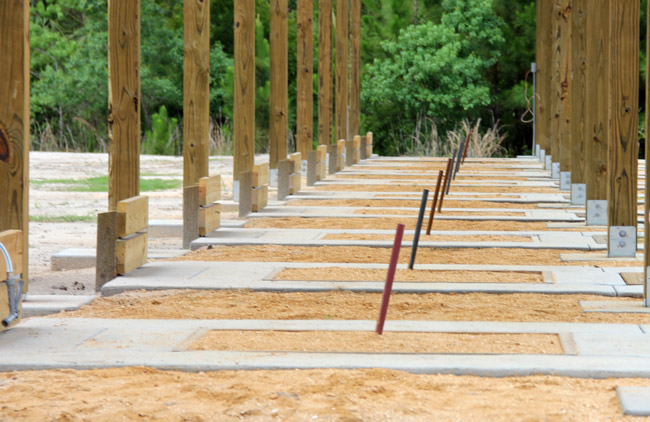 The Flagler County Horseshoe Pitching Club was not kidding: as the Flagler County Commission's parks department was breaking ground in February 2012 on what would become 18 tournament-style horseshoe pits at the 20-acre Old Dixie Park, the club had its sight set on bringing state and possibly national tournaments to the venue before long. And why not? With 70 horseshoe tournaments a year in the state, it was about time Flagler hooked its share.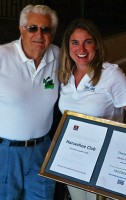 The club's ambitions have been fulfilled.
The Florida State Horseshoe Pitchers Association (FSHPA) announced at its annual executive council meeting this week that Flagler County was selected as the state tournament venue for April 2015. The actual date has yet to be set. The horseshoe pits, built under a canopy and constructed to the professional standards of the National Horseshoe Pitchers Association, are located at 1250 South Old Dixie Highway.
Flagler's tourism office relayed the announcement today. Tom Martone, President of the Flagler horseshoe club, and Casey Ryan of the county's Tourist Development Council made their pitch to host this year's tournament in Flagler to the executive council of the state association at a meeting in Clearwater.
Bob Hilpertshauser, President of the Florida State Horseshoe Pitchers Association, said the tournament will consist of mixed distance competition on the Wednesday of the chosen week; men's, women's, and elder's doubles the second day; and then a two-day competition beginning on Friday for the men's, women's and elder's singles. Saturday afternoon will be the junior championship. The championship class closes the competition Saturday afternoon. The awards banquet will wrap up the tournament week on Saturday evening.
The tournament is another addition to a growing list of specialty sports tournaments bringing competitors, their friends, their families and supporters to Palm Coast and to the county–an emphasis on so-called "niche" sports (soccer, lacrosse, tennis) that local governments have made part of their overall strategy of economic and cultural development. The hub of that effort has been the tourist council, under the leadership of Georgia Turner and Ryan.
"This will be an exciting time for Flagler County as visitors will be visiting our area for five days and four nights during the time of the year when hotels and campsites have availability," Ryan said.
The horseshoe courts and their surrounding county park were dedicated last July 16 in a small ceremony. No word yet on curling courts.
See Also: