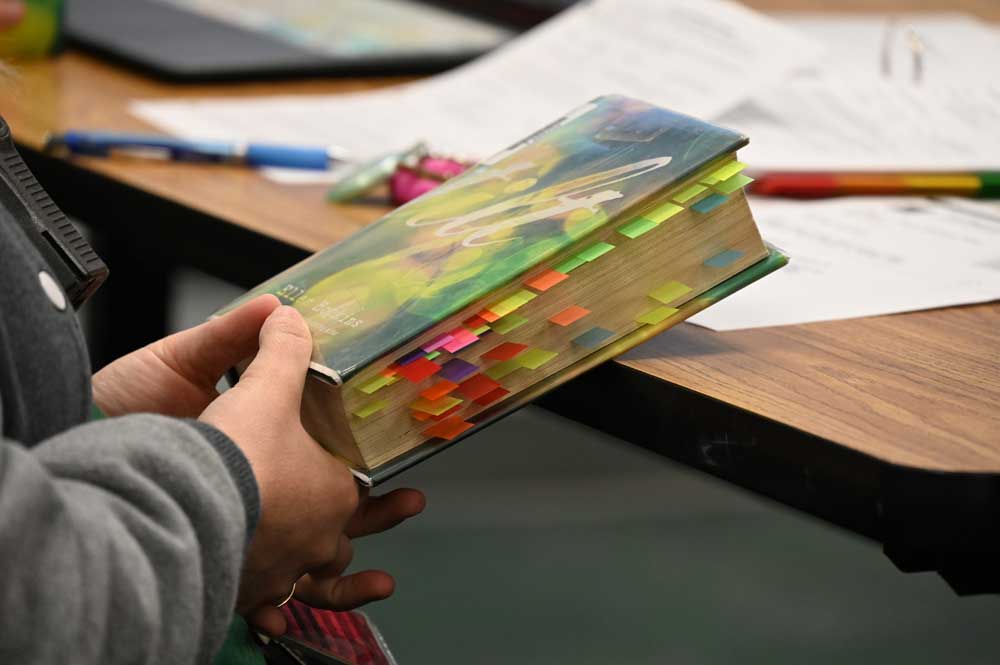 With the exception of repositories like the library of Congress, where just about everything media material is preserved, libraries across the world have a process they call "weeding." Library holdings are regularly reviewed. Some material is removed, or weeded, for being out of date or for lacking borrowers, so it can make room on limited shelf space for material more current and in demand.




A seven-member committee reviewing a challenge of Ellen Hopkins's Tilt unanimously voted this morning to remove the book from circulation at the Flagler Palm Coast High School library, the only district library where the 2012 book is available.
Tilt was challenged over claims that it is pornographic and in violation of law for being accessible to minors. The book is written for adolescents by one of young adult fiction's most popular writers.
The committee's decision is not appealable, so Tilt, one of 22 titles being challenged in the district by the same three people–Terri McDonald, Shannon Rambow, and Cheryl Lackey, members of a group of about twice that number that calls itself "moms for liberty" (sic.)–will be removed from FPC's shelves. Since it is not banned, the title could potentially reappear, if there is a sudden demand for it, though it's unclear how that would work with what would then be an unresolved challenge.
The committee's justification stressed that it was not a ban in response to the challenge: the book would not have fit the criteria for a ban, at least not regarding the content flagged by the challenger. They say Tilt should be removed because of the book's age, because some of its themes, like slut-shaming, reflects pre-#MeToo insensitivity while its handling of a gay relationship is stereotypical. More recent books (like The Nowhere Girls, another challenged book), the committee agreed, deal more effectively and in more contemporary terms with the same themes.
"This book made me realize how much we've changed in our attitudes," one committee member said.




"I lean towards No," an administrator member of the committee–and one of its more avid readers–said of her vote, "based on the outdated attitudes and information. Not that I think that this doesn't have a place where teens shouldn't read it. Or that it should go away. But that in a school library collection, we have so many other similar titles that handle things better." There was a chorus of agreement.
Tilt was once among books that "flew off the shelves," as Hopkins's books often did, in one committee member's recollection. No longer. FPC had two copies. One was lost in 2019. It had last been checked out in 2015. The other was last checked out in 2021.
While the decision itself is not appealable, student demand would have the same effect, requiring a reconsideration by that or another committee, and the potential return of the book to FPC's shelves. That likelihood is low: there's not been anything like a run on Tilt since the book has been challenged, or since the book challenge has drawn press.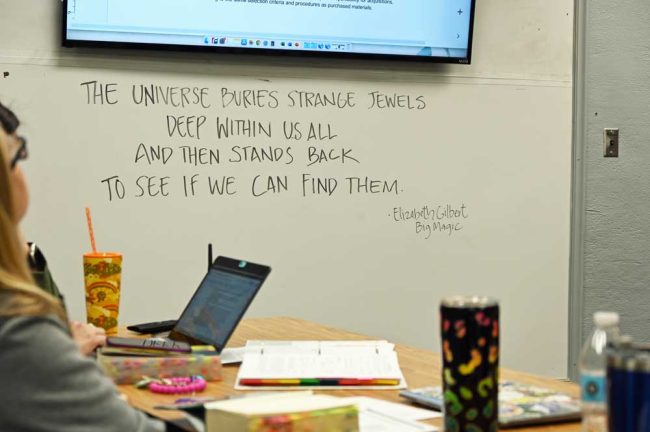 The book would have fit the criteria for being weeded last summer, FPC's media specialist said toward the end of a nearly 90-minute discussion on the book, one of the longest meetings about a challenged book in around a dozen so far.
The committee's vote and its final effect–the removal of a book is the removal of a book, after all: it's a ban by any other name, especially in today's climate of pre-emptive removals and self-preservation–does not reflect the nuances of its decision. But it was, in fact, all nuance, likely to leave even critics of book bans more understanding than not of the committee's decision.




"I don't think it needs to go because of the challenges or the pages that they picked," the media specialist said during the committee meeting. "I think for different reasons I might want to weed the book because of things that we're discussing here, that I'm not sure that would be a positive message to send to someone who's dealing with some of these issues."
The book entered FPC's collection in 2012, before the specialist took over nine years ago. She further explained: "Had I read this book prior to this purchase being made, I probably at this day in time, would not have purchased it. Had I read this book in 2012 when it first came out, I would have purchased it. I mean, it's a different world."
Written in free verse, Tilt's characters "experience a long list of today's challenges," Stephen and Ann Playe wrote in their review of the book in these pages last week, "first love, sexual awakening, gender identification, pregnancy, the specter and reality of HIV infection, the bounds and bonds of friendship, drug and alcohol use and abuse, and, oh yes, the loss of a young, innocent life."
The reviewers did not find the themes to be too much for one book. Committee members did, finding too many plot threads left unresolved or simply dropped. While the committee members found Hopkins's treatment of teen pregnancy effective a "cautionary tale," they were less impressed with the disproportionate place she gave to "bad decision," leaving better decisions in the background, or for what seemed to some of them like a litany of despair without the sort of redemptive hope found in other books on similar thematic grounds.
Some members worried that it would leave readers more depressed while sending an outdated picture of a school landscape bare of resources or students in crisis, which may have been the case a decade ago. It is no longer the case, especially since the Covid pandemic.
The length of the meeting reflected the committee's rigorous, page-by-page, theme-by-theme analysis of the book. The discussion was rich with a variety of insights from every committee member. If anything, the wealth of the discussion illustrated how provocative and challenging the book could be, thus meeting an essential purpose of literature worthy of young readers.




The length of the meeting was also a reflection of other difficulties: the problematic nature of some of the book's content, and the equally problematic position the committee put itself in by essentially banning a book without banning it–by applying the sort of rationale to weeding a book that could have just as easily applied to, say, Twain's Huckleberry Finn or Harper Lee's To Kill a Mockingbird.
And by reaching a conclusion it was not tasked for: the committee was convened to address the book challenge and to vote on whether the book should be retained or not based on the challenge alone, not whether it should be retained or not based on the library's weeding methods.
On the other hand, had the challenger actually had read the book–it was clear to everyone around the table that she had not: numerous passages that should have been flagged were not–she would have found what the committee members found: that the book could reasonably be banned for a few very explicit scenes that left some members of the committee uncomfortable, cringing or annoyed with the book.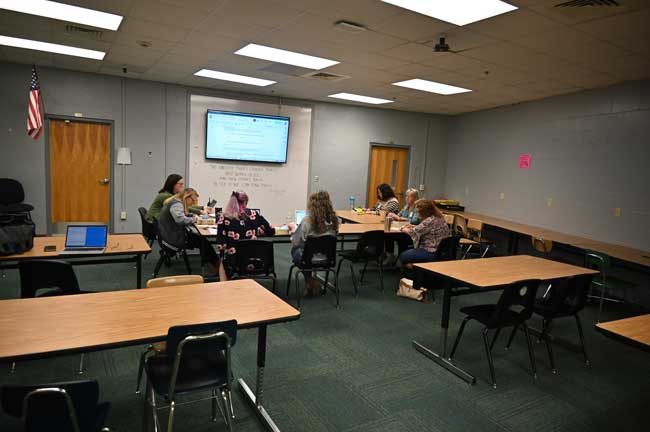 "Some of her writing was gratuitous," a committee member said. "I don't need as a teenager to worry about, like, 'the sticky proof of my love' or something."
"We found sexual excitement/arousal on page 238, but not in a manner harmful to minors," the committee report stated. There would have been more page numbers noted, but since the challenger did not flag them, they were left out.
"I kind of wish they had read the book and made a proper challenge. I feel like it would hold more weight," a committee member said.
"They didn't challenge it properly. And if I'm going to make my decision based on what they challenged, I can't say no, because they didn't challenge the proper stuff. Which means they did not put the effort into it that we've all put into the effort."




The committee member was unwittingly flagging a fundamental flaw in Flagler County's book-challenge process. It allows any resident to file a challenge, whether the resident has a child in school or not. It allows any resident to file a challenge of any book anywhere in the district, whether the challenger has read the book or not. It does not require–as the public library requires–the challenger to first make the case for a ban before a librarian, or a school committee, thus enabling challengers to skirt by, filing challenges to books they have not read.
That's been the case in Flagler, with the three challengers literally copying and pasting ready-made challenges from a national website that caters to book-banners. In essence, Flagler County's challengers may have spent 20 minutes filing their 44 challenges, while school district administrators, literacy specialists, media specialists, teachers, and community volunteers have had to spend what amounts to hundreds of combined hours, possibly more, preparing for and sitting through committee meetings to respond to the challenges.
The school staffers are doing so on their time, mostly without pay (this morning's committee meeting was on the clock for the staffers; the required hours of reading books and filling out written reviews to prepare was not). The district, absurdly, forbids the staffers from buying copies of the challenged books, so staffers, like an administrator at FPC, have bought the books with their own money, traveling to book shops out of county to find them at better prices.
Meanwhile, the three challengers–none of whom were present at today's committee meetings–stand by and watch from a distance, occasionally appearing at school board meetings to claim, falsely, that they're not banning books, only "raising questions."
None of the books are part of the curriculum. All parents have the right and ability, by school board policy, to prevent their own children from checking out books they find objectionable. Not a single parent of more than 1,500 students at FPC has asked for that capability, an indication that the book-banning mania in the county is, in fact, driven by only three people, and occasionally abetted by the occasional grandstanding current or former school board member.
Nevertheless, the challenges, the time investment, the mounting costs, continue, mostly at the expense of school faculty–the same faculty state law now officially mistrusts to make decisions that, for decades, faculty members and media specialists have been making, with little to no controversy: there'd been no more than one or two book challenges in Flagler schools in the past 20 years, and they'd been resolved at the school level, with the books preserved.
Then came the cut-and-paste challenges starting last year.




On Tuesday, the Flagler County School Board voted 3-2 to retain Sold, a book written from the perspective of a 13-year-old girl trafficked into sexual slavery, on the shelves at FPC and Matanzas High School. It was the first book challenge that was appealed all the way to the school board in the district's history. Others are on the way, assuming the challenges don't die at lower levels: while school-level and district-level committees tend to be more protective of books, hewing to state law's definition of what is and what isn't permissible in school libraries, the superintendent may (and has) decide to ban any challenged title that makes it to her desk, which would end the challenge at that point. Or else, as today, more titles would end up being removed under the "weeding" definition than as bans.
A Matanzas High School committee meets today at 3 p.m. to review John Green's Looking for Alaska, next up on the challenge list. Then a joint Matanzas and FPC committee meets on April 17 to discuss Crank, another Ellen Hopkins novel, and one once significantly more popular than Tilt.