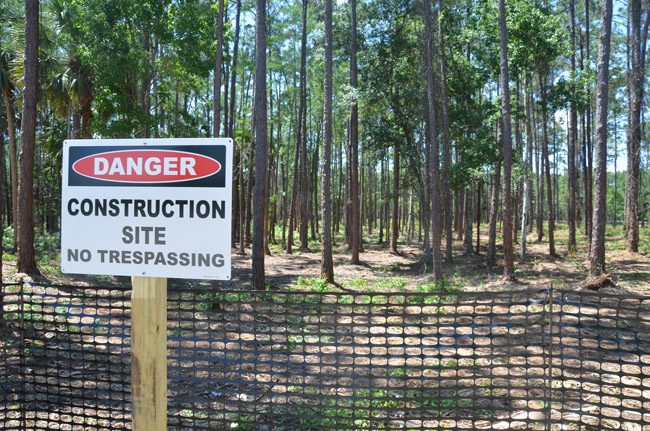 If irony were revenue, Flagler County might have generated a bundle this afternoon as the county's Homeless and Housing Task Force held its monthly meeting.
The task force met at the county library on Palm Coast Parkway, a few hundred feet from where one of the county's largest homeless encampments sprawled until just a few weeks ago, when crews first exposed it by denuding the woods as effectively as if they'd sprayed Agent Orange before clearing the grounds of the 20 to 30 people who'd lived there. Crews turned the entire 19 acres into a fenced-in, no-trespassing construction zones. No permit has yet been pulled for construction. Not a penny has been appropriated for the project. No firm has been secured to draw up the designs for the sheriff's building to be built there, no bid process issued. The county may soon raze some trees at least to keep up the pretense of a construction zone meanwhile.
Still, the task force spent 90 minutes discussing how a community can best work together to care for the homeless, connect them to services, find them a permanent home, get around to attracting the sort of developers who'd be willing to build affordable apartments that don't generate the sort of profits most developers are interested in, because the assumption that so many of the homeless don't want help "is not true," Amada Rosado of the Florida Housing Coalition told the 45 people gathered at the library. "They do want help. They just don't want the kind of help we're providing."
So where did those 20 to 30 people go?
Janet Nickels, county government's point person on the homeless, knows many in person. She's been extending services and help to them for years, and was directly involved in trying to help the former dwellers of the library camp.
According to her, by the time county crews gave the order to clear out, only 20 people were left in the camp (though the visible sprawl of their tents and tarps suggested many more). Half refused services and went "to another encampment."
She did not specify which, though Pastor Sims Jones of Bunnell, who took part in the annual "point-in-time" census of the county's homeless in January, outlined the possible camps: he said one camp now sprawls at what used to be the disused Matanzas golf club at the north end of town. There was one by the Palm Coast water tower. There's one beyond the railroad in Bunnell, in the area of Deen Road. There's one behind Wendy's on Palm Coast Parkway. Jones said the homeless also like to gather on grounds near Walmart on the east side of the grounds.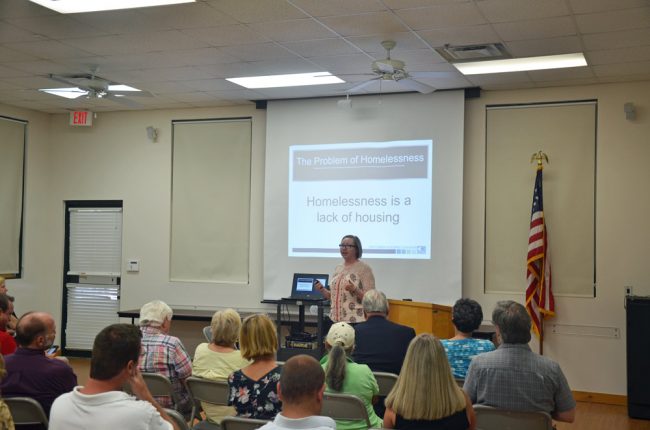 And others? According to Nickels, one couple got a home on the St. Johns River with the county and a local organization securing the first and last month's rent. A woman on Social Security disability got repatriated to Ohio by her family. A young man got a bus ticket to Plant City, with a resident donating the taxi fare to get him to the bus stop. (A Guardian investigation last December found that thousands of homeless are bused out or flown out of communities on one-way tickets every year.) A young woman is working with Stewart Marchman, the behavioral health agency, but it';s not clear whether her housing situation has stabilized. A young man had the opportunity to go to the Salvation Army in Volusia County. Nickels drove him there. He then asked to be taken back to Flagler to reclaim his tent, and to be left alone. Another woman got housing in Volusia. Some are staying with friends or family. It was not a precise census, but it gave an idea of how and where the encampment was scattered, with a majority ending up in tents elsewhere. One woman who'd been homeless behind the library got a donated camper, thanks to Denise Calderwood, who's had close supportive associations with the homeless, and is living at Thunder Gulch campground in Bunnell.
In any case, January's point-in-time count found at least 130 homeless people, according to Rosado, a number she and Jones both said is likely an undercount. Jones said he knew of encampments that had been "cleared" by the time he got there with other volunteers to count the homeless (he was not referring to the library spot). The tents were there. The men and women were not, giving him the sense that there was an intended effort to keep Flagler's homeless from being accurately counted.
It explained why Rosado's conclusion after the most thorough presentation of the day–that "Flagler really has a long way to go"–may have been an understatement.
It has such a long way to go that even the county's $300,000 in homeless assistance money, money channeled from the federal Housing and Urban Development Department and its state equivalent to the Volusia-Flagler Housing Coalition, is going mostly to Volusia agencies who claim to be spending the money on Flagler's homeless, because there aren't enough agencies in Flagler that can administer that kind of money.
It has a long way to go because there are no shelters in Flagler other than the emergency, cold-weather shelter, open only on nights when the temperature falls below 40 degrees, and the Family Life Center, the the shelter for abused people that's usually at capacity.
It has a long way to go because sheltering, in any case, is not the goal anymore. Sheltering, transitional housing, emergency assistance–all those means, while worthy in and of themselves, only stretch out an individual's homeless situation, Rosado says. It's counter-intuitive, but that sort of help is counter-productive, in the new thinking of homeless assistance. In comparison, a permanent home stabilizes an individual's life in such a way that it makes all that other assistance–help with addiction, help finding a job, help with health concerns–much easier, now that the individual has a place he or she can call home. It relieves an immense stressor in the individual's life, making tending to other needs easier.
"Housing really is the issue here," Rosado said. "Housing first." It costs "less than almost any other intervention we have." And most of the homeless do want help, Rosado stressed: 32 percent are homeless because of financial issues, 23 percent are homeless because of family issues. And only 12 percent because of medical issues. A third, according to recent surveys, live in the woods, 23 percent of them on streets "downtown." The numbers are reflective of Volusia and Flagler together, not Flagler alone.
Absent housing options, Flagler is not likely to get much further than it is now. One approach, Carrie Baird, who heads the coalition, is to look for non-profit developers such as Carrfour Supportive Housing, which builds affordable housing with the homeless in mind. It started in Miami. Jack Howell, the Palm Coast councilman, said at the meeting it's a matter of re-educating the public to enable local governments not to be bombarded with opposition from constituents every time one of those governments considers approving an affordable housing complex. On the other hand, two large apartment complexes are under development in Palm Coast's Town Center, and Baird said more affordable housing projects may be near. And former Sheriff Jim Manfre, an attorney, said he's involved in a group looking to explore the affordable housing development option.
County administrator Jerry Cameron attended much of the meeting but did not speak. Commissioner Joe Mullins did, previewing Wednesday's meeting of the Public Safety Coordinating Council, a panel he chairs, where he said he would be discussing legislation that would institute new "rules" regarding homelessness and panhandling in the county. There's been little appetite on local governments or from the sheriff's side for such rules.