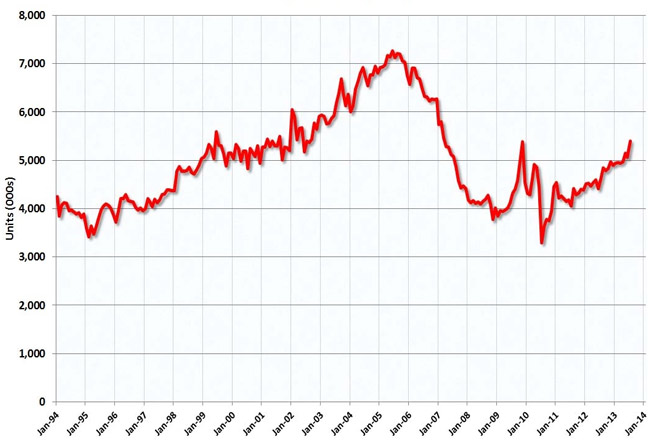 From an economic perspective, Flagler County's housing landscape continues to improve, with the latest figures showing 243 closed sales of single-family homes in July—the best single-month showing for Flagler since the beginning of the Great Recession more than five years ago, and a 15.7 percent improvement over the same period last year.
Homes for sale have spent on average just 55 days on the market, also a post-recession low, while homes sold fetched 93.5 percent of their originally listed price, matching the best rate since the recession (last November).
The median sale price of $155,000 in July improved an impressive 7 percent on June's median of $144,500, and 19.7 percent on the median price a year ago, according to figures released today by the Flagler County Realtors Association.  The sharp acceleration is also vast improvement over previous months, and it mirrors that of other markets in central Florida. Orlando's median prices, for example, jumped 25 percent compared with a year ago.
Tonwhouses and condominiums also had a relatively good month in Flagler, with 42 sales closing in July, the highest number of sales so far this year, and a 50 percent improvement from this point a year ago, though four months in 2012 beat that figure. The median sale price of townhouses was $183,250, double the price of a year ago and a 17 percent improvement over the previous month.
Still, more than half the sales of single family homes and three-quarter of the sales for townhouses were for cash, meaning that investors rather than permanent residents are buying the properties.
There were 332 new listings for single-family homes in the county in July, the second-larger number for the year and a nearly 16 percent increase over the previous year. There were 248 pending sales, down from June's 261 but up from last year's 217. In the townhouse and condominium market, there were 48 pending sales, an 11 percent improvement over last year and seven sales above the previous month's tally.
The inventory of single-family homes in Flagler—the total, cumulative number of active listings in the county—was 934 in July, a slight increase from the 917 in June but a 22 percent decline from a year ago: as home prices rise and homes sell more briskly, homeowners will be encouraged to put their house on the market. The inventory had peaked at twice that figure in mid-2010 and has been declining since, though the decline has slowed considerably since last fall, when the supply of local housing stabilized around five months—that is, there are enough houses to buy at current rates of home-buying for the next five months. Realtors consider that a relatively balanced market, if barely favoring sellers. When there's more than five and a half months' worth of housing, then it's considered a buyer's market.
Flagler County's supply is almost ion line with the national figure of 5.1 months.
In the townhouse market, there was seven months' supply in July, with a typical townhouse or condo spending 78 days on the market.
The inventory of single-family homes nationally is believed to have bottomed out, though higher mortgage rates may start to impact the market.
The larger share of single-family homes that sold (90 in all) were in the $100,000 to $200,000 range. Only one house sold for more than $600,000, and none sold for more than $1 million. But that expensive house had spent well over a year on the market.
In another indication of positive trends nationally, the Architecture Billing Index, which reflects a nine to 12 months lead time between architecture billings and actual construction, jumped to 52.7 in July (anything above 50 is an increase in billings). The figure includes commercial and industrial buildings as well as schools, hotels, prisons and homes.
Earlier today, the National Association of Realtors reported that existing-home sales, which are completed transactions that include single-family homes, townhomes, condominiums and co-ops, increased nationally 6.5 percent to a seasonally adjusted annual rate of 5.39 million in July from a downwardly revised 5.06 million in June, and are 17.2 percent above the 4.60 million-unit pace in July 2012; sales have remained above year-ago levels for 25 months.
Total housing inventory at the end of July rose 5.6 percent to 2.28 million existing homes available for sale, the association reported, which represents a 5.1-month supply at the current sales pace, unchanged from June, and almost in line with supply in Flagler.  Listed inventory nationally is 5 percent below a year ago, when there was a 6.3-month supply.