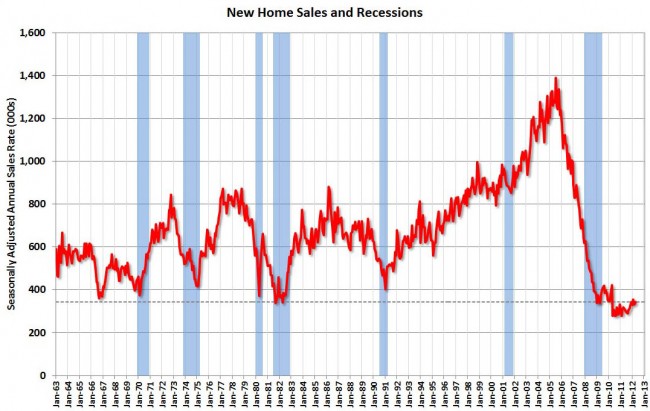 The Census Bureau today reported that new, single-family homes in April sold at an annual rate of 343,000, a 3.3 percent increase over the March rate and a 9.9 percent increase over the April 2011 figure, which stood at 312,000 units. Sales were up across the nation except in the South, including Florida.
On Wednesday, the National Association of Realtors reported that existing home sales (including single-family homes, condominiums and co-ops) rose 3.4 percent to a seasonally adjusted annual rate of 4.62 million unit, compared to 4.47 million units in March and 4.2 million units in April 2011.
"Total housing inventory at the end of April rose 9.5 percent to 2.54 million existing homes available for sale, a seasonal increase which represents a 6.6-month supply at the current sales pace, up from a 6.2-month supply in March," the association reported. "Listed inventory is 20.6 percent below a year ago when there was a 9.1-month supply; the record for unsold inventory was 4.04 million in July 2007."
"Clearly," writes Bill McBride, author of Calculated Risk, an authoritative blog that tracks financial and economic trends, "new home sales have bottomed. Although sales are still historically very weak, sales are up 25 percent from the low, and up about 15 percent from the May 2010 through September 2011 average."
But the market has a long way to go to return to a normal, healthy level, which, for new homes, economists consider to be an annual rate of 700,000 units–twice the current rate. New homes represent only one-fifth of the housing market, but they have a disproportionately larger impact on the economy than the sale of existing homes, with each new home sale creating three jobs for a year and generating $90,000 in new taxes, according to the National Association of Home Builders.
Florida sales of existing homes fell slightly in April, but state Realtors were quick to say Tuesday that median price and pending sales rose dramatically during the month.
Figures compiled by the Florida Realtors also showed the inventory of homes available for sale shrunk further as buyers continued to whittle away at the state's post-crash backlog of existing homes.
"Here in Florida, we're seeing some strong numbers that show positive momentum for the state's housing recovery and our economy," said 2012 Florida Realtors President Summer Greene, in a statement.
Sale closings of existing homes fell 0.7 percentage points from April 2011, while condominium sales were off about 4.9 percent.
Nationally, sales of single-family homes, townhomes, condominiums and co-ops, increased 10 percent in April from a year ago.
"A return of normal home buying for occupancy is helping home sales across all price points, and now the recovery appears to be extending to home prices," Lawrence Yun, chief economist for the National Association of Realtors, in a statement. "The general downtrend in both listed and shadow inventory has shifted from a buyers' market to one that is much more balanced, but in some areas it has become a seller's market."
Median prices for homes rose significantly in Florida. The statewide median sales price for single-family existing homes in April was $144,350, up 10.2 percent from the year-ago figure. The statewide median for townhome-condo properties was $108,000, up 16.1 percent over April 2011. Nationally, median prices increased by 1.9 percent.
Part of the increase in home prices is due to a shrinking inventory of homes and condos on the market, said Florida Realtor chief economist John Tuccillo. The backlog of available single family homes fell to a supply of just under six months – in most cases less than half what it was in late 2007.
Inventories in the Tampa area fell more than 30 percent between April 2011 and last month. Inventories in Orlando and Miami fell 27 percent and 23 percent respectively during the same period.
"The housing numbers for the state of Florida continue to signal recovery," Tuccillo said in a statement. "Sales in 2012 are above where they were in 2011, a harbinger of a third straight year of improvement."
Pending sales were also up sharply, climbing 38 percent statewide from a year ago. Pending sales are those deals that are signed but have yet to close, a process that usually takes one to three months.
The interest rate for a 30-year fixed-rate mortgage averaged 3.91 percent in April 2012, down from the 4.84 percent average during the same month a year earlier, according to Freddie Mac.
–FlaglerLive and the News Service of Florida