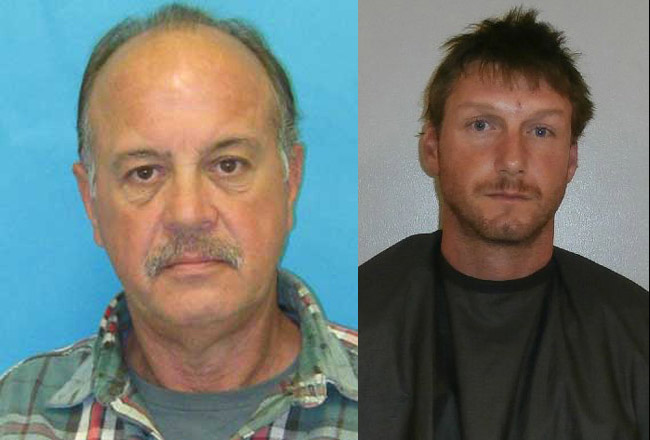 Two men are at the Flagler County jail this morning in connection with a home invasion that took place before 2 a.m. Saturday. It's not clear if the suspects have a connection to the home invasion in Bunnell the previous night.
Between 1:30 and 2 this morning, there was a knock at the door of Ray Mercer's home at 410 North Anderson Street in Bunnell. Mercer answered. A man asked to use the phone. When Mercer went to retrieve it, the man broke through the door and attacked Mercer, who is in his 80s.
The man wore a black scarf to dissimulate part of his face, and was with two other men, who then proceeded to rob Mercer of various possessions, possibly including a firearm.
It was the second home invasion in Bunnell in two days.
Thursday night, Richard Allen Pettit, a 60-year-old resident of 164 Espanola Road in Bunnell, was attacked and robbed of several firearms and cash by four men, one of whom, Pettit said, wore a scarf around his face. Pettit, who is disabled, was thrown from his wheelchair and injured.
Mercer sustained injuries to his arms. Mercer told police that he recognized one of his assailants. He identified him as Jody Medders, a 55-year-old felon last sentenced to two years' probation in March, for possession of a controlled substance. Medders has served three stints in state prison since 1981, including a 42-month sentence for aggravated assault on a a police officer or other first responders, fleeing and eluding police, and resisting arrest.
Bunnell police and Flagler County Sheriff's units swarmed down on Bunnell after the alleged home invasion. Medders was found walking in the Red Gator restaurant parking lot. He was arrested and charged, but not with a home invasion. He was charged with probation violation and possession of a firearm or ammunition by a convicted felon. He is at the Flagler County jail on $5,000 bond.
A second suspect, Edmon N. Welch, was pursued on foot and arrested, and charged with home invasion robbery, battery on a person older than 65, petit theft and possession of a controlled substance. He is at the Flagler County jail on $27,000 bond.
Welch served 15 months in state prison after he was sentenced on charges of threatening harm and battery in August 2011. He's been booked at the Flagler jail eight previous times before this morning on charges including probation violation, domestic violence battery, burglary, assault, and corruption by threat.