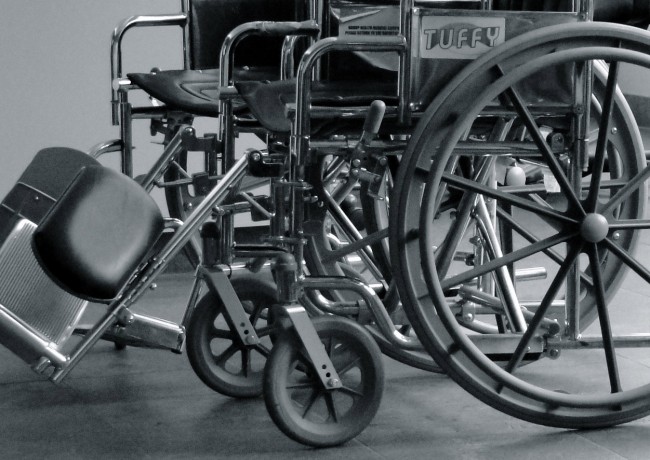 Richard Allen Pettit, a 60-year-old resident of 164 Espanola Road in Bunnell, says that as he was watching television Thursday night, after 11 p.m., four men entered his house, pulled him out of his wheelchair, threw him to the ground and said to him: "where's the stuff?"
One of the men was wielding an aluminum bat. Another wore a scarf that hid half his face. The man with the aluminum bat, according to the victim, struck him repeatedly while again demanding "the stuff."
At one point the suspect kicked him on his side and stepped on his left foot, cutting one of his toes," according to an incident report. "While the suspect with the bat was hitting him, Richard stated that the other three males went into the bedroom to the right of the front doorway and took 3 shotguns: an H&R .410 gauge with 18 inch barrel and a red and brown stock; a Remington 12 gauge pump action with 18" barrel and brown stock, and an unknown brand 12 gauge single shot."
Each firearm was valued at $200, for a total of $600. The men left on foot.
The man with the bat also took Pettit's wallet, described as a man's leather bi-fold wallet containing $90 in cash, a Bank of America Visa debit card, an unknown bank visa debit card, a Social Security card and a Food Stamps, or SNAP, card.
Pettit, who is white, could only describe the men as being black, approximately mid to late 20s, and wearing dark clothing. The victim could not remember if the other men had their faces covered. He said he did not recognize any of the men.
Investigation on scene revealed no forced entry to the residence. Pettit said that the front door was not locked. There was substantial blood on the floor at the foot of Pettit's wheelchair, according to the report. The blood was coming from a cut toe on his left foot.
"I did not observe any obvious marks on Richard's head where he had been struck with the bat," the investigating deputy wrote. "He did not have any marks anywhere else on his person. Richard stated that he did not lose consciousness during the altercation from being hit in the head." The victim told police that the men did not strike him very hard with the bat, describing it as "more of a poking strike with the end of the bat."
Flagler County Fire Rescue 51 arrived on scene and evaluated Pettit's injuries. He declined to be transported to the hospital. Paramedics dressed his cut toe on scene. A friend and neighbor helped Pettit complete a written statement.
A neighborhood canvass of the homes in view of Pettit's residence provided negative results.
Detectives are asking anyone with information on the incident to contact their offices at 386-586-4801 or call Crime Stoppers at 888-277- TIPS (8477). You may remain anonymous and could be eligible for a reward of up to $1,000.