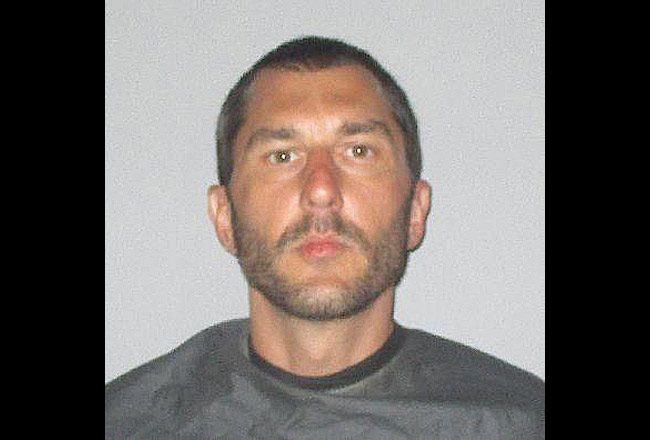 It was Saturday afternoon, just before sundown. The 53-year-old tenant at the Hammock house on North Ocean Shore Boulevard, just south of Bing's Landing, was in the bathroom. When she got out, she was almost face to face with a stranger, a 35-year-old man, who was standing in her house. She didn't know him, and of course he didn't know her: he had essentially not just walked in uninvited, but jumped a fence in order to make his way to the house.
The woman was startled. But so was he. She asked him what he was doing in her house–and asked if she could help him. The man, Benjamin Wytiaz, then apologized for being in the house and started walking out, saying he was looking for a woman called Wanda Jones. He turned around, walked out, then jumped the fence again and fled.
The victim called 911 and reported the incident, giving a description of Wytiaz. Flagler County Sheriff's deputies responded, and later, found Wytiaz a few blocks away, on Armand Beach Drive, and placed him in handcuffs (for officer safety, his arrest report states, "due to not knowing if he was armed or would attempt to flee.")
Wytiaz waived his Miranda rights and agreed to speak with deputies. He said he was homeless, cold, and looking for a place to sleep. He thought the home–an 1,800 square foot house on the Intracoastal valued at $250,000–was vacant. It's not an uncommon occurrence–homeless people squatting in vacant homes locally, where there is no shelter for the homeless except on nights when the temperature falls below 40 degrees. That's when the Sheltering Tree in Bunnell opens a hall at Bunnell's First Methodist Church. But only for the night. Wytiaz's story was similar to that of Markell Peck, who told deputies earlier this month that he broke into Roma Court Academy, the child care center, over Christmas because he was homeless, was cold and needed a place to sleep, though Peck also allegedly stole a small amount of money and a computer tablet from the school and ended up facing two felony counts.
In Wytiaz's case, the victim was brought to the location where he was found and detained and identified him as the man who'd been in her home earlier. "The victim also explained she noticed the front storm door to her home appeared to have been manipulated, possibly in an attempt to see if anyone would answer the door and when no one did, he went to the rear of the home," she said.
Last year's census of the homeless population in Flagler and Palm Coast put the number at 104. This year's census was conducted just last week (with County Commissioner Charlie Ericksen, a volunteer at the Sheltering Tree, among the volunteers counting the homeless.) The numbers have not yet been released. Wytiaz told authorities he was not part of the local homeless population: he was on his way through the area to go to Jacksonville, and just needed a place for the night.
He has no other arrest record locally. But Wytiaz has a long history of arrests in Seminole, Alachua and Duval counties, including aggravated assault with a deadly weapon, burglary, grand theft (of a vehicle), battery causing harm, theft, drug possession, criminal mischief, drunk driving, fleeing and eluding police, and driving on a suspended license.
In Flagler, he was charged with trespassing and loitering, two misdemeanors that nevertheless landed him at the Flagler County Jail–where other local homeless individuals have been known to seek to be arrested in order to have a roof over their head, a meal and warmth. Forty-eight hours later, he remained at the county jail on $1,000 bond.