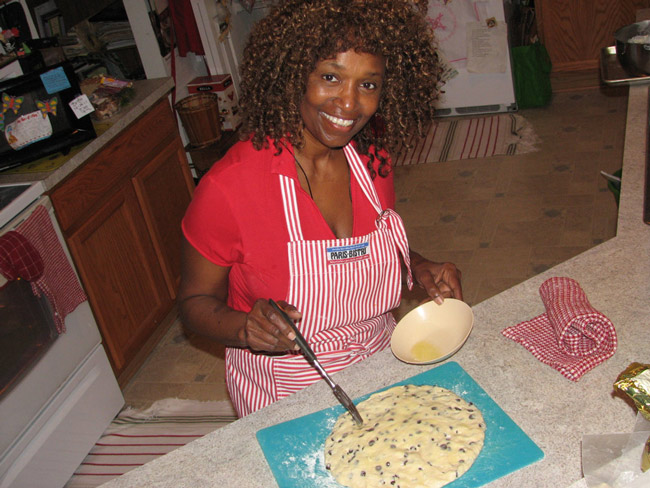 Last Updated: 5:34 p.m.
It should have been on this morning's Palm Coast City Council meeting agenda, for the council's approval: an ordinance changing the rules about home-based businesses slightly, to make it possible for small, home-based bakeries to have a go. In mid-February, when the proposal first went before the council, three of the five council members, including Jon Netts, were supportive of the initiative—Netts by a thread.
The proposal never made it to today's meeting: last week Netts reversed course and was the swing vote against the initiative, which the city administration, too, opposed—if also by a small margin when all the pros and cons were listed. The rejection adds to the city's pattern of conflicted reactions to start-ups–supporting them with one hand while scuttling them with the other.
"I'm inclined to leave this one on the shelf for the time being," Netts said. "I'd really like to see the experience of other communities, see how it works. I take very seriously the idea of unfair competition, I take very seriously the eroding of our residential standards, on the other hand, here's somebody who wants to entrepreneurship at its finest, at its greatest, but that's a benefit to an individual, whereas these other issues are community issues."
Cheryl Sheppard and Rick de Yampert, the Palm Coast couple at the heart of the initiative to allow home-based bakeries, did not settle for the council's decision, and took issue with the fact that the decision was reached in a workshop, as most of the council's decisions are, absent input from the public. (Sheppard and De Yampert had met with the mayor several months ago and written a long email to the city, detailing their plan.)
In a strongly-worded joint appearance before the council this morning, De Yampert and Sheppard asked for another workshop at which they would be allowed to make their case in person.
"It seems you've already decided this issue, and this is key, Cheryl and I did not even have any chance to address you, the council, before you decided," de Yamperrt said. "A public workshop meeting in which the public can provide no input? To us such a government process seems fundamentally flawed and backward. Yes, perhaps every issue that comes before the council in a workshop session does not merit being placed on the council's regular meeting agenda. But consider the facts of our cottage food proposal. Yes city staff had voiced their disapproval of the measure. But the planning and land development regulation board gave its unanimous approval at its March 21st meeting. Two council members have voiced their support of the proposal at the April 10 workshop. Two expressed opposition, leaving mayor Netts to state, quote, that makes me the swing vote."
There is no mass movement toward starting home-based bakeries. There is no outcry against the idea, either. There was the Sheppard-de Yampert proposal. They want to operate a small bakery at their home, sell the goods at festivals and special events, and deliver to other homes or local businesses. They were not planning a large operation: net gross, in accordance with a state law that permits such bakeries (as long as local governments go along) would be below $15,000. They would not sell to customers coming to their door.
For all that, much of the council's opposition at last week's workshop, especially that of council members Bill Lewis and Netts, focused on the precedent-setting notion of such a home-based business damaging the fabric of residential neighborhoods because of the traffic it would incur, even though Sheppard and de Yampert, in their documentation to the city, had stressed that there would be no such traffic.
"I don't want to stop anyone from having a business, I'm for small business, but there's a place for it," Lewis said.
"I have to agree with Mr. Lewis," Netts said. "If I buy a house, once a year the family next door has Thanksgiving dinner when 20 relatives come, they park in my swale for four hours while they eat turkey and dressing and mashed taters and all that good stuff, then they go home. I can put up with that. But if I'm going to have a steady stream of people day in and day out, coming to the home to buy stuff, now you've diminished the quality of that residential neighborhood." He continued: "I would be opposed to permitting sales from the home because then the next thing you have is a little sign in the window and the next thing you've got is a little lawn sign in the front lawn and pretty soon you've got a storefront in a residential neighborhood. In my mind the jury is still out on the whole issue of food preparation in the home, I've used this analogy before, if we permit it, there is a presumption on the part of the public that everything is OK, the city wouldn't allow something to happen that's not."
Netts and council member Bill McGuire, however, had other objections as well: the risk that home-based bakeries might produce goods that, absent proper inspections, could make people sick, and the risk the city incurs by being blamed for the results, even though the state, not the city, is in charge of overseeing such businesses.
"I'm more concerned about the imprimatur that the city says it's OK to buy these cupcakes," Netts said. "People expect the government to protect them from harmful circumstances. By us permitting this we are giving our tacit approval."
Council members Frank Meeker and Jason DeLorenzo's strong support for the concept did not sway their colleagues. "This was supposed to be the incubator concept where they developed the business first then moved it out," Meeker said, noting both the city's supposed support for small business start-ups (it is paying for what it calls a Business Assistance Center as a centerpiece of its commitment to economic development) and the difficulties small businesses have establishing themselves at first. Sheppard's plan was to start small and grow.
Netts doesn't buy it. "My sense is that these businesses won't grow. That they'll be perfectly happy baking their cupcakes and taking them to the rock and rib fest and setting up a booth and selling, and that'll be the extent of it," he said, casting his opposition.
Sheppard this morning dismissed the council members' concerns as essentially unfounded. "We would be just as invisible as any other Class 2 business," Sheppard said, referring to the sort of businesses—like accountants, lawyers similar professions—that routinely operate out of homes. "No customers at our home, no deliveries, etc. As for enforcement, every neighbor on our street would provide enforcement. The moment a pastries for sale sign goes up, traffic goes up, is the moment you get a phone call and we're out of business."
Sheppard and de Yampert won a concession: with DeLorenzo and Meeker pushing for yet another workshop on the matter, they'll get to be heard. But the matter is likely again to fall on Netts as a deciding factor, unless either McGuire or Lewis find room for compromise.
A careful, detailed analysis by the city administration appeared to go out of its way to present the issue objectively, laying out detailed arguments for the concept and arguments against.
"The request to allow cottage food production as a home occupation furthers economic development because allowing cottage food production as a home occupation lowers barriers to entry into the retail food markets," the analysis reads. "Otherwise, individuals have to procure time at certified commercial kitchens to produce baked foods for sale to the general public. Cottage food production would allow for experimentation with different foods and recipes with limited start up costs to determine what type of product would have market appeal."
But the analysis also laid out the risks, one of which resonated especially with Netts and McGuire: "Effective monitoring of cottage food production would require entering homes to verify food safety, which the City lacks the authority, technical expertise and manpower to do. The State of Florida has assigned its right of inspection to the Department of Agriculture and Consumer Services, which is only triggered if a complaint is received.  No inspection of the food production premise will be conducted by the Flagler County Health Department or the City of Palm Coast."
A couple of hours after killing the proposal, the city council headed to Panera Bread on State Road 100 for an invitation-only opening of the new bakery. Meeker and DeLorenzo were perplexed at Netts' turn-around—a turn-around that appeared even more perplexing when Netts summed up his welcoming words to Panera (a company that revenue of $1.8 billion last year), during the ribbon-cutting, with this: "Your success is our success."

Download Palm Coast's staff analysis of home-baked bakery proposal