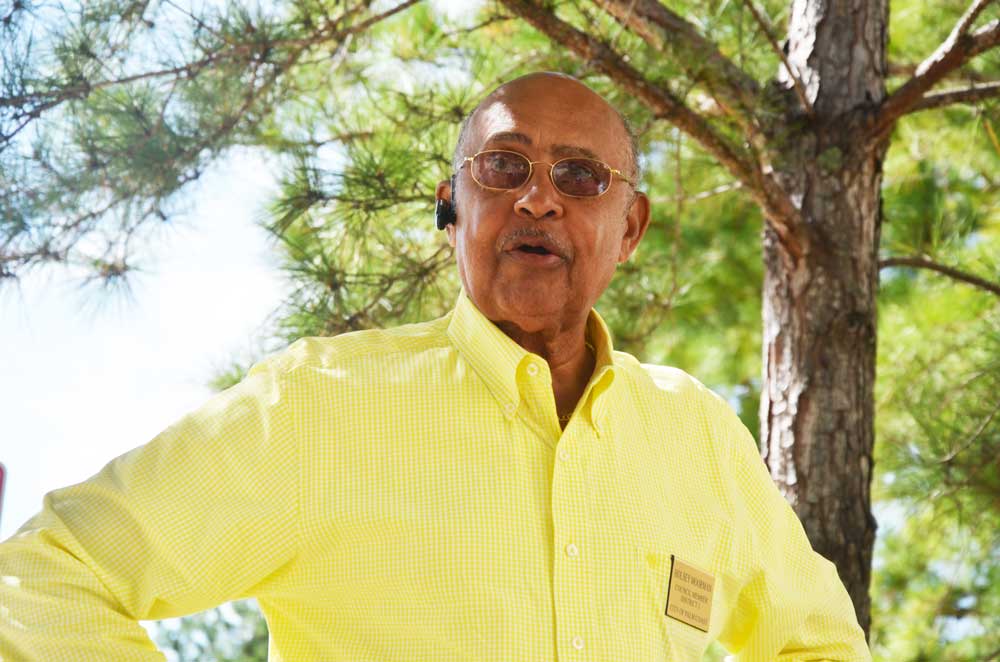 Last Updated: 2:14 p.m.
Holsey Moorman, a Roanoke, Va. native who rose to the rank of brigadier general in the Army, moved to Palm Coast after his retirement in 2001 and served a term on the Palm Coast City Council, died on Feb. 7 at AdventHealth Palm Coast. He was 84.
Moorman had been the last surviving member of the council's Class of 2007, having been preceded in death by Bill Lewis in 2015, Frank Meeker in 2016, Mary DiStefano in 2020, Jon Netts in 2021.
He had brought his quiet, no-flash, stately style of leadership to the council, saying at the end of his term in a FlaglerLive interview: "I am not a loud mouth that talks to be heard or impress anyone. I speak when necessary for me to get an understanding for my own decision-making."
He prized the same qualities in others and enjoyed what was then a rather clubbish council where, with occasional exceptions, members met more to hear the administration's presentations and sign off on them than to debate them. "I have been complimented because of the lack of dissent and in-fighting that goes on in the council," Moorman said in 2011. "Being a member of the council is a pleasure due to the civility that is exhibited." (A frustrated Meeker, always up for a good debate, would end up leaving the council for the County Commission's more free-wheeling atmosphere.)
Bill Reischmann, until recently the city attorney who sat through every council meeting and workshop dating back to Moorman's tenure, recalled the late councilman today: "Unfortunately, many in Palm Coast may have few memories of Councilmember Moorman," Reischmann wrote in an email. "That is to the detriment of witnessing and understanding sincere public service. Like so many of his generation, he viewed his role almost as a duty to his friends (so many) and family in the Palm Coast community. I was fortunate to watch and work for Councilman Moorman. Always polite, prepared and civil. These qualities, sometimes in short supply these days, proved persuasive and productive. If and when he disagreed, it was on the merits. He would make his argument, respect those who disagreed, and accept the result as intended in Palm Coast's representative democracy."
But Moorman was part of a fading breed of local government officials and boards as a more active, argumentative and questioning wave of candidates was rising, a reflection of the whole country's more polarized politics.




Moorman had won his one race for council in 2007, polling highest in a six-candidate field in the primary and defeating Vivian Richardson in the run-off. Four years later, he lost in on of the city's closest elections, by 55 votes, to Bill McGuire, a member of what was then known as the Ronald Reagan Republican Assemblies, an ideologically shrill breakaway group that was to the right of the tea party movement. Moorman was stunned by his loss, and did not serve in public office again.
The African American Cultural Society in Palm Coast announced his death this morning.
Moorman was educated in Roanoke public schools, earned a bachelor's degree in Business Administration from Park College and went on to study at Command General Staff College, Duke University and the U.S. Army War College. He married Carrie Boyd in Teaneck New Jersey. They had one son.




He had joined the Army as enlisted Combat Engineer, went on to attend Officer Candidate School, and was assigned to officer positions from platoon leader to brigadier general, his rank at retirement. Along the way he worked for the Chief National Guard Bureau, with the Deputy Chief of Staff for Personnel, with the Assistant Secretary of the Army and with the Deputy Adjutant General for the New Jersey National Guard.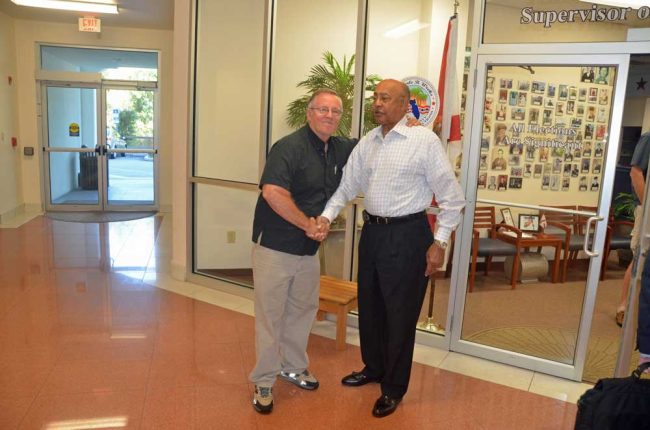 In Palm Coast, he serve on four boards–what was then known as the Florida Hospital Flagler Foundation (now AdventHealth Palm Coast Foundation), on the hospital's Board of Directors, the Community Partnership for Children, and the Flagler Board of Education African American Male Mentoring Program. He also served on the Mount Calvary Baptist Church Board of Trustees. He was also a member of the now-defunct Flagler County Art League, The Flagler branch of the NAACP, and the African American Cultural Society.
In one of the few, perhaps only, controversies that briefly shadowed him, Moorman had toward the end of his council term, in 2010, been the source–the only source–of the attempt to ban a Flagler Palm Coast High School performance of Harper Lee's To Kill a Mockingbird. Following on his advice, the superintendent at the time agreed to cancel the play, out of what Moorman had said was his "concern" that the language in the play would cause strife in the community. The public reaction to the ban was swift, drawing national attention, the ban was reversed and the play was performed several times, uncut, to great acclaim.




Asked about race relations in the city not long afterward, Moorman's answer was slightly equivocal. "Race relations in Palm Coast is acceptable," he said. "I have lived in the north and south. People have different prejudices that show themselves in different ways in different situations. During economic hard times as we are in currently, people act out of fear that one group is taking something that they might think is their entitlement. We all have a right to live, work and play in a safe and peaceful environmental without a regard for race, religion or national origin. Palm Coast is just like any other place in the United States; no better or no worse."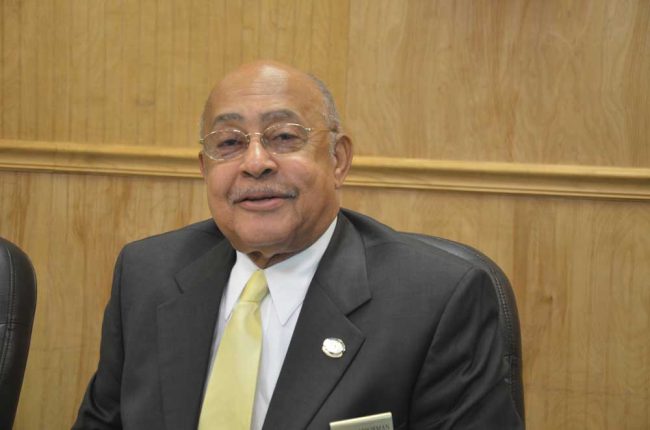 Moorman, his obituary reads, "loved his family unconditionally. He enjoyed family gatherings on ocean cruises, bus trips and get togethers. He also loved music of all genres but mostly gospel and jazz. But, he would always two-step to 'Atomic Dog' by Parliament Funkadelic. He was always dressed to the 'nines'. He was a true friend to many and always extended a helping hand. He owned and fancied classic cars from GTO's to Corvettes. He always 'shot from the hip' when asked for his opinion or advice. He was also an avid photographer, always behind the camera rather than in the picture."
Reischmann, the city attorney, described Moorman's life as "dignified and eventful," adding: "I hope that the people of Palm Coast will slow down just a little to reflect on Councilman Moorman's life of service, and sacrifice. Not just what he accomplished. But how. A moment well spent. "

A Celebration of Life in Holsey Moorman's memory is scheduled for 11 a.m. on February 16 at Mt. Calvary Baptist Church, 75 Pine Lakes Parkway South, Palm Coast. Reverend Edwin Coffie will be the eulogist. Visitation will be one hour prior. Moorman will be laid to rest at 9 a.m., Feb. 17 at the Jacksonville National Cemetery. In lieu of floral arrangements, the Moorman family is requesting donations be submitted to Mt. Calvary's Capital Campaign or Scholarship Fund c/o Holsey Moorman.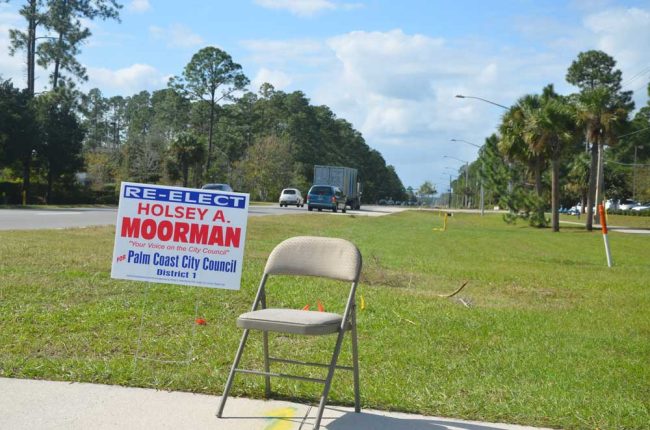 Reader Interactions