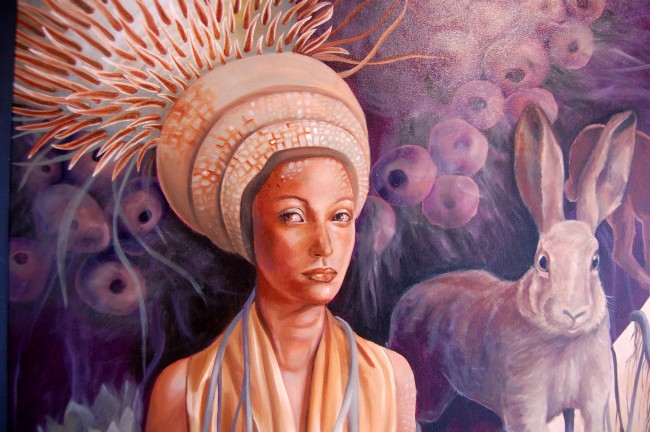 Surprisingly and brightly early for an artist who tends to keep company with darker matter, Richard Schreiner peeked out of the Hollingsworth Gallery this morning, while a Tai Chi class was going on inside, and within moments was talking art, as he so often does, the way he creates it: by getting to the point quicker than a hatchet finding a scalp: "The thing about art is, it's supposed to puncture the sanctimonious bullshit, not create it." That such sudden bursts of Rive Gauche lingo can now be heard, even in snippets, in a Palm Coast strip mall is indicative of how much the town and its surroundings are attempting to put a little more emphasis on the urbane part of their suburban culture.
So is this: in these 24 hours, beginning with Friday evening's (Jan. 7) opening at Flagler Beach's Gallery of Local Art (GOLA), three new art shows are opening, featuring some 100 works: Peter A. Cerreta at GOLA, Beth Garren and JJ Graham at Hollingsworth, and new work by 44 artists at the Flagler County Art League's "Color Splash" exhibit. Hollingsworth and the Art League are both at City Market Place in Palm Coast (the former City Walk). Their opening receptions are tonight from 6 to 9.
Some of it—maybe most of it—may not be to Schreiner's liking, though art's point isn't primarily to pander to the largest number of people possible. Nor, of course, is it primarily to alienate. As Art League President Bob Ammon put it, "That's the great thing about art: it provokes conversation and discussion and who knows where it will lead."
Garren and Graham at Hollingsworth
At Hollingsworth, it leads to Daytona Beach artist Beth Garren's meditations on the surreal. "In exploring connections to the mysteries of life, I seek to inspire a sense of awe about the workings of nature and the human experience," she writes. "The sheer unknown that surrounds us on a daily basis is an amazement to me.  Curiosity, a fundamental of the human condition is a driving force in my life as well as my works.  I hope that the wonder I experience is translated to the canvas."
Garren's subjects are as familiar and common as rabbits, women, snakes, birds, plants. Their combination is not so common. She mixes the geometric rigor and regularity—if not the rusty colors—of Egyptian art with the dislocated perspectives and visual shocks of surrealist art: like Georgio de Chirico, who had a thing for errant heads and brilliant perspective, Garren's heads become excerpts of something human radiating all sorts of unlikely tendrils of color and symbols—black-diamond tears, a Garden of Eden's worth of snaky suggestions, concentric circles faintly rooted to a background of shapes and hints galloping toward a psychiatrist's wet dream.  No wonder Graham was attracted to the work. His can be a psychiatrist's nightmare, a struggle to get to that more peaceful point Garren is tapping, though happily for the viewer, Graham's paintings don't make the jump. They're still in the churn, what the seven days of creation would look like on the third day.
"I was going to show more artists in the back, but nothing kind of felt right," Graham says, explaining why the back half of the gallery displays his work as a counterpoint to Garren's. "I saw this kind of yin and yang and the way the paint was handled in her work, she's a very soft painter, and I kind of when looking at her work it made me feel like this total brute. I saw that tension between the paint, but also I saw the similarity and the spirituality and the dream. There's a lot of searching in her work. I'm definitely searching too. And there's also this element of what you'd call the unspeakable, or the unseen. I find it very interesting when artists try to paint that. I think it's the things that we sense, and the things that we feel with our notice of things, but aren't necessarily painted in black and white or color right in front of us. I see in her that she's engaged in her nervous system. That's definitely where I'm coming from too."
With one signal difference: Garren is more at peace than Graham is. She's made it to Sunday.
"Color Splash" at the Flagler County Art League
Speaking of which: a few doors down at the Flagler County Art League's "Color Splash" show, some 61 new works by 41 artists cover the walls of the revamped gallery, where the floors have been finished and both sides of the gallery look as intended (and as inviting). The artist's task this time around: "Basically," Ammon, who teaches color theory, sais, "show us your use of color. I was always telling everybody it's not so much it has to be brightly colored necessarily, but it's the use of color that should be the emphasis. As you can see, it's quite bright, quite colorful."
It is: Ammon's own rustic landscapes contrasts the dark blues of an evening or morning sky with the bright yellows of a pasture, Robert Carlson's arresting, National Geographic-like photo portrait of a parrot (judged best in show) with its plumage of bright reds and greens, Ann DeLucia's Warholian montage of "Compound Zebras" and Sadny Pierce's "Poppies Galore" (no additional description necessary) make Ammon's point. There are several interesting explorations of color that go beyond the figurative and the familiar, though at the Art League the viewer will more often be gently nudged toward something unusual rather than shocked or jarred into it. And proverbial points of reference—like Emile Dillion's scarlet and yellow "Hawaii Motel" or Stephanie Salkin's "Paris Lights"—are always there like lighthouses pointing the way back to a known shore.
"One of the most difficult things for a beginning artist to grasp is color theory, which is based on the color wheel, which shows you the complementary colors," Ammon says. "Certain colors used adjacent to each other intensifies both colors and until you kind of learn that—I teach here on Fridays, and that's one of the things I have to keep drumming into them." The artists on display are not beginners, of course: they've into experimenting with those theories, and one of the points of the "Color Splash" shows is to invite visitors to react to those experiments.
Peter A. Cerreta at GOLA in Flagler Beach
Leaving Peter Cerreta for last here in no way suggests the order in which you should take in these three shows, especially since Cerreta's is likely the most fun, in the sense of being equally accessible and provocative: Cerreta doesn't just like to tell stories in his paintings. He likes to tell them directly without hesitating to borrow, and occasionally steal, from his inspirations: Chagall, Picasso, Duchamp, Goya. His "Young Girl Before a Painting" is a recreation of Picasso's "Girl Before Mirror," except that Cerreta's girl is much younger and only admiring, in the nude she's looking at, the woman she wants to be—"hair, boobs," the works, Cerreta says.
The painter, who is 80, is not shy about his subject matters or the way he takes them on. He's also done a reinterpretation of Manet's famous (and famously scandalous) "Olympia."  Like Manet's, Cerreta's prostitute is nude, reclining, and looking slightly more annoyed (time is money, after all) than Manet's, because instead of having a black servant at her bedside, bringing her a color splash of flowers, she is faced with a cubical stagger of veiled women right off a fanatical Teheran street, one of them bearing a bucket of stones. One of the veiled ones, in this large painting called "The Emissaries," is pointing to a black-clad thing (again, the quote from Manet), which in this case happens to be the prostitute's warning: if she doesn't straighten up, she'll get stoned. The prostitute's breasts, perkier than Madonna's metallic sort, suggest that the moralistically mad message is falling on deaf ears. And like Manet, Cerreta succeeds in showing the prostitute more dignified than her assailants.
So it goes in Cerreta's "Facts Fantasies Follies and Foibles of Man" show, which he describes as a jaunt from the serious to the whimsical: a girl right out of Edward Hopper is "looking for answers to her own life," a bull, however powerful once, is looking death in the face, and those prostitutes again, this bunch on 9th Avenue in New York (Cerreta has his vice's geography right), having a smoke and a tiff.
"As far vas subject matter, everything has been done," Cerreta says. "The only thing that changes is technique, how artists present it." Puncturing sanctimonies being one of Cerreta's strengths, if not quote in Schreiner's style. "One of the purposes of art is to clarify nature. Man's nature, human nature," Cerreta says. That's assuming that there is something there to clarify, Schreiner might say.
And the conversation plays on.