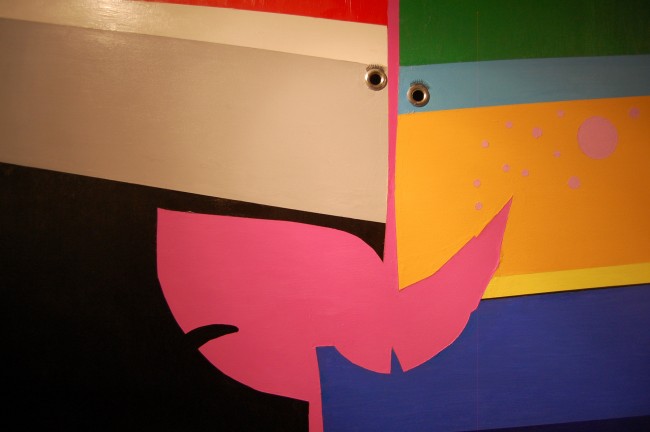 What a seductress that "Medusa," in painter Richard Schreiner's hands. She looks beautiful, beautifully sleepy, as if in a shroud of serenity, the serpent around her head looking more like  halo, the smile on her as if an afterglow of something usually worthy of a good stiff French cigarette, no filter. It's an unusual painting for Schriner, who doesn't usually go for langor. At least at first and second glance. But Schreiner's not just a clever painter. He's a snare. Which is why this particular "Medusa" appears as the face of the new show at Hollingsworth Gallery at City Walk, opening tonight: Selected Contemporary Works by Regional Artists. Schreiner's "Medusa" is a trap, and you'd be a fool not to let yourself be caught.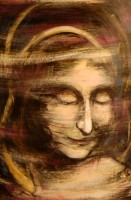 Medusa had been beautiful in her day. As Ovid tells it she was a knockout of a nymph, "the jealous aspiration of many suitors," until she hooked up with Poseidon, lord of the seas, who, as gods were wont to do, proceeded to rape her. Logic has never been any god's strength, so instead of getting angry with Poseidon, the goddess Athena got angry with Medusa, changed her hair to snakes and gave her that "execrable head," in Ovid's delicious wording, making her part of that monstrous Gorgon threesome.  If you looked directly at her, you'd turn to stone. She's a perfect subject for Schreiner, the Palm Coast artist whose work is comparable to an Outward Bound expedition with cataclysms as your walking stick. Except that here he chose to render her as the sexy chick on the magazine cover that, once turned, grabs you by the eyeballs for Schriner unrestrained.
There they are, eight paintings (counting "Medusa") lined up (for execution?) in the gallery's corner concave, because even in art assault and battery needn't be the very first thing you experience when you walk in the gallery's door. There's "Family," the portrait of a beefy red-headed, jowly man with red-rimmed eyes and disquieting swirls around him, as if Schreiner had found a way to paint violence as a form of climate—it hangs there, ready to pounce. "Father figure" isn't the first thing that comes to mind with this guy, unless we're talking about one of those Catholic types with little boys in their scope. You never know with Schreiner: the purplish-colored cassock the man wears, not unlike the purple of cardinals, suggests it.
And that's the mildest one in the bunch. Good thing they're serving alcohol at tonight's opening. There's also "Insurgent," which looks as it sounds, an IED of a painting ready to do what "Family" guy did, except from behind a turban, which thanks to our prejudices on steroid when it comes to Middle Eastern iconography, magnifies the menace tenfold. The swirl effect is again all over "Insurgent," giving it enough movement to make any sniper's job hell. The slit of the eyes reveals a flesh tone oddly light for Arabs who like to blow up Americans. The joke, with Schreiner, is always on you: what makes you think this guy is an Arab? He's you next-door neighbor, your uncle, your guidance counselor. Or the little brother of the painting next to it, which should get a few people talking: "Fear."
She stands there in her chador (a burqa without the face-covering), again with that Schreiner stare and the dab of blood around the eyes, not a hint of a Medusa smile on this one, not a hint of sensuality, not much of a hint of womanhood either. The swirls in this case have the appearance of Arabic script without actually forming letters, a clever touch that emphasizes the indecipherable in the painting: fear, certainly, but who's fearing whom? That's the question you should ask yourself when you're looking at this Arab cousin of our Gorgons' imagination. Seen together, there's a circling-back effect in Schreiner's paintings, which talk at you, purposefully, preferring to talk with only each other.
There's more Schreiner, but there's also plenty more than Schreiner. Eight artists in all, their work chosen for a purpose of course: "Every artist in this show has and will be connected to this place," JJ Graham, Hollingsworth Gallery's owner and the show's curator, said, "in the form of being a teacher and having been pivotal in making this place survive two years. It's a very important show to me not only because of the people who are participating in it, but I think it also shows the direction of the gallery esthetically, like what kind of work we're looking for. These artists in the show are very serious artists. Most of them have devoted their whole life to their art. They have a lot of appreciation for art history and most of them have at some point been educators." The artists include Bill Brant (not to be confused with the late photographer Bill Brandt), Lawrence Philip, Linda Solomon, Tom Gargiulo and the sculptor Alice Johnson, and a few works by Graham.
There's also the now-famous pink workboots that once belonged to Lenny Grocki, the Palm Coast utility worker who was ordered to remove them even though he wore them to commemorate Breats Cancer Awareness Month. Propped on a pedestal of graffiti, the boots-turned-installation are called "These Boots Were Made for Talkin'." (They may be auctioned off and the proceeds donated to breast cancer causes.)
There's a literal bigness to this show: the paintings—almost all but a few works by Johnson and one by Mike Ingram—are physically large and colorfully so as well, a reflection of Graham's own sensibilities. He calls his work "punk soul." The description fits the exhibit, with its counterpoints.
Diametrically opposed from Schreiner's concave, and even hedged by a centerpiece display in the middle of the gallery, are four paintings by the artist Linda Solomon (she has seven pieces in the show), whose background is itself a curious swirl. She's Jewish, born and raised, but also a Sufi and an interfaith minister. She divides her time between Palm Coast and Seattle. (Her father, also an interfaith minister, built the recognizable geodesic dome in Beverly Beach.)
The four works—"Blue," "Group Dance," "Blue Horseman" and "Man In Nature"—are Schreiner on Xanax that actually works: they're dances to the music of peace, and if they give you the urge to skip a little, it's probably by design: Solomon literally dances while she paints, listening to music and moving through her work. Her intention: "Harmony and peace," she said by phone from New York Saturday afternoon, "that's why I paint. I try to create harmony in everything, and when I'm working it's like I'm trying to create balance within myself."
Dancing is an essential part of Sufism, as is whirling. You see it in Solomon's work, which conveys the enigma of celebration. There are no longing, empty spaces. There's no room for them when Solomon's subjects are busy whirling.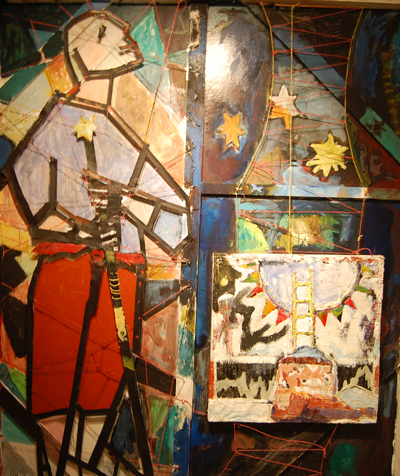 In the middle of it all are two works by Graham, and they're part of the same plank. Literally. He painted "Cosmic Intervention" on one side and "Yellow Ladder" on the other, two enormous multi-media works that, in "Yellow Ladder"'s case, combine paint with thread and cut-outs to recreate a common theme in Graham's imagery: the searching pilgrim, in this case looking upward. The work might provoke reactions Graham doesn't intend, though all art at some level evades its creator's intentions the moment it's set upon by other eyes. Graham's pilgrim in "Yellow Ladder" also wears what looks like a yellowish Star of David, and a couple of other similar stars are painted on the buy painting's background, splashed there as Graham splashes many of his competing symbols. He didn't intend a connection to the Holocaust in any way, nor even a connection to Jacob's Ladder.
Both allusions though are difficult to avoid—to the benefit of the work, especially in light of its opposite side. "Cosmic Intervention" is more difficult to wrap one's eyes and mind around. It's a boil of angst, complete with a severed arm that grabs onto another one aiming for the cosmos. Graham intended the painting to be a summation of the moment—"the chaos of all that is in my time," he says, with a few angelic images thrown in: not the Christian angels with wings and halos, but the very human beings who've intervened in Graham's life at crucial moments, with angelic results. There's something of an appeal in this painting, making it difficult to look at for too long at a time, as with a Schriner piece, but for different reasons. (Graham, who often works alongside Schriner in the studio in back of the gallery, says Schriner  has been influencing him.)
"I call it the unspeakable," he says, standing next to the painting. "If I could get the feelings out in words, I'd probably be writing. That was probably one of my first loves, reading and writing. Painting allowed me to be more non-verbal. But I'm an emotional painter. It's therapeutic, man, I hate to say it, but I've seen painting really affect people at a therapeutic level, and you know maybe that's what it's doing with me. If I don't paint for a few days, it's like somebody who meditates and doesn't get to meditate it." There's little question that Graham intends his shows to be a form of therapeutic session for visitors.
"I know how to illustrate it," he adds. "When I was managing a restaurant in Ormond Beach, and I remember thinking about this then, too, I would watch the surfers across the street. I'd always been a skateboarder but I'd always wondered what it would be like to surf. And I would watch them, and I talked to some of the guys to see what it was like, they would sit out there on their board, just past the waves, and swim out, and they would sit there and just wait, and they're watching, and then they'd catch a glimpse of this wave coming in and if that's the one they'd get on it and ride it to shore. That's kind of the way I approach a painting. I pick colors that are stimulating to me, and I begin to move them, and I'm watching, and all of a sudden there's this wave"—he snaps his fingers—"and you just ride it, and it's like, as you're building up momentum, you're starting to see this thing more clearly. It's exhilarating. I've often said that color is one of the few things stimulants out there that won't rot your teeth or land you in jail."
The Hollingsworth Gallery's new show is just that: a surfing stimulant of colors that, while it won't land you in jail, will keep you captive as long as you let it, and maybe even a little longer than you'd let it.



Selected Contemporary Works by Regional Artists opens with a free reception from 6 to 9 p.m. tonight, Saturday, Oct. 9, at Hollingsworth Gallery, at City Walk, 160 Cypress Point Pkwy. Suite 210B.