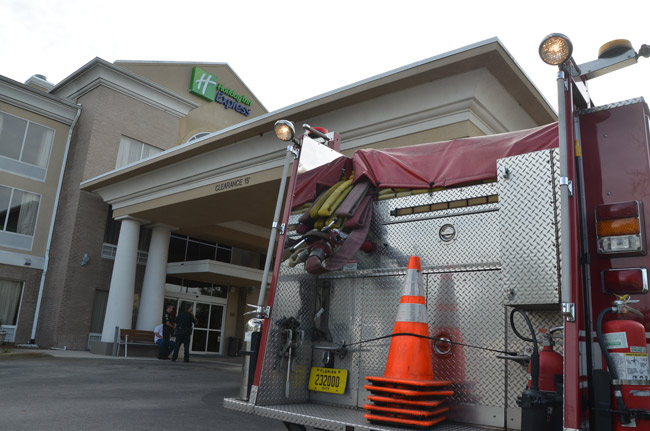 Palm Coast's Holiday Inn Express, a three-story, 81-room hotel, was evacuated this afternoon when sprinklers went off on the second floor. The Palm Coast Fire Department and the county's fire rescue department responded in force, but there was no fire. A guest in a room knocked off a sprinkler, accidentally setting off the fire extinguishers. The knock-off of the sprinkler was itself accidental. No one was injured.
The third floor was not affected. But water damaged the second floor, and seeped down to the first, damaging that floor as well. About three or four dozen guests were evacuated. They were invited to register at the Hampton Inn and Suites, just 50 yards away. The Hampton Inn and the Holiday Inn Express are owned by the same concern. The Hampton Inn's lobby at mid-afternoon was teeming with people registering at the front desk and waiting in the lobby-dining area, as firefighters remained at the Holiday Inn.
The Holiday Inn is expected to be off limits to guests for about 24 hours as a company is brought in to dry the two floors affected, authorities at the scene said. Although the third floor is not affected, the hotel's elevator has been shut down because of water leakage. Hotel officials would not comment.
Both hotels are located on Flagler Plaza Drive, behind the Winn Dixie shopping center on State Road 100.