An alleged pharmacy robber led police on a high-speed chase across State Road 100 and the southern portion of Belle Terre Boulevard at mid-day today until the man's car went out of control at near the Publix shopping center in Town Center, where it struck three police cruisers. Police detained the man, though he was sent to Florida Hospital Flagler with minor injuries.
Travis Wayne Adkins, 31, of 11 Ziegler Place in Palm Coast, faces numerous charges, including attempted armed robbery, aggravated battery with a motor vehicle on a law enforcement officer, and fleeing and eluding–all felonies. The Bunnell Police Department is filing separate felony charges of felony fleeing and eluding and aggravated battery on a police officer.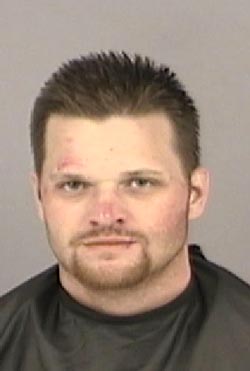 Until about 2 p.m., drivers were asked to avoid Belle Terre Blvd. around State Road 100. Belle Terre southbound around 100 was closed in early afternoon, with only one northbound lane open, as the suspect's car sat in the median near the Town Center shopping center. The roadway reopened by 2:30 p.m.
Adkins is believed to have robbed a pharmacy in DeLand and another in Holly Hill this morning after an attempted robbery in Flagler. "He apparently attempted to rob a pharmacy at the Flagler Plaza there on 100, next to Burger King," Johnson said. He walked in there at 10:46 a.m., displayed a gun, and demanded oxycodone, the pain reliever that's become a drug of choice in drug trafficking and abuse. Oxycodone is among the leading causes of death by prescription drug overdose in Florida.
Adkins was unable to get any drugs at that pharmacy: the pharmacist told him he had no oxycodone. Adkins fled, driving down to Volusia County, where he allegedly attempted to rob the CVS on Orange Camp Road in Deland at 11:33 a.m. Again, a pharmacist there told him there was no oxycodone. Adkins then robbed a Walgreens on Nova Road in Holly Hill, and drove north on I-95, back to Flagler County.
Police there set chase. They laid down stop sticks on S.R. 100. He ran over them, flattened his tires, and kept driving north on Belle Terre. When he reached Central Avenue, the road paralleling the shopping center, "He lost control of his car, his car," Johnson said, "his car spun, causing him to strike two sheriff's deputies' vehicles," including that of a K-9 unit with a K-9 inside. No deputies or K-9s were injured. The suspect's car also struck a Bunnell Police Department cruiser.
Bunnell Police Department Lt. Randy Burke said the damage was minor–a bent push bar on the front of the cruiser. The suspect never made it into Bunnell, though stop sticks were laid down on 100, west of Belle Terre, at the entrance of the town.
Flagler Palm Coast High School was briefly locked down just after the chase.
As of 3:45 p.m., Adkins, by then released from the hospital, was still being processed at the Flagler County Jail.