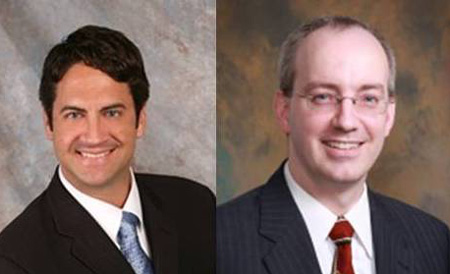 Attorneys Ronald A. Hertel, Esq. and Vincent T. Lyon of Palm Coast's Chiumento Selis Dwyer were recently sworn in as president and president-elect of the Flagler County Bar Association. Doug Williams of Williams Legal was the president in 2014.
"I'm looking forward to a productive term as president and hope to make positive changes," Hertel said. "One of my main goals is to increase the number of judges we have in Flagler County. I will also continue to work on bridging the divide that often separates the legal community from the members of the judiciary in an effort to bring greater efficiency and service to the public as a whole," he added.
The Flagler County Bar Association is a local voluntary bar in Palm Coast. The association offers continuing education seminars and social networking and community service opportunities to its members. Its mission, it states, is "maintaining the honor and dignity of the legal profession; to regulate the practice of and promote improvements in the law and in the methods of its administration; to educate its members and the general public in matters pertaining to the law and to the legal profession; and to cultivate professional ethics and a spirit of brotherhood and good fellowship among the members of this association."
Hertel, 39, is a 1993 graduate of Palm Coast High School. He earned his law degree from the College of Law at Florida International University in 2006 after a stint as a high school math teacher and a longer stint as an IT administrator. He was the Young professionals Group of Flagler County in 2012. Lyon, 43, is a native of Oklahoma City and a graduate of George Washington University Law School. Between college and law school he worked for for the Society for the Preservation of New England Antiquities and the Museum of Fine Arts in Boston, and for Stanford University. He's been with Chiumento Selis Dwyer since September 2013.