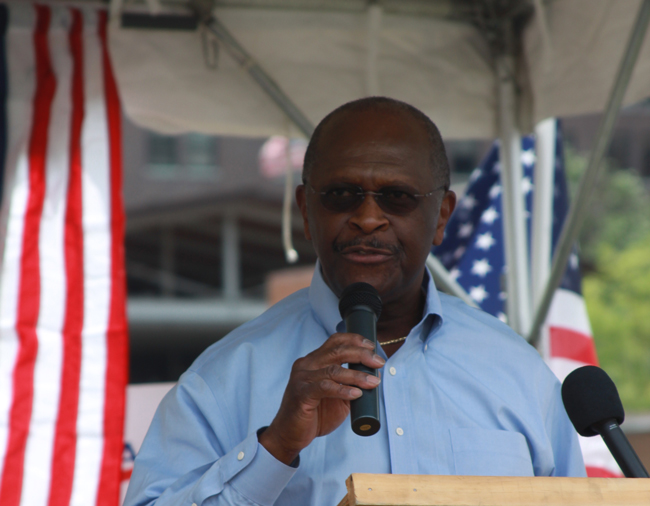 First it was Michele Bachmann. Then it was Rick Perry. It was never Mitt Romney. John Huntsman, Newt Gingrich and Rick Santorum never had a chance. It could have been Chris Christy or Sarah Palin, it might even have been Jeb Bush–and who knows, could still be–but one by one each name soared in the Republican firmament, like a rocket at a Santore fireworks show, only to burst every hope below. Now it's Herman Cain, the former pizza chain executive who, between his straw poll victory in Florida last month, the carnage that's been felling one GOP contender after another, and folksy simplicity of his unexamined life and 9-9-9 tax plan have now vaulted him to the top of what's left of the Republican field, according to the latest Wall Street Journal-NBC News poll.
Rick Perry sunk to third, Mitt Romney never really budged from his middling numbers, and guess who's in fourth, ahead of Bachmann: Ron Paul, the only one of the candidates whose numbers, while still relatively low, keep rising, slowly, but without ever dipping.
For now though, it's Cain's moment. When asked whom they'd vote for if this were November 2012, those Republican saying they'd vote for Cain did so with more enthusiasm than Republicans saying they'd vote for Romney or Perry: 45 percent of Cain supporters said they'd go for him with enthusiasm, and just 27 percent with reservations, as opposed to 39 percent saying they'd vote Romney with enthusiasm and 40 percent with reservations. Perry, meanwhile, who used to be the great white hope of the tea party, lost much of his luster when he turned out to see undocumented immigrants less as subhuman demons than as human beings worth giving a chance. Perry's tea party support went from 45 percent in August to just 15 percent in this latest poll.
Cain, the Journal reports, "Cain posted strong support among college-educated males, tea-party backers and those who consider themselves "very conservative." Mr. Romney drew his strongest support from those who see themselves as moderate to liberal Republicans."
Cain's front-runner status was apparent in the latest Republican primary debate, in new Hampshire, though the level of debate was not elevated: Bachmann, never at a loss for homages to eye-rolling, suggested that Cain's 9-9-9 plan was not so much voodoo as satanic economics ("When you take the 9-9-9 plan and you turn it upside won, the devil is in the details," she said). Huntsman may have been barely more accurate, and only metaphorically so, when he likened the plan to the price of a pizza.
It is true that the plan has barely been baked. It would eliminate the present tax code, replacing it with a flat 9 percent income tax (on all incomes), a 9 percent sales tax, and a 9 percent corporate tax. Cain thought it up on a plane to somewhere, when he asked his advisers for something catchy for his campaign. It was devised by Rich Lowrie, who, the Times reports, "became involved with the Ohio chapter of Americans for Prosperity, the conservative organization supported by the billionaire Koch brothers." Cain claims the three 9's would raise the same $2.3 trillion raised by the federal government in 2008. Cain or his advisers haven't yet made clear whether, for example, the sales tax would apply to food and medicines, though it would likely have to in order to raise anywhere near the revenue he claims it will. Like all tax systems reliant on the sales tax (witness Florida), it would be quite vulnerable to economic downturns.
Conservatives and liberals tend to oppose the plan because of its sales tax component–conservatives because the fear a sales tax would easily be increased once in place, and liberals because they consider the sales tax regressive.
Barack Obama's approval number clocked in at 44 percent, tied for lowest of his presidency in Journal poll tallies. Gallup has his approval at 40 percent, two points above his lowest rating to date, while his disapproval numbers have risen to 53 percent.