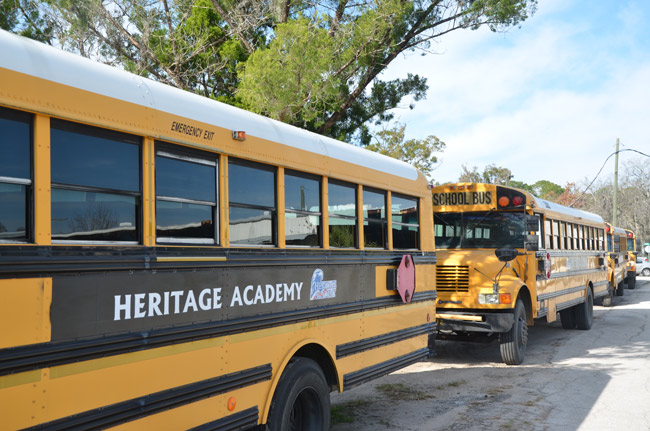 It's rarely been a happy relationship.
Since Academies of Excellence CEO Doug Jackson submitted applications for Flagler County's first charter schools nine years ago–what was then called Cornerstone and Summit academies–the Flagler County School Board has looked at those plans and their various reincarnations and consequences since with something ranging between disapproval and dismay.
Jackson and the board have wrestled since, even after the schools grew to three and then were combined into the K-12 Heritage Academy, its small campus gridded between South Main and South Forsyth on Bunnell's West Moody Blvd. (S.R. 11), just past the railroad tracks. Questions have been raised about finance and oversight. The school board denied the charter's renewal in 2009 before reversing itself when presented with promises of better management. More serious questions have been raised about academic standards and achievements since, over a period that includes two successive F ratings from the state.
On Friday, Flagler County School, Superintendent Janet Valentine told Heritage Principal Nicole Richards that she will recommend to the school board that Heritage's charter be revoked. The school has about 180 students. If the board goes along, as it is expected to, the school would have to close by year's end.
"The specific reasons for this recommendation are as a result of the recent notification from the Department of Education that Heritage Academy received a letter grade of 'F' under Florida's System of School Improvement and Accountability," Valentine wrote Richards. "This is the second consecutive year that Heritage Academy has received a grate letter of 'F.' As you are aware, a school is labeled as 'failing' if it has received two failing grades within a four year period. That is the situation before us."
Richard did not return a call for comment today. Jackson, reached at his office in Volusia County, released a statement through an employee: "We're very disappointed in the district's recommendations and are currently in discussion," Jackson said. "We will make a statement after the data is analyzed."
The letter to Richards was not a surprise. The school was expecting an F, and the law is clear about the consequences that follow. And Friday afternoon, Richards, Jackson, his son Mike and one other administrator with Jackson's company met with Valentine and several other district officials, including Stewart Maxcy, the former school principal who will, next month, become the district's charter school administrator (replacing Jim Devine, who is retiring).
"They wanted to see what kind of negotiations were possible," Devine said. "They've accepted the fact Janet emphasized that she was moving forward with the procedure now." Officially, the procedure entails giving the school a 90-day notice of closure. The district does not intend to close the school before the end of the school year, however. Judging from past history, Jackson is likely to appeal the decision–first, to the local school board, then to the state Charter School Appeal Commission.
The school, established as a non-profit (other charter schools, such as Imagine at Town Center, may be for-profit) has a $1.24 million annual budget, of which $405,000, or 33 percent, is devoted to teacher salaries, benefits and other instructional services. That compares with $296,000 in administrative costs, or 24 percent–including a $121,000 "management fee." The school gets all but a few thousand dollars of its revenue from federal, state and local sources.
Charter schools operate on a contractual basis with their local school boards, which provide oversight (a relationship Gov. Rick Scott is aiming to weaken in order to give charter schools more autonomy, and school boards less say, in how they are run.) Academies of Excellence (Heritage's predecessor) started operations with a five-year contract. After the school board refused to renew that contract for five years in 2009, it agreed to a one-year contract, and in 2010 to a two-year contract–a decision that divided the board: Sue Dickinson, who chairs the board, was willing to stick with only a one-year renewal. The district's administrative staff, meanwhile, had recommended a five-year renewal.
Jackson appealed the two-year extension to an administrative mediator, and got a third year tacked on to the contract based on a series of pledges designed to show improvements at the school: the creation of a summer school program, "serving a segment of the school population that can prove difficult to serve in the traditional public school settings" (in the words of the mediation agreement), investing "a considerable sum" in facility improvements, instituting a school-wide music program, investing in more teacher development, and promising several other administrative and governing improvements.
"When a charter is not renewed or is terminated," state Department of Education documents state, "any unencumbered public funds from the charter school reverts to the district school board; all district school board property and improvements, furnishings, and equipment purchased with public funds automatically revert to full ownership by the district school board subject to complete satisfaction of any lawful liens or encumbrances."