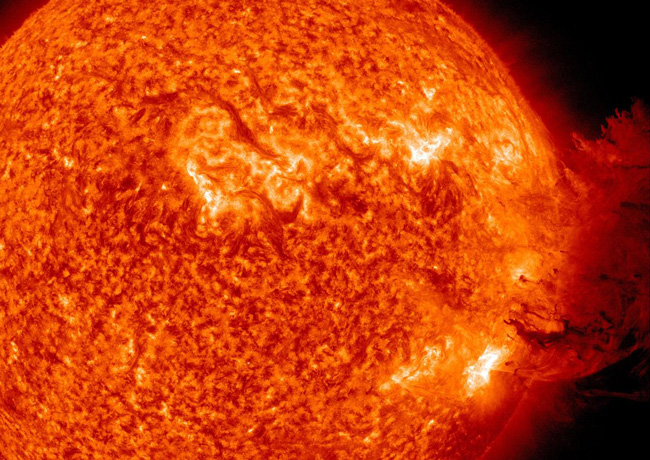 It gets hot in Florida in July and August. That's normal. But this week the heat index is hitting unusually high levels and will range from 102 to 108 in Flagler County, especially inland, prompting weather and emergency officials to caution residents and vacationers to stay out of the heat if possible, or take safety measures when in the heat.
"I don't think we need to worry about it, I think we need to be aware of it, aware that we're going to be going through some heat here in the next couple of days," Kevin Guthrie, Flagler County's emergency management director, said.
Early this afternoon in Flagler, the temperature was at 90, with a heat index of 99, forecast to max out between 2 and 4 p.m. with temperatures of 902 and a heat index of 102 at the beach, and temperatures of 95 and a heat index of 105 inland, Guthrie said. It'll be even hotter Thursday, with maximum temperatures of 95 and a heat index of 104 to 105 at the beach, and 97 inland, with a heat index of 108.
"It's looking like it's going to be the same for Friday, however Friday may have a sea breeze," so no official forecast has been issued for that day's indices yet, Guthrie said.
The National Weather Service has issued a Heat Advisory for Aug. 21, Thursday, from noon to 8 p.m. in Flagler County. (An earlier version of this story had noted that no advisory had been issued. Two hours after the story was published, Emergency Services relayed the update.) Emergency Services' Bob Pickering said the last heat advisory in Flagler County was issued on July 28. Prior to that, the last one issued was August 13, 2010. "The issuance of heat advisories is relatively uncommon if not rare," Pickering said.
The heat index measures what the temperature actually feels like when temperature and humidity readings are combined. National Weather Service calls for "extreme caution" when the index is in the 90s and lower 100s, and considers dangerous any prolonged exposure to heat, with a likelihood of heat-related disorders, when the index exceeds 103 to 105 in high humidity, as in current conditions. (See the heat index chart below.)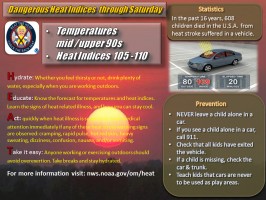 The Weather Service this morning attributed the heat wave to a high pressure system is building over and south of Northeast Florida, with what it calls "a consistent westerly flow." This, the service said, is a hot scenario for the region for several reasons: The westerly flow suppresses the Atlantic Ocean sea breeze, thus reducing cooling. The high pressure causes sinking air, which reduces cloud coverage and allows the sun to further heat up the ground. Guthrie said the UV index at the beaches will be elevated, requiring caution with sunscreens and sun exposure. Both those conditions combined reduce the amount of moisture in the air, allowing the air to heat up even more.
"The bottom line," the region-wide National Weather Service alert this morning read, "is both Thursday and Friday will see highs in the 97-101 range and heat index values approaching 110 degrees (especially over interior southeast Georgia and the Suwannee Valley). Further overnight temperatures will only drop into the mid to upper 70s with high relative humidity. Those without air conditioning will find little relief overnight. So we could find ourselves in a situation where people are experiencing heat related injuries late this week and this weekend."
"Be smart about it," Guthrie said. People need to be aware of being out in the heat, hydrate with water, and make sure to drink enough to "keep themselves from being a victim of heat exhaustion" and other illnesses. "At this point it's more about being aware of what's going on, and if you don't have to be out in it, don't be out in it," Guthrie said.
There have been no inquiries to the county's emergency phone lines from people needing relief, as there might be in excessive heat waves. But the county has procedures in place should the need arise. If a few inquiries come in, emergency operations, which monitor conditions around the clock, would deal with them on a case by case basis. If inquiries multiply, emergency operations would contact the American Red Cross and open a shelter. Since school is  now in session, a shelter would probably be located at a church or similar community building.
"We're nowhere near that right now," Guthrie said.