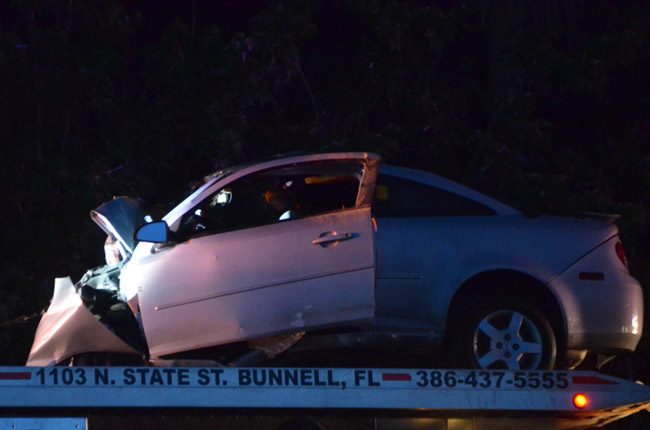 Wendell Parker, 32, of Miami Gardens, was killed early this morning and Cynthia Soto, 35, of Flagler Beach, is in critical condition following a head-on collision on I-95, just north of the interchange with Palm Coast Parkway.
It was head-on, because Parker, driving a Chevy Cobalt, was driving north on I-95's southbound lanes (he appears to have taken the wrong ramp off Palm Coast Parkway, but that's not confirmed.)
The crash took place at 2:15 Monday morning. Parker, according to the Florida Highway Patrol's preliminary investigation, was traveling on the inside lane when he crashed into a 2005 Hyundai Tucson that was traveling south, also in the inside lane. Soto was at the wheel of the Hyundai. She was flown by Florida Hospital's Trauma One to Halifax hospital in Daytona Beach, in critical condition.
Parker of the Cobalt was pronounced dead at the scene. The identity of neither driver was released until April 26.
I-95 southbound was closed from Matanzas Woods Parkway to Palm Coast Parkway from 2:30 to 7 a.m., by which time John's Towing, the Bunnell tower, had removed both vehicles. The vehicles' front ends were beyond recognition.
FHP's release notes that "charges are pending." The note is most likely in error since the only surviving driver was not at fault.
The Florida Highway Patrol's Cpl. A Bennett is the traffic homicide investigator. The Palm Coast Fire Department and Flagler County Fire Rescue responded to the crash, as did the Sheriff's Office and the Palm Coast Fire Police, which regulated traffic alongside DBI Services.