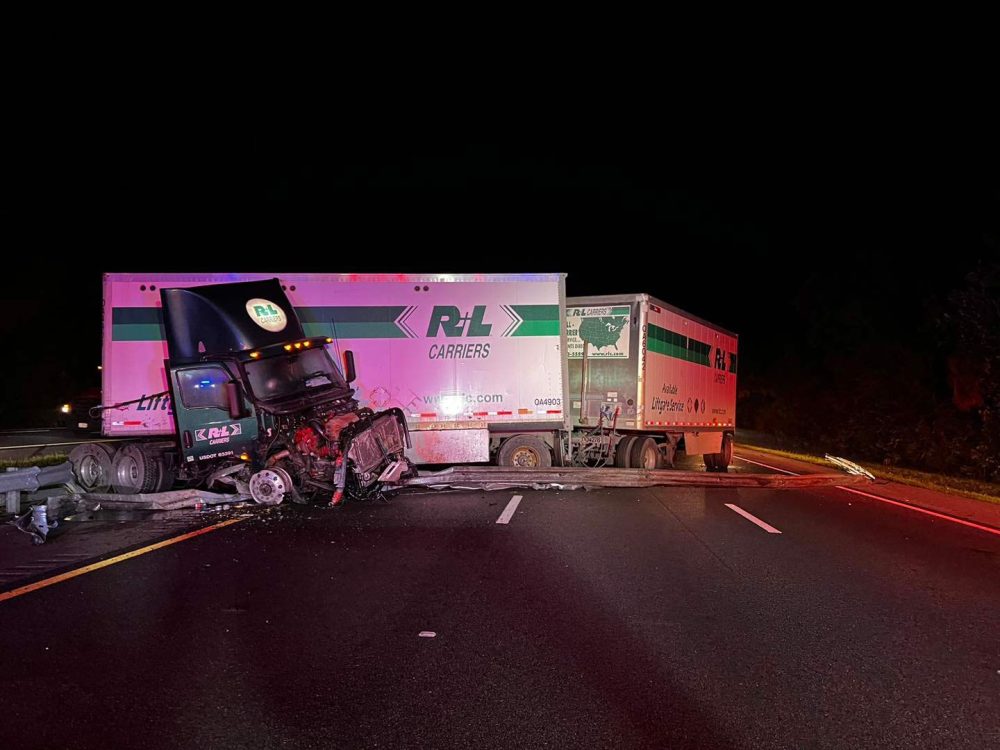 A tandem tractor trailer that crashed into a disabled car on I-95 early this morning spilled hazardous chemicals and caused the closure of the highway's northbound lanes and two of its southbound lanes. No one was injured, and the chemical spill was deemed of no danger to the public, according to the Palm Coast Fire Department.




The R+L Carriers tandem tractor trailer was carrying sodium nitrate, according to the fire department, spilling "several gallons on the roadway." Sodium nitrate is commonly used as a food preservative, especially in cured meat products like bacon and jerky, according to WebMD, both to preserve the products' shelf life and color them more attractively. The chemical is also found naturally in vegetables.
The crash took place half a mile north of the Matanzas Woods Parkway exit moments after 5 a.m., when it as still dark.
According to the Florida Highway Patrol, a sedan driven by a 19-year-old Jacksonville man was traveling south in the left lane when, for yet undetermined reasons, the driver lost control, causing the sedan to swerve to the left and strike the center guardrail. After striking the guardrail, the sedan continued back to the right and across the southbound travel lanes coming to final rest in the right southbound lane.
The driver and his 46-year-old passenger had exited the vehicle unharmed, and were standing on the shoulder when, a few moments later, the tractor trailer traveling south was unable to see the disabled sedan in the road.
The front of the semi struck the rear of the sedan, pushing the sedan onto the right shoulder and into the tree line. The semi veered to the left and into the center guardrail, crashing through it and onto the northbound travel lanes, where it jackknifed across all three northbound lanes. FHP described the spill as "a small amount of hazardous materials" on the northbound lanes.




While two southbound lanes were shut down after the crash, that was reduced to one closed lane as crews worked the scene. But the northbound lanes remained closed.
"St. Johns County Fire Rescue Hazmat Team is on scene mitigating the chemical spill," the fire department reported. "This is NO hazard to the public. .. The closure has been implemented to ensure the safety of both motorists and emergency personnel. Crews will be on scene for the duration of the clean up. Heavy delays on Interstate 95 are expected."