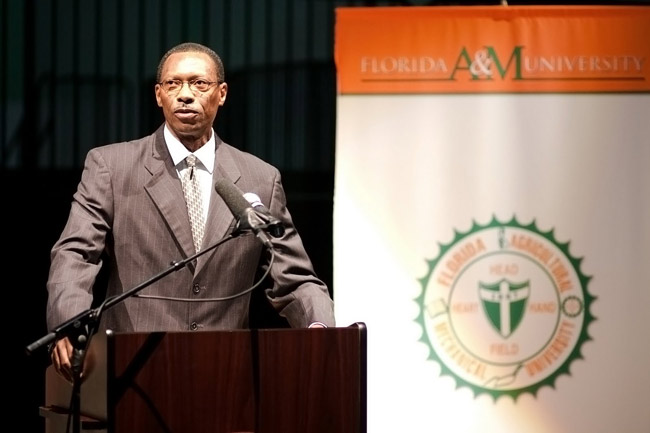 Monday update: Florida A&M University President James Ammons will stay in his post as a state investigation into hazing continues. The FAMU Board of Trustees to keep Ammons on the job, defying a suggestion from Gov. Rick Scott. The board also decided Monday it will meet weekly on the ongoing investigation into the death of Robert Champion.

The Florida A&M University Board of Trustees will meet by phone Monday to decide the fate of President James Ammons in the wake of the hazing death of a drum major on Nov. 19 and the hazing-related brutalization of another student in the band two weeks earlier.
Ammons said after a meeting with Gov. Rick Scott on Friday that he would consider stepping aside while the investigation into the hazing rituals and finances of the school's famous "Marching 100" band continues.
Ammons's statement came on commencement day for FAMU, adding a touch of dissonance to a day on which Scott came under fire for his recommendation and Orange County medical examiners officially ruled the hazing death of Robert Champion a homicide.
Ammons and Scott met for about 40 minutes the day after the governor called for Ammons to be suspended at a special meeting of the FAMU board of trustees scheduled for Monday morning.
"He thought that it was in the best interest of the university and myself, that there wouldn't be any questions about how the investigation would be carried out by stepping aside, letting the investigations be complete, and then come back after," Ammons said.
Asked if he agreed with the governor's recommendation, Ammons said: "It's something that I'm considering."
But Scott faced an onslaught of criticism from FAMU students — hundreds of whom gathered outside the Governor's Mansion on Thursday evening — and graduates of the school.
Sen. Arthenia Joyner, D-Tampa, issued a scalding statement calling for Scott to back down.
"It's particularly galling that the governor justifies his action as a way to assure people the university is fully cooperating," Joyner said. "This is the same Rick Scott who had no similar compunction to immediately step aside as CEO of HCA when the FBI launched its probe into what became the largest health care fraud case ever in this country's history."
Ammons was notably more muted after his meeting with Scott, calling it "a great conversation" and saying he believed the governor was looking out for FAMU.
"We all have the best interests of Florida A&M University at heart, and we're all going to do what is best for the university," Ammons said.
For his part, Scott showed no signs of backing away from his calls for Ammons' temporary ouster.
"I believe that it's in the best interest of the institution that he step aside at this point to make sure everybody's comfortable that we have an investigation, that there's complete cooperation, that it's transparent," Scott told reporters earlier in the day.
Orange County medical examiners, meanwhile, officially ruled Champion's death a homicide, saying he went into shock following "multiple blunt trauma blows to his body." In a statement following the report, Ammons and trustees Chairman Solomon Badger said the news was expected but "extremely upsetting."
Champion, a 26-year-old band leader, died after what police say appears to have been a hazing following the annual Florida Classic football game between FAMU and Bethune Cookman on Nov. 19. He had fallen unconscious on a bus outside Orlando after a loss to Bethune-Cookman College. The medical examiner's office in Orlando, the Miami Herald reported, "found that Champion had bruises to his chest, arms, shoulder and back and internal bleeding."
The Florida Department of Law Enforcement announced Wednesday that its investigation in Champion's death was widening to include the band's finances. No charges have yet been filed. Champion's death, the Herald reports, "shed light on years of hazing that has plagued the band and left several students injured. In 1998, Ivery Luckey, a clarinet player from Ocala, Fla., was hospitalized with kidney damage after being paddled as part of an initiation to become a member of a group known as "The Clones." Three years later, band member Marcus Parker was also hospitalized with kidney damage after being paddled." In early November, yet another student, Bria Hunter, was brutalized, resulting in a broken leg and blood clots. Three band members have been charged.
The FAMU issue has turned into one of the first major public-relations tests of Scott's administration, both in his decision to announce Thursday that he thought Ammons should step aside and in his response to the sometimes-raucous reaction to it by student protestors.
Scott reportedly riled some of the protestors when he tried to relate to the students by mentioning that he lived in public housing when he was younger — an anecdote that also offended black lawmakers at a meeting with the governor earlier this year, with some of them taking it as a suggestion that Scott believed that all blacks grow up poor.
It could also test his clout with the board of trustees, who will meet by telephone Monday morning to weigh Ammons' fate again, after voting last week to reprimand the president but not place him on administrative leave.
"Any time the governor speaks, it creates pressure," said former state Sen. Al Lawson, a FAMU alumnus and prominent backer of the school, who met with Ammons and Scott. "And so, I think that it's going to be a long weekend for them."
The university has not updated its one and only news item on the death of Champion, posted on Nov. 20, a day after he died. The item quotes Ginette Rodriguez, spokeswoman for the Orange County Sheriff's Office, as saying that after a game, "the band returned to the Rosen Plaza Hotel (9700 International Drive) and the victim reportedly threw up in the parking lot and started complaining of not being able to breathe. Friends of the victim called 911 and administered CPR. The victim was transported to Doctor Phillips Hospital where he was pronounced deceased. This is an ongoing investigation. There is no sign of foul play at this time."
–Brandon Larrabee